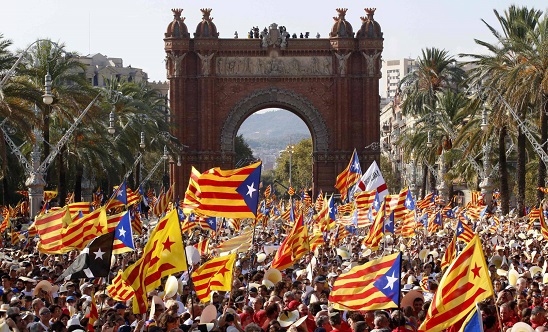 ¡Basta de represión y recortes!
Desde el Sindicato de Estudiantes queremos dejar clara nuestra firme defensa del derecho de autodeterminación para Catalunya, y nuestra frontal oposición a la campaña represiva del PP y del aparato del Estado.
La opresión nacional hunde sus raíces en la propia configuración de la "nación" española, donde la represión de la identidad de Catalunya, Euskal Herria y Galiza fue una nota dominante. Cualquiera que estudie la historia del Estado español comprobará el estallido periódico de la cuestión nacional especialmente en los momentos de crisis económica y social, cuando el deseo de un cambio político profundo se entrelaza con las aspiraciones democrático-nacionales no resueltas del pueblo catalán, vasco y gallego.
Aunque estas naciones tienen una historia, lengua y cultura propias nunca se les ha permitido decidir si quieren formar parte del Estado español o no: si bajo el franquismo fueron aplastadas, con el régimen del 78 cualquier conquista que avanzase en el reconocimiento de sus derechos ha sido fruto de una dura movilización.
El sentimiento a favor de la independencia, particularmente en Catalunya, se ha incrementado por los efectos de la crisis capitalista, el paro masivo, los recortes, la ausencia de un futuro decente para la juventud y la corrupción, unido obviamente a la negación y represión del derecho a decidir por parte de la derecha españolista.
Sin embargo, la burguesía catalana y sus políticos nunca antes habían alentado el independentismo. Desde Pujol hasta Mas, los políticos de la derecha catalanista habían sido garantes de la estabilidad del régimen capitalista en Catalunya y en el Estado español, sosteniendo indistintamente a los gobiernos de Felipe González y de Aznar cuando aplicaban las medidas más lesivas contra los trabajadores y la juventud.
Los burgueses catalanes y españoles comparten los mismos intereses de clase, algo que se ve muy bien en el terreno educativo. Durante los últimos años, el gobierno central del PP ha recortado 7.000 millones de euros a la enseñanza pública, despedido a 40.000 profesores y aprobado la LOMCE, pretendiendo de paso "españolizar a los estudiantes catalanes" y destruir el modelo de inmersión lingüística; pero esta agresión ha ido acompañada de las mismas recetas por parte de Mas y Puigdemont: concesión de ayudas millonarias a colegios del OPUS y la concertada, aplicación de la LEC para despedir a miles de docentes y precarizar sus condiciones, o la escandalosa subida de las tasas universitarias y de FP para impedir que los hijos de los trabajadores podamos acceder a los estudios superiores.
La respuesta de la juventud, en Catalunya y en el Estado español, ha sido la movilización masiva y decenas de huelgas generales que han logrado triunfos como obligar al PP a retirar las reválidas franquistas. Pero la lucha debe continuar, con más fuerza e intensidad.
¡Por el derecho de autodeterminación! ¡Por una Catalunya socialista!
Desde el Sindicato de Estudiantes rechazamos cualquier intento de reprimir el referéndum del 1-O y el legítimo derecho del pueblo de Catalunya a decidir las relaciones que quiere mantener con el Estado español, incluida la posibilidad de la independencia. Pero queremos decidir sobre todo lo que afecta a nuestras vidas y nuestro futuro. En una republica catalana capitalista gobernada por la burguesía reaccionaria del PDeCat/Convergència, la mayoría de la juventud y las capas populares continuaremos sufriendo los mismos problemas de hoy para que una minoría de oligarcas se lucre.
Como jóvenes que aspiramos a un cambio revolucionario, defendemos la libertad de Catalunya, y sabemos que esta libertad no se conseguirá de la mano de la derecha catalanista. Para acabar con el paro, la precariedad, la falta de vivienda pública o los recortes a la sanidad y la educación públicas, necesitamos transformar la sociedad y una república socialista catalana. Para lograrlo es necesario impulsar la lucha unificada de todos los oprimidos, de la juventud y los trabajadores, para tumbar el gobierno de Rajoy y el de Puigdemont, sus recortes y su represión.
¡De la mano de la derecha nunca conseguiremos nada!
¡Por la autodeterminación de Catalunya, por la república socialista!
¡Fuera los gobiernos de recortes del PP y PDeCat!
El Sindicat d'Estudiants en defensa de l'educació pública i del dret a decidir
Prou repressió i retallades!
Des del Sindicat d'Estudiants volem deixar clara la nostra ferma defensa del dret d'autodeterminació per a Catalunya, i la nostra frontal oposició a la campanya repressiva del PP i de l'aparell de l'Estat.
L'opressió nacional enfonsa les seves arrels en la pròpia configuració de la "nació" espanyola, on la repressió de la identitat de Catalunya, Euskal Herria i Galiza va ser la nota dominant. Qualsevol que estudiï la història de l'Estat espanyol observarà l'esclat periòdic de la qüestió nacional especialment en els moments de crisi econòmica i social, quan el desig d'un canvi polític profund s'entrellaça amb les aspiracions democràtiques-nacionals no resoltes del poble català, basc i gallec.
Tot i que aquestes nacions tenen una història, llengua i cultura pròpies mai se les ha permès decidir si volen formar part de l'Estat espanyol o no: si sota el franquisme foren aixafades, amb el règim del 78 qualsevol conquesta que avancés en el reconeixement dels seus drets ha sigut fruit d'una dura mobilització.
El sentiment a favor de la independència, particularment a Catalunya, s'ha incrementat pels efectes de la crisi capitalista, l'atur massiu, les retallades, l'absència d'un futur decent per a la joventut i la corrupció, unit òbviament a la negació i repressió del dret a decidir per part de la dreta espanyolista.
Tot i així, la burgesia catalana i els seus polítics mai abans han impulsat el independentisme. Des de Pujol fins a Mas, els polítics de la dreta catalanista havien estat garants de l'estabilitat del règim capitalista a Catalunya i a l'Estat espanyol, sostenint indiferentment als governs de Felipe González i d'Aznar quan aplicaven les mesures més lesives contra els treballadors i la joventut.
Els interessos de classe que comparteixen els burgesos catalans i espanyols s'aprecien molt bé en el terreny educatiu. Durant els últims anys, el govern central del PP ha retallat 7.000 milions d'euros a l'educació pública, acomiadat a 40.000 professors i aprovat la LOMCE, pretenent de pas "espanyolitzar als estudiants catalans" i destruir el model d'immersió lingüística; però aquesta agressió ha estat acompanyada de les mateixes retallades per part de Mas i Puigdemont: concessió d'ajudes milionàries a col·legis de l'Opus Dei i la concertada, aplicació de la LEC (pionera de la LOMCE en molts aspectes) per acomiadar a milers de docents i precaritzar les condicions, o l'escandalosa pujada de les taxes universitàries i de FP per a impedir que els fills dels treballadors puguin accedir als estudis superiors.
La resposta de la joventut, a Catalunya i a l'Estat espanyol, ha estat la mobilització massiva i desenes de vagues generals que han aconseguit triomfs com obligar al PP a retirar les revàlides franquistes. Però la lluita ha de continuar, amb més força i intensitat.
Pel dret a decidir d'autodeterminació! Per una Catalunya socialista!
Des del Sindicat d'Estudiants rebutgem qualsevol intent de reprimir el referèndum del 1-O, i el legítim dret que té el poble de Catalunya a decidir les relacions que vol mantenir amb l'Estat espanyol, inclosa la possibilitat de la independència. Però volem decidir sobre tot el que afecta a les nostres vides i al nostre futur. En una república catalana capitalista governada per la burgesia reaccionària del PDeCAT/Convergència, la majoria de la joventut i les capes populars continuarem patint els mateixos problemes d'avui mentre una minoria d'oligarques s'omplen les butxaques.
Com a joves que aspirem a un canvi revolucionari, defensem la llibertat de Catalunya, i sabem que aquesta llibertat no s'aconseguirà de la mà de la dreta catalanista. Per a acabar amb l'atur, la precarietat, la falta d'habitatge públic, l'atur massiu i les retallades a la sanitat i educació públiques, necessitem transformar la societat i una república socialista catalana. Per a aconseguir aquest canvi és necessari que impulsem la lluita unificada de tots els oprimits, de la joventut i els treballadors, per a tombar el govern de Rajoy i el de Puigdemont, les seves retallades i repressió.
De la mà de la dreta mai aconseguirem res!
Per l'autodeterminació de Catalunya, per la república socialista!
Fora els governs de les retallades del PP i el PDeCAT!
Special financial appeal to all readers of socialistworld.net

Support building alternative socialist media

---

Socialistworld.net provides a unique analysis and perspective of world events. Socialistworld.net also plays a crucial role in building the struggle for socialism across all continents. Capitalism has failed! Assist us to build the fight-back and prepare for the stormy period of class struggles ahead. Please make a donation to help us reach more readers and to widen our socialist campaigning work across the world.

Donate via Paypal

CWI- Please inform us if you are reproducing any material from this site.