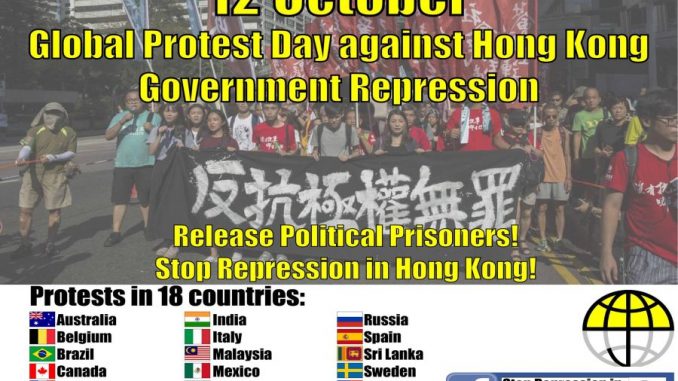 On 12 October there will be international protests in 23 cities around the world against the worsening political repression in Hong Kong. The campaign is organised by Global Solidarity – Stop Repression in Hong Kong, with members of the Committee for a Workers' International (CWI) playing a key role in kick-starting solidarity action. An online petition has been signed by left political activists, members of parliament, and prominent worker activists in more than a dozen countries.
The petition is here.
From San Francisco to Colombo, Vancouver and Kuala Lumpur, there will be protests at Chinese embassies and consulates and Hong Kong Economic and Trade Offices, demanding the release of political prisoners and an end to election manipulation and disqualification of elected legislators.
In Hong Kong a new trial starts on 13 October of 20 'Umbrella activists' charged with defying a court order to clear one of the occupation sites during the 2014 Umbrella Movement for democracy. It is possible that many among the 20 defendants will receive jail sentences, joining the 16 young activists who were given harsh jail sentences in August.
A new video from the Stop Repression in Hong Kong campaign has already been viewed thousands of times. The video, featuring Sally Tang Mei-ching of Socialist Action (CWI) and ousted legislator 'Long Hair' Leung Kwok-hung of the League of Social Democrats, gives an overview of what is happening in Hong Kong.
Video link here.
Special financial appeal to all readers of socialistworld.net

Support building alternative socialist media

---

Socialistworld.net provides a unique analysis and perspective of world events. Socialistworld.net also plays a crucial role in building the struggle for socialism across all continents. Capitalism has failed! Assist us to build the fight-back and prepare for the stormy period of class struggles ahead. Please make a donation to help us reach more readers and to widen our socialist campaigning work across the world.

Donate via Paypal

CWI- Please inform us if you are reproducing any material from this site.