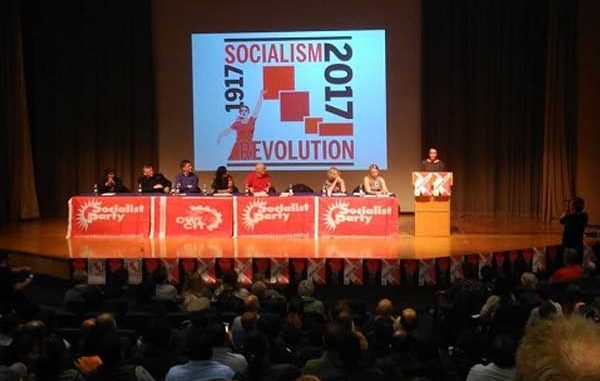 Más de mil trabajadores, jóvenes, activistas, sindicalistas, estudiantes e invitados internacionales se reunieron el 11 y 12 de noviembre en el centro de Londres para asistir a Socialism 2017, el gran encuentro político que todos los años organiza el Socialist Party .
Quedó claro para todos que ha sido el acto más grande que hemos realizado hasta la fecha. En un ambiente serio, decidido y entusiasta durante todo el fin de semana celebramos el centenario de la Revolución Rusa y nos inspiró especialmente el trabajo de nuestros partidos hermanos en EEUU y Catalunya.
Hannah Sell, vicesecretaria general del Socialist Party, en el mitin de clausura dijo que no sólo se trataba de que el acto fuera grande o histórico, además había que sacar las lecciones de Socialism 2017 para utilizarlas aquí y ahora en nuestra intervención en la lucha de clases. En la colecta del sábado por la noche se recaudaron más de 42.000 libras, y muchos asistentes se afiliaron o mostraron interés en unirse a las filas del Socialist Party.
El acto estuvo presidido por Sarah Wrack, editora de The Socialist, el periódico semanal del partido. Peter Taaffe, secretario general del Socialist Party, señaló su discurso que "ahora vemos cómo son ignoradas la revolución y sus lecciones. ¿Por qué? Porque la revolución está en la agenda". El sistema capitalista no remonta la mayor crisis en setenta años: "Cada día aparece una avalancha de datos", como los Papeles Paradise. "No es evasión de impuestos. Es robo a una escala gigantesca".
Las luchas contra la opresión nacional que se están desarrollando en numerosos países también fueron tratadas en el encuentro. Coral Latorre, secretaria general del Sindicat d'Estudiants de Catalunya afirmó que "la gente cansada del gobierno de la oligarquía española y catalana ha llenado las calles para luchar contra los que imponen austeridad y nos oprimen". El Sindicat d'Estudiants organizó cuatro huelgas generales de estudiantes que vaciaron las aulas y llevaron las calles de Catalunya de decenas de miles de jóvenes. "Las movilizaciones de masas demostraron que podemos derrotar una ley injusta. No importa cuántas veces el Estado intente prohibir el referéndum o cuántos policías envié. En este movimiento observamos un enorme potencial revolucionario". Pero no luchamos por "una república en manos de la misma clase dominante catalana que ha impuesto recortes y austeridad extendiendo la miseria entre el pueblo, sino por la república socialista catalana, de los trabajadores, la juventud y los oprimidos".
Kshama Sawant, concejala por Socialist Alternative en Seattle, explicó que "Millones de personas actualmente reclaman en EEUU un proyecto de izquierdas, incluso radical, algo que el establishment Demócrata no está dispuesto a hacer". La administración de Trump está en " crisis un mes tras otro". Pero los empresarios están atrapados. Ningún partido se atreve a dar el paso del impeachment porque "temen el daño que puede hacer a todo el establishment".
Socialist Alternative muestra el camino con su audacia. Ayudó a movilizar a 50.000 manifestantes después de la elección de Trump. Encabezó el cierre del aeropuerto Seatac para oponerse a la prohibición de entrada de los inmigrantes. Dirigió la lucha victoriosa por el salario mínimo de 15 dólares la hora en Minneapolis. "Y a pesar de que la derecha se ha envalentonado lo suficiente como para convocar sus propios actos, incluido Charlotessville, la respuesta de los contra manifestantes ha sido aún mayor". "Estamos avanzando por el camino de la rebelión".
"El socialismo avanza"
Los problemas de los trabajadores, los jóvenes, el internacionalismo y el socialismo estuvieron presentes todo el fin de semana, reflejados en los cuatro oradores de la jornada de clausura: el presidente de Socialist Students, Theo Sharrief; el secretario general adjunto del sindicato Unite, Howard Beckett; el parlamentario socialista irlandés, Paul Murphy, y la vicesecretaria general del Socialist Party, Hannah Sell.
Theo explicó que el 22 de noviembre Socialist Students está organizando un paro educativo, protestas locales, paros y ocupaciones contra el nuevo presupuesto del gobierno que como es habitual no ofrecerá nada a los jóvenes.
Por su parte Howard habló de los líderes sindicales y dijo que como dirigente "nuestra responsabilidad es educar y organizar". Y parte de esta tarea es luchar para que los "ayuntamientos laboristas actúen como socialistas".
Paul habló del acto Socialism celebrado el año pasado, cuabdo él y otros cinco activistas fueron declarados no culpables de falso secuestro de la entonces viceprimera ministra irlandesa en una protesta de 2014. La resolución judicial "fue una victoria colectiva de la campaña Jobstown Not Guilty, del movimiento sindical que nos apoyó y, en particular, de nuestra internacional el CIT".
Esta derrota masiva de la clase dominante irlandesa volvió a reproducirse en su derrota en la Asamblea de Ciudadanos. El gobierno creó este organismo para conseguir una recomendación de la asamblea para que se realizaran cambios mínimos en la ley del aborto en Irlanda. Pero finalmente la asamblea aprobó la postura de que este derecho se someta a votación popular . Paul destacó que el Socialist Party (nuestra organización hermana irlandesa) está en primera línea del movimiento por los derechos de la mujer.
Hannah Sell en un discurso vibrante explicó las actuales contradicciones de la política británica: "Por un lado Corbyn habla del socialismo del siglo XXI. Por otro los Tories insisten que el capitalismo de libre mercado es incuestionablemente el mejor de los medios para mejorar las condiciones de vida de todos en el país. Que diga eso a las personas que en 2016 estuvieron hospitalizadas por malnutrición en supuestamente el sexto país más rico del planeta".
En la lucha por cambiar estas condiciones Hannah destacó el papel importante que el Socialist Party ha jugado en varias campañas. "Lo que hemos conseguido se debe primeramente a nuestras ideas y porque contamos con un programa claro para una nueva sociedad. Pero aunque las ideas son cruciales sin una organización no hay nada".
Explicó que el Socialist Party se enfrenta al desahucio de nuestro local nacional porque lo quieren convertir en apartamentos, en la línea del aburguesamiento que ahora predomina en Londres. Por esa razón necesitamos iniciar un llamamiento financiero para adquirir un nuevo local, Hannah anunció que podemos lanzar ese fondo con una donación de 45.000 libras del ex parlamentario Dave Nellist.
Dave que jugó un frqn papel como diputado marxista de Militant en los años ochecta, siempre defendió la política del Socialist Party de vivir con el salario de un obrero y no con el salario de un parlamentario. El resto de su salario fue utilizado para campañas y causas del movimiento obrero, y ahora hace lo mismo con su pensión parlamentaria.
Para cerrar el fin de semana el organizador del mitin y presidente del Socialist Party de Londres, Paul Callanan, dijo que "La lucha de clases en Gran Bretaña e internacionalmente ha entrado en una nueva fase. La clase obrera y la juventud en todo el mundo está construyendo nuevos movimientos, nuevos partidos y están buscando una alternativa al capitalismo… ¡el socialismo avanza!"
Special financial appeal to all readers of socialistworld.net

Support building alternative socialist media

---

Socialistworld.net provides a unique analysis and perspective of world events. Socialistworld.net also plays a crucial role in building the struggle for socialism across all continents. Capitalism has failed! Assist us to build the fight-back and prepare for the stormy period of class struggles ahead. Please make a donation to help us reach more readers and to widen our socialist campaigning work across the world.

Donate via Paypal

CWI- Please inform us if you are reproducing any material from this site.