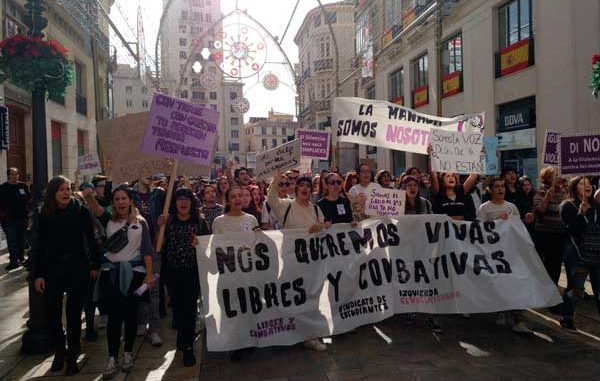 ¡Libres y Combativas estuvimos presentes en más de 15 ciudades!
El sábado 25 de noviembre se celebró a lo largo y ancho de todo el mundo el día contra la violencia machista. En el Estado español decenas de miles de mujeres, jóvenes y trabajadoras, salimos a las calles en más de 50 manifestaciones para decir "¡Basta ya!" a una violencia estructural e institucional contra nosotras, amparada por el gobierno del PP y una judicatura machista y patriarcal. Basta ya de hipocresía, de lamentaciones y palabras vacías sobre pactos de Estado que permiten recortes brutales a los programas de ayuda a las víctimas, que las denuncias queden archivadas, que seamos las mujeres las que sufrimos directamente una austeridad que pagamos con nuestra precariedad, nuestros bajos salarios, nuestra dependencia económica. ¡Basta ya de todo ese sistema que se cobra decenas de vidas de mujeres cada año en todo el Estado, mientras el gobierno del PP mira hacia otro lado y propicia con sus políticas esta carnicería!
No son muertes, son asesinatos
En lo que llevamos de año son ya 89 las víctimas de violencia machista, 45 de ellas asesinadas por sus parejas o exparejas y otras 44 asesinadas por hombres con los que no mantenían una relación sentimental o niños a manos de sus padres. Ante esta sangrante realidad, la respuesta que encontramos por parte del gobierno o del aparato del Estado es la de "concienciar" a las mujeres de la necesidad de denunciar. Pero ¿cuál es la respuesta del Estado y la Justicia ante estas denuncias?
Sólo en 2016 se formularon 142.893, casi 12.000 al mes; sin embargo, el 41% de estas denuncias fueron archivadas, el 86% por "no justificar la perpetración del delito". ¡Es un auténtico escándalo que tengamos que ser nosotras las que recabemos las pruebas de nuestro propio maltrato! Aun así, ¿cuál es la realidad a la que se enfrentan las miles de mujeres que ni siquiera denuncian por miedo a lo que les pueda pasar, por temor a no poder proteger a sus hijos por no tener dinero para escapar de su maltratador? ¿Cuál es la ayuda que se ofrece a las mujeres maltratadas que dan el paso y se arriesgan? Absolutamente ninguna.
No aceptamos que cada vez que una de nosotras es asesinada se culpe a la víctima de no denunciar. Exigimos una justicia real que no nos exponga ante nuestros agresores y les presente a ellos como víctimas mientras a nosotras nos lanza al escarnio público. Hemos visto como actúa la justicia ante la violencia machista y ¡no lo aceptamos!
El levantamiento de las mujeres que vivimos el 8 de marzo, el día internacional de la mujer trabajadora, volvió a escribir un nuevo capítulo en las manifestaciones masivas de este sábado, donde la indignación frente al juicio público y legal que la joven violada en San Fermines ha sufrido, se vivió intensamente. Una indignación que crece a cada momento, alimentada por todas las muertes, por el caso de Juana Rivas, por los comportamientos machistas y el acoso sexual que sufrimos en nuestros centros de estudio, en nuestros puestos de trabajo, en nuestras familias, o cuando somos despreciadas por la moral reaccionaria de la Iglesia Católica. Una indignación que estamos transformando en organización y lucha, y que se refleja en los avances de "Libres y Combativas", la plataforma feminista, de clase y anticapitalista que hemos lanzado desde el Sindicato de Estudiantes e Izquierda Revolucionaria.
Construyendo Libres y Combativas
La necesidad de un feminismo revolucionario y organizado que ponga fin a la opresión del sistema capitalista hacia las mujeres jóvenes y trabajadoras, ha hecho que "Libres y Combativas" pueda desarrollarse cada día con más fuerza. Desde el lanzamiento el 8 de marzo con la convocatoria de un paro contra la violencia machista en los IES y facultades de todo el Estado, nos hemos extendido a decenas de ciudades.
El 25N participamos activamente en las manifestaciones en Asturias, Euskal Herria, Catalunya, Paìs Valenciá, Murcia, Andalucía, Castilla la Mancha, Castilla León, Aragón y Madrid explicando la necesidad de organizarnos políticamente y darle a nuestra lucha un contenido revolucionario y de clase. La intervención que realizamos se reflejó en la venta de más de 1.000 periódicos de Libres y Combativas, en donde destacamos la figura de Angela Davis, la lucha de las kellys o movilizaciones como la de las mujeres irlandesas por la despenalización del aborto.
Las manifestaciones del 25-N han sido el broche de oro de una semana llena de encuentros y asambleas provinciales de Libres y Combativas en Sevilla, Málaga, Toledo, Madrid, Barcelona, Bizkaia, etc. En estas reuniones y en las manifestaciones del sábado se han unido a Libres y Combativas más de 300 compañeras interesadas en levantar la bandera del feminismo de clase contra este sistema injusto que nos maltrata y asesina. Como revolucionarias y revolucionarios seguiremos construyendo Libres y Combativas en cada centro de estudio, en cada puesto de trabajo y en cada barrio, preparando desde ahora mismo la huelga general del 8 de marzo y nuestro gran Encuentro Estatal del próximo año.
¡Contra la violencia machista y la opresión del sistema capitalista!
¡Únete a Libres y Combativas!
Special financial appeal to all readers of socialistworld.net

Support building alternative socialist media

---

Socialistworld.net provides a unique analysis and perspective of world events. Socialistworld.net also plays a crucial role in building the struggle for socialism across all continents. Capitalism has failed! Assist us to build the fight-back and prepare for the stormy period of class struggles ahead. Please make a donation to help us reach more readers and to widen our socialist campaigning work across the world.

Donate via Paypal

CWI- Please inform us if you are reproducing any material from this site.