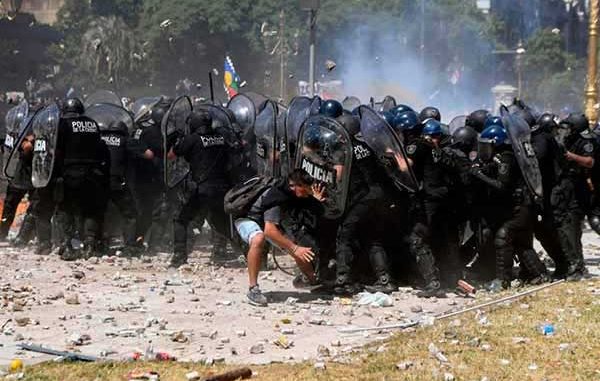 Con el parlamento totalmente blindado por la policía y a altas horas de la madrugada del martes 19 de diciembre, se aprobaba la contrarreforma de las pensiones orquestada por el gobierno de coalición de Mauricio Macri (Cambiemos), y el robo de 5.000 millones de euros a los jubilados. Con la misma nocturnidad y también de madrugada, se los regalaban el miércoles a los empresarios en otra votación, esta vez a través de exenciones fiscales.
Una nueva etapa en la lucha de clases en Argentina
Continúan así el camino marcado por el FMI y la OCDE, que siguen exigiendo medidas de ajuste y ataques a los trabajadores y que Mauricio Macri no tiene inconveniente en aplicar. Pero en octubre, después de ganar las elecciones legislativas en trece de los veinticuatro distritos del país, pensaba que esto lo podría hacer sin apenas oposición. Nada más lejos de la realidad.
Esta semana el Presidente argentino ha tenido que mentir, maniobrar y utilizar la represión policial más salvaje para enfrentarse a una movilización social que ha puesto de manifiesto la debilidad del gobierno derechista.
La gran mentira del "bono compensatorio" y el recurso de la represión
La contrarreforma de las pensiones es un duro ataque al poder adquisitivo ya mermado de millones de personas, las más desprotegidas de la sociedad argentina. Entre pensionistas y beneficiarios de planes sociales afectará a un 39% de la población. Por poner un ejemplo, un pensionista que cobra el mínimo de 340 euros al mes (el 65% de todos los pensionistas ganan solo eso) perderá una mensualidad entera al año. La canasta básica para un jubilado supone unos 830 euros en Argentina.
El día 14 de este mes, el gobierno fue incapaz de aprobar esta contrarreforma en el parlamento, después de que miles de personas salieran a las calles para impedirlo y lo consiguieran. El congreso de los diputados tuvo que suspender la votación y Macri lanzó a más de 3.000 policías a reprimir las movilizaciones indiscriminadamente.
Al día siguiente, los grandes medios de comunicación lanzaron una encendida campaña de criminalización contra los manifestantes, intentando cambiar el ambiente de rechazo generalizado contra la policía por su actuación salvaje del día antes. También el Gobierno anunció la creación de un "bono compensatorio" para amortiguar los posibles efectos negativos de la contrarreforma. Una auténtica burla. De los 5.000 millones de euros sustraídos de las pensiones con la medida, el total de los "bonos compensatorios" no llega a los 190 millones. Es solo propaganda que intenta dulcificar el ataque y que en realidad no engaña a nadie. Por eso han decidido profundizar en la represión para aprobar la contrarreforma a cualquier precio.
Desde el jueves 14, el nuevo intento parlamentario de aprobar la contrarreforma ha ido acompañado de la militarización de Buenos Aires. El día elegido para la nueva votación fue el lunes 18, y desde primera hora el gobierno volvió a arremeter contra las manifestaciones pacíficas incluso a un nivel superior. La policía junto a la Gendarmería (policía militarizada) actuaron como el día 14 y cientos de patrulleros en moto disparaban a bocajarro con perdigones de goma a los manifestantes, organizando después de las cargas una autentica cacería de personas. El balance son más de 60 detenidos y decenas de heridos.
A pesar de la represión, la movilización se mantuvo durante todo el día, y se extendió a numerosos barrios de Buenos Aires e incluso a otras ciudades. De madrugada aun había miles de personas en las inmediaciones del Parlamento.
La votación fue ya por la mañana. 127 votos a favor, 117 en contra y 2 abstenciones. La decisión de aprobar la contrarreforma a cualquier precio estaba tomada, y puede costar caro a un Gobierno que ha mostrado a las claras su debilidad. El rechazo es generalizado entre la población y hay encuestas que llegan a asegurar que 7 de cada 10 argentinos está en contra de estas medidas. Es lo que se ha plasmado en las grandes movilizaciones y la incapacidad de someterlas en base a la represión.
Un nuevo escenario
Millones se oponen al gobierno de la derecha y como se ha demostrado en los últimos días centenares de miles están dispuestos a luchar, no solo para parar los últimos ataques, sino para echar a Macri del Gobierno. Si se han aprobado al final estas medidas antiobreras es por los balones de oxígeno que tanto la burocracia sindical de la CGT como el kirchnerismo están proporcionando a Macri.
La burocracia sindical de CGT no se ha sumado decididamente en ningún momento a la movilización. Si desde el principio hubiera apostado por la convocatoria de una huelga general, bien organizada en todo el país y paralizando todos los sectores, la presión sobre el gobierno se habría multiplicado exponencialmente. En cambio, fue a las 9 de la mañana del mismo día 18 cuando decidieron lanzar para las 12 de medio día un paro de 24 horas fruto de la contundencia de la movilización ya en marcha y de la actuación salvaje de la policía. Incluso en ese contexto, la dirección de la Unión Tranviaria Automotor que agrupa a los trabajadores del transporte público decidió no apoyar el paro, minando el efecto que el llamamiento podía conseguir.
Por su parte, Cristina Fernández de Kirchner es la gran ausente en toda esta situación y en ningún momento ha hecho llamamientos a participar en las protestas contra los ataques.
A pesar de su debilidad, estos factores han animado a Macri a aprobar pírricamente sus planes, que también han contado con el apoyo de gobernadores y parlamentarios de "oposición". Pero es imposible ocultar las grandes dificultades del Gobierno para llevar a cabo esta votación, que augura malas noticias para los capitalistas y la derecha argentina. La lucha de clases ha entrado en un escenario de confrontación abierta, mucho más duro, y donde amplios sectores de los trabajadores y la juventud sacarán conclusiones políticas más aceleradas abriendo grandes posibilidades de avance a la izquierda revolucionaria.
Special financial appeal to all readers of socialistworld.net

Support building alternative socialist media

---

Socialistworld.net provides a unique analysis and perspective of world events. Socialistworld.net also plays a crucial role in building the struggle for socialism across all continents. Capitalism has failed! Assist us to build the fight-back and prepare for the stormy period of class struggles ahead. Please make a donation to help us reach more readers and to widen our socialist campaigning work across the world.

Donate via Paypal

CWI- Please inform us if you are reproducing any material from this site.