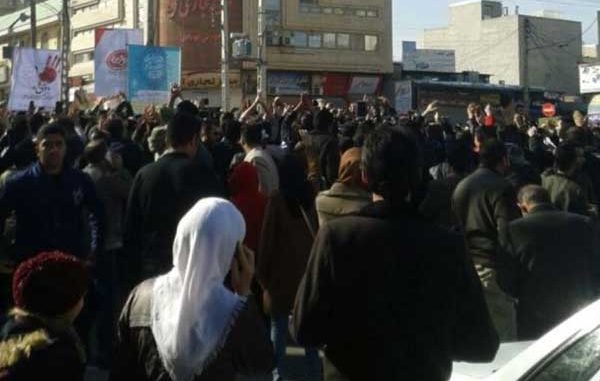 El 5 de enero sindicatos independientes de Irán publicaron una declaración de apoyo a las protestas de masas contra la austeridad y la dictadura que comenzaron a finales del año pasado. La declaración se publicó en nombre del Sindicato de Trabajadores del Transporte Público de Teherán y del Sindicato de Trabajadores de Agro-Industria de Haft Tapeh. Ambos sindicatos han estado implicados en las últimas luchas y han sufrido la represión. Reza Shahabi, un dirigente de los trabajadores de los autobuses de Teherán, lleva siendo objeto de persecución desde 2010, estuvo seis años en prisión y ahora está de nuevo en la cárcel desde el mes de agosto pasado.
Pedimos a nuestros lectores que envíen mensajes de solidaridad exigiendo la liberación de todos los sindicalistas y activistas detenidos, y que apoyen los esfuerzos de construir un movimiento de jóvenes, trabajadores y pobres para conquistar los derechos democráticos y transformar Irán.
Enviar mensajes de solidaridad al Sindicato de Trabajadores del Transporte Público de Teherán vsyndica@gmail.com con copia al CIT cwi@worldsoc.co.uk
DESCARGA LA RESOLUCIÓN EN INGLÉS Y CASTELLANO EN FORMATO PDF
Resolución Sindicato de Trabajadores del Transporte Público de Teherán/Sindicato de Trabajadores de la Agroindustria Haft Tapeh
¡Basta de violencia contra aquellos que luchan por sobrevivir!
Durante años hemos manifestado que nuestros salarios no alcanzaban para cubrir nuestras necesidades básicas, pero no se nos escuchó. Durante meses llegaron a no pagarnos nuestros pírricos salarios, que suponen una quinta parte del salario considerado en la línea de la pobreza. La proliferación de las privatizaciones, de la subcontratación, y de los contratos temporales y en blanco (donde los trabajadores tienen que entregar a su patrones una hoja en blanco firmada y con sus huellas dactilares) bajo las diferentes administraciones ha recortado continuamente la estabilidad y seguridad laboral de los trabajadores. Los préstamos bancarios concedidos para crear empleos han sido utilizados por determinadas personas para hacer negocios no productivos y obtener suculentos beneficios. Políticas erróneas han incrementado el desempleo, la pobreza se ha intensificado, y la mendicidad, el trabajo infantil y rebuscar en la basura se han convertido en medios de supervivencia. El seguro médico no alcanza para los trabajadores y la gente común. La malversación y el saqueo de activos públicos se han generalizado. El aumento del costo de los servicios y el combustible ha supuesto que aumenten también el precio de otros bienes y servicios. Los sectores más pobres se han visto perjudicados al establecerse subsidios "por objetivo", y aunque el subsidio en efectivo (mensual) es una cantidad fija, los precios se han liberalizado en extremo.
Las legítimas protestas de los trabajadores y los profesores fueron respondidas con despidos, latigazos y encarcelamientos.
El Sindicato de Trabajadores del Transporte Público de Teherán, el Sindicato de Trabajadores de la Agroindustria Haft Tapeh, y otros sindicatos independientes y organizaciones de trabajadores y maestros que defienden sus derechos, no son reconocidos oficialmente, son reprimidos con violencia, y sus miembros son frecuentemente encarcelados y llevados ante los tribunales . La Constitución ha sido violada frecuentemente al no reconocerse el derecho de las personas a protestar y el derecho de los trabajadores a formar sindicatos independientes y poder ejercer sus derechos.
Todos los trabajadores y los oprimidos han sufrido esta situación de injusticia generalizada. La violencia no es una respuesta contra aquellos que luchan por sobrevivir.
Sindicato de Trabajadores del Transporte Público de Teherán
Sindicato de Trabajadores de la Agroindustria Haft Tapeh
Don't use violence against the people struggling to survive!
Protests by poorer, oppressed classes and workers is a result of injustice
For years, we said our wages did not meet our minimum livelihoods but this was not heard. We were not paid our meagre wages, which are one-fifth of poverty-line wages, for months. The spread of privatisation, sub-contracting, temporary and blank contracts (where workers have to give their bosses a signed and fingerprinted blank sheet of paper) under different administrations continuously attacked workers' job security. Bank loans allocated for so-called job creation were used by certain people for non-productive businesses and profiteering. Wrong policies skyrocketed unemployment. Poverty has intensified and homelessness, child labour and scavenging has grown as a means of survival. Medical insurance is not adequate for workers and ordinary people. Embezzlement and the looting of public assets have become prevalent. With the rise in the cost of services and fuel, the prices of other goods and services have also risen. The lower classes have been damaged by making the subsidies "targeted", and while the (monthly) cash subsidy paid to the people is a fixed amount, prices became extremely liberalised.
Legitimate protests by workers and teachers were responded to by dismissals, lashings and prison.
The Tehran Public Transport Workers Union, Haft Tapeh Agro-industry Workers Union and other independent unions and organisations of workers and teachers that defend their rights, are not recognised officially, and furthermore are suppressed violently, their members have frequently been imprisoned and put before courts. The Constitution has been frequently violated by the failure to recognise the people's right to protest and workers' rights to form their independent unions and pursue their rights.
All workers and the poor have experienced this widespread injustice. Violence is not an answer to the people who struggle to survive.
Tehran Public Transport Workers Union
Haft Tapeh Agro-industry Workers Union