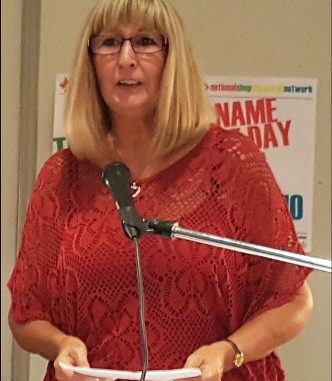 Tesco worker and Socialist Party member Amy Murphy has been elected president of the shop workers' union Usdaw.
Amy won on a campaign based on giving Usdaw a fighting and democratic leadership, and fighting for policies such a £10 an hour minimum wage, an end to zero-hour contracts, supporting members who wish to take industrial action and standing up to companies' attacks on jobs and terms and conditions.
Amy says:
"I would like to thank everyone who supported me, so, so much, from the bottom of my heart. Your support has been immense. The time has come to stand up to the companies we work for. As president I will continue to challenge the union leadership and the bosses and be 100% behind the members."
During the campaign over 11,000 leaflets were distributed by Socialist Party members, Usdaw Broad Left activists and other supporters. Amy spoke at meetings and toured the country speaking to union members.
Usdaw will also have a new general secretary after current deputy general secretary Paddy Lillis was elected unopposed.
It is welcome that in speeches at Usdaw divisional conferences Lillis has been much more positive towards Jeremy Corbyn and the radical policies that were in the most recent Labour election manifesto – many of which have been passed as policy at Usdaw conferences.
However, Lillis was also chair of the Labour national executive committee during the 2016 leadership election that went to court to deny many Labour Party members a vote in that election.
And alongside outgoing general secretary John Hannett, he has presided over large scale attacks on Usdaw members' terms and conditions and the loss of jobs through the approach of 'partnership' – working with the bosses in Tesco and other large retailers.
The election of Amy offers a chance to advance the union in a new direction, working with Broad Left members on the executive council and ensuring Usdaw takes a fighting approach in a sector that desperately needs it.
The many Usdaw members and shop workers we met during the campaign who expressed support for Amy and her policies will be delighted by this massive step forward.
It gives the Socialist Party and the Broad Left a great opportunity to continue the campaign to give Usdaw a bold, fighting, socialist leadership that stands up to the major retail companies and fights for Usdaw's 430,000 members.