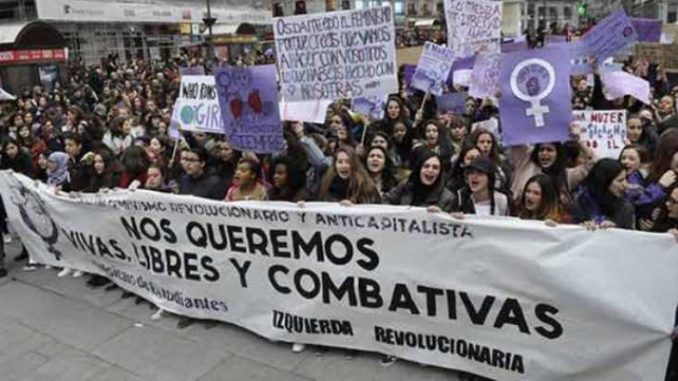 Pincha aquí para ver galería de fotos y videos
La huelga feminista ha sido un éxito rotundo en los institutos y universidades de todos los territorios. La convocatoria de 24 horas de paro realizada por el Sindicato de Estudiantes y Libres y Combativas ha sido seguida de manera multitudinaria: más de 90% de seguimiento en la enseñanza secundaria y más del 80% en la universidad. Más de 150.000 jóvenes hemos abarrotado las más de 90 concentraciones y manifestaciones que hemos organizado: Desde la Puerta del Sol, llena con miles de compañeras, y también compañeros que han estado a nuestro lado en esta batalla, pasando por la Plaza de Sant Jaume en Barcelona, dónde no cabía un alfiler, en Vigo, Ferrol, Gijón, Bilbo, Gasteiz, Donosti, Tarragona, Valencia, Sevilla, Málaga, Cádiz, Salamanca, Guadalajara…y en decenas de ciudades más, el grito de ¡Nos queremos vivas, libres y combativas! ha sido atronador.
Miles de estudiantes se han unido en estas semanas a Libres y Combativas, sólo esta mañana más de 1.000. Y es que necesitamos un feminismo de combate, revolucionario y anticapitalista, que denuncie alto y claro al patriarcado capitalista, pero también al gobierno del PP, a Ciudadanos, y a todos aquellos que aceptando la lógica del sistema recortan nuestros derechos, nuestros salarios, nuestra sanidad y nuestra educación, extienden la precariedad y defienden la justicia machista que ampara a los maltratadotes.
Desde Libres y Combativas hemos señalado que en esta gran batalla por nuestra liberación no todas las mujeres son nuestras aliadas. Como hoy se ha señalado en las intervenciones de nuestras compañeras en las plazas, nosotras no tenemos nada en común con Angela Merkel, con Cristina Cifuentes, Inés Arrimadas, o Ana Patricia Botín. Ellas defienden el sistema, y asumen la discriminación machista y la violencia contra la mujer trabajadora por que es la fuente de sus privilegios y de su poder. Ellas nos explotan igual que los hombres con los que comparten sillón en el Consejo de Ministros, en los consejos de administración de las grandes empresas, o en los Parlamentos.
El clamor de las estudiantes y las trabajadoras contra la opresión capitalista, contra el patriarcado y su violencia sistémica, contra el gobierno de la derecha y sus recortes, constituye un hito histórico y marca un antes y un después en la lucha de los oprimidos del Estado español y de todo el mundo. La posibilidad de que se celebren las movilizaciones más importantes desde el 15M muestra cómo las mujeres trabajadoras, y las jóvenes, nos hemos colocado a la vanguardia de la batalla por la igualdad de derechos y contra la injusticia social del capitalismo.
Llamamos a todas las estudiantes y a todas las trabajadoras a continuar la batalla por nuestro presente y nuestro futuro. Las manifestaciones unitarias de la tarde van a ser un auténtico terremoto, con millones de mujeres, y también de compañeros que están a nuestro lado, llenado toda la geografía del Estado español. Por eso la lucha debe continuar los 365 días del año. Por eso debemos levantar un feminismo alejado del postureo, de la moqueta, del espectáculo del sistema. Queremos un feminismo que no sea asimilado por los y las poderosas. Un feminismo de clase, revolucionaria y anticapitalista. ¡Constrúyelo con nosotras! ¡Únete a Libres y Combativas!
Special financial appeal to all readers of socialistworld.net

Support building alternative socialist media

---

Socialistworld.net provides a unique analysis and perspective of world events. Socialistworld.net also plays a crucial role in building the struggle for socialism across all continents. Capitalism has failed! Assist us to build the fight-back and prepare for the stormy period of class struggles ahead. Please make a donation to help us reach more readers and to widen our socialist campaigning work across the world.

Donate via Paypal

CWI- Please inform us if you are reproducing any material from this site.