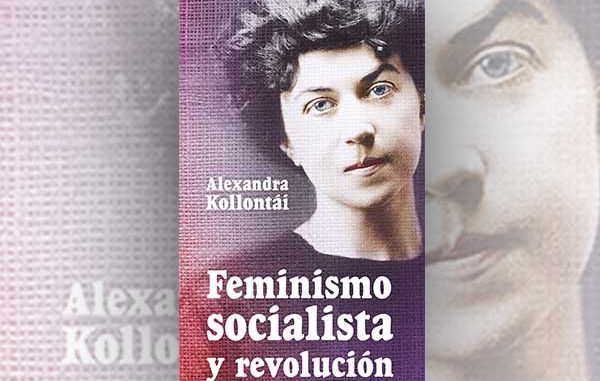 La Fundación Federico Engels, en colaboración con Libres y Combativas, acaba de publicar una selección de los escritos de Alexandra Kollontái bajo el título Feminismo socialista y revolución. Los textos aquí recogidos son una inestimable contribución a la lucha por la liberación de la mujer trabajadora, y arrojan mucha luz en un momento en el que el combate contra la violencia machista y la opresión de género se han recrudecido como consecuencia de la crisis del capitalismo.
Una revolucionaria internacionalista
La lucha por la emancipación de la mujer trabajadora desde una perspectiva marxista tiene una enorme deuda de reconocimiento y gratitud hacia un grupo de arrojadas mujeres nacidas a finales del siglo XIX. Rosa Luxemburgo, Clara Zetkin, Nadezhda Krúpskaya, Inessa Armand y una larga lista de revolucionarias fueron capaces de superar todo tipo de obstáculos y prohibiciones para defender la causa de la mujer obrera. Sin duda, Alexandra Kollontái, dirigente bolchevique durante la Revolución de Octubre, ocupa un lugar muy destacado entre ellas por derecho propio.
Alexandra M. Domontovitch, conocida por el apellido de su marido, Kollontái, nació el 19 de marzo de 1872 en San Petersburgo en el seno de una familia terrateniente. Su ciudad natal fue escenario de las primeras acciones del movimiento obrero ruso, acercando la lucha de clases a la joven Alexandra a pesar de su origen social. Ella misma describió el papel decisivo que jugó en su evolución política la visita a una fábrica textil en 1895, donde comprobó como las mujeres realizaban jornadas de entre 12 y 18 horas diarias. Rápidamente se unió a los grupos revolucionarios de Petersburgo, entrando en contacto con los círculos marxistas rusos y afiliándose al Partido Obrero Socialdemócrata Ruso en 1899.
Kollontái, junto a otras camaradas como Zetkin o Krúpskaya, jugó un papel decisivo para que el movimiento socialdemócrata de principios del siglo XX comprendiera la necesidad de una orientación y una propaganda específica hacia la mujer trabajadora, que precisamente por su doble opresión, de género y de clase, no se adhería con facilidad ni al Partido ni a los sindicatos. Alexandra no abogó por organizaciones separadas, puesto que comprendía que la emancipación de la mujer trabajadora sólo sería posible como parte integral de la lucha por el socialismo junto con el resto de la clase obrera. Pero ello no implicaba ignorar que eran necesarias medidas concretas destinadas a ganar a las mujeres obreras a la lucha revolucionaria. A ninguna de las precursoras del feminismo de clase le regalaron nada y, como la propia Kollontái reconoce en su autobiografía, su trabajo encontró serias dificultades entre los hombres que militaban en las filas del socialismo. Pero fue una incomprensión que, lejos de intimidarla, la animó a redoblar su tenacidad.
Sus llamamientos a la insurrección y su intenso trabajo entre las mujeres proletarias durante la revolución de 1905 y el año 1906, le supusieron una dura condena de los tribunales zaristas, viéndose obligada a huir de Rusia. En cualquier caso, sus años de obligado exilio le dieron la oportunidad de conocer a relevantes figuras como Kautsky, Rosa Luxemburgo o Plejánov.
Mantuvo una firme posición internacionalista durante la Primera Guerra Mundial imperialista, lo que marcó su ruptura con los mencheviques, y realizó una intensa agitación revolucionaria por diversos países, especialmente en los EEUU donde realizó mítines en ochenta y una ciudades en sólo cinco meses.
El Octubre soviético
Al desatarse la revolución en febrero de 1917, Kollontái decidió regresar rápidamente a Rusia, logrando cruzar la frontera en marzo. Al poco tiempo fue electa para el Comité Ejecutivo del Sóviet de Petrogrado, siendo la primera mujer elegida para este órgano de dirección. Tras el triunfo del Octubre soviético, Kollontái fue también la primera mujer en la historia que formó parte de un gobierno, ocupando el Comisariado del Pueblo para la Salud y el Bienestar Social. Desde su responsabilidad trabajó infatigablemente por los derechos de la mujer trabajadora y su implicación en la construcción de la nueva sociedad socialista.
El nuevo Estado obrero nacido de la revolución puso en marcha medidas legislativas y avances en defensa de los derechos de la mujer hasta ese momento desconocidos: despenalización del aborto, divorcio rápido y gratuito a disposición del hombre y de la mujer, beneficios sociales en forma de salarios de maternidad, guarderías y hogares para los niños. Ella, y otras muchas bolcheviques, lucharon sin descanso por la liberación de la mujer proletaria y campesina de Rusia, aplastada por siglos de opresión y atraso.
La guerra civil y la intervención imperialista contra la Revolución Rusa provocaron debates polémicos en el seno del Partido Bolchevique, siempre encarados y resueltos de manera democrática: negociaciones de paz, el nuevo Ejército Rojo, la política económica… Kollontái participó en muchos de ellos, especialmente durante 1920-1921. Fue muy activa, como dirigente de la Oposición Obrera, en la discusión sobre el papel que los sindicatos debían desempeñar en esta fase de transición al socialismo y sobre las condiciones de la democracia obrera en el Partido y en los sóviets en un contexto de devastación económica.
En 1923 pasó al servicio diplomático y fue nombrada embajadora de la Unión Soviética, convirtiéndose también así en la primera mujer de la historia que desempeñó esa tarea. Posteriormente se alineó públicamente a favor de Stalin y dio cobertura a la burocracia en su persecución contra miles de militantes comunistas de la Oposición de Izquierda. A pesar de su postración ideológica en esta fase de su vida, sus escritos sobre la liberación de la mujer constituyen una seria aportación al arsenal del marxismo y deben ser estudiados por las nuevas generaciones de revolucionarios.
The CWI relies on the donations from working class people around the world to fund our campaigns.Please donate towards building the CWI.