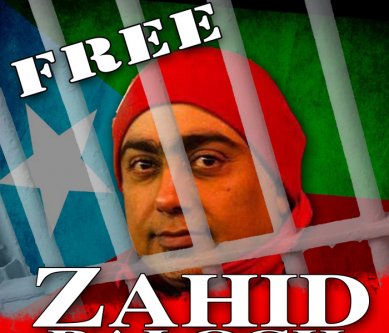 Activista socialista y en defensa de los derechos de las mujeres. Su vida corre peligro si es devuelto a Pakistán
El compañero del CIT/CWI, Zahid Baloch, se encuentra en un centro de internamiento para refugiados en Trandum, Noruega. Le hemos podido visitar el 14 de marzo tras una semana sin ningún contacto. El Comisión sueca de inmigración y la policía fronteriza le deportó a Noruega violando todas las leyes y reglamentos existentes, entre ellas que su representante legal no fuera informado sobre dicha deportación.
La deportación se ha llevado adelante a pesar de las serias advertencias manifestadas por el médico de Zahid sobre su estado de salud. Le confiscaron su teléfono móvil, y esposado le deportaron a las 7 de la mañana. Ahora está encerrado en una celda en Trandum, de la que sólo le está permitido salir durante 15 minutos al día.
Zahid sólo tiene una semana para recurrir la sentencia, dictada hace tres años, que ordenaba su deportación a Pakistán. Hacemos un llamamiento para que se envíen nuevas protestas ante el riesgo de que pueda ser enviado a Pakistán, de donde huyó de la tortura y de su posible muerte.
Para conocer más sobre el caso de Zahid remitimos al siguiente link: http://www.izquierdarevolucionaria.net/index.php/internacional/europa/10963-suecia-libertad-inmediata-para-zahid-baloch
¡Hay que impedir su deportación! ¡Enviar protestas contra esta injusticia!
Carta modelo de denuncia:
¡No a la expulsión de Zahid Baloch!
Zahid Baloch necesita asilo político. Es uno de los disidentes políticos más conocido en todo el mundo frente al régimen de Baluchistán (Pakistán), donde el ejército pakistaní asesina con impunidad y oprime de forma brutal a la oposición. El caso de Zahid Baloch y la situación de represión existente en Baluchistán han sido denunciados en muchas ocasiones ya ante la Comisión de Derechos Humanos de la ONU en Ginebra.
Zahid ha descrito la situación existente en Baluchistán en numerosos discursos en manifestaciones, reuniones y actos públicos, así como mediante artículos periodísticos y a través de internet. La vida de Zahid Baloch está amenazada. Su padre sufrió una paliza tan brutal que casi muere, como consecuencia de las actividades políticas de Zahid.
Zahid Baloch es un militante revolucionario socialista y defensor de los derechos de las mujeres, lo que le ha supuesto ser amenazado por parte de radicales de extrema derecha en Pakistán.
Por otro lado, ha sufrido dos ataques al corazón y necesita cuidados regulares consecuencia del estrés postraumático fruto de su tiempo en prisión en Pakistán y de las torturas que sufrió durante dicho periodo.
Exigimos:
¡Parar inmediatamente la deportación y expulsión de Zahid Baloch!
¡Asilo político para Zahid Baloch!
Pedimos que se envíe ésta u otras cartas de protesta indicando nombre, apellidos, documento de identidad y firma, a la siguiente dirección: Directorio de Inmigración de Noruega: udi@udi.no (Con copia a: rs.gbg@socialisterna.org)
Special financial appeal to all readers of socialistworld.net

Support building alternative socialist media

---

Socialistworld.net provides a unique analysis and perspective of world events. Socialistworld.net also plays a crucial role in building the struggle for socialism across all continents. Capitalism has failed! Assist us to build the fight-back and prepare for the stormy period of class struggles ahead. Please make a donation to help us reach more readers and to widen our socialist campaigning work across the world.

Donate via Paypal

CWI- Please inform us if you are reproducing any material from this site.