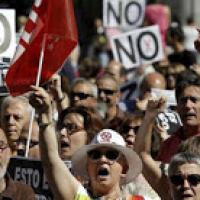 Hay alternativa a la austeridad fuera de la lógica del capitalismo
Por un frente único de la izquierda y los movimientos obreros y sociales
ESTE GOBIERNO NO AGUANTA UNA HUELGA GENERAL DE 48 HORAS
Hay alternativa a la austeridad fuera de la lógica del capitalismo
Por un frente único de la izquierda y los movimientos obreros y sociales
La corrupción destapada en el caso Bárcenas ha venido a aumentar todavía más la evidente debilidad del gobierno de Mariano Rajoy. Las tensiones internas dentro de su propio gobierno y partido son cada vez más evidentes y a ello hay que sumar todo el bagaje acumulado durante su escaso año de gobierno: incumplimiento total de su programa electoral, incapacidad para gestionar la economía y los numerosos conflictos laborales que hay abiertos a nivel estatal, sobretodo en los servicios públicos. El estado muestra grandes fisuras como evidencia el hecho de que incluso jueces, policías, profesores, médicos y otros colectivos básicos en el funcionamiento del estado han mostrado públicamente su descontento con la situación. A todo ello hay que sumar el enorme descrédito que sufren la gran mayoría de instituciones del estado como son la monarquía, el sistema judicial, el sistema financiero e incluso el modelo territorial basado en las autonomías.
En tal situación, si los líderes de las principales organizaciones sindicales del país estuvieran realmente dispuestos a cambiar la situación, la convocatoria de una huelga general de 48 horas, que sirviera de punto de unificación de las numerosas luchas que cotidianamente inundan las calles, sería suficiente para hacer caer al gobierno y abrir una nueva fase. Dicha convocatoria podría representar la intensificación necesaria de la escala e intensidad de lucha, después de las fuertes huelgas generales que ya hemos visto, pero que no han sido capaces de dar la vuelta a la situación.
Con un PSOE en horas bajas, el típico bipartidismo que ha caracterizado a la política española en las últimas décadas daría paso a una situación mucho más abierta donde la izquierda real dispondría de una oportunidad histórica para dar un paso adelante y convertirse en alternativa real de gobierno a corto plazo. Los avances en las encuestas, tanto para IU, como para otras formaciones y alianzas de la izquierda alternativa (AGE en Galicia, CUP en Cataluña etc), muestran la base para ello. Un gobierno de izquierdas que acabe con la austeridad ya no es un sueno utópico, sino una necesidad concreta por la que hay que luchar.
Para ello es necesaria la construcción de un frente único de la izquierda, junto con los movimientos obreros y sociales, que pueda ofrecer una auténtica salida a la crisis, necesariamente saliendo de la lógica de este sistema caotico de dictadura de mercados y beneficios, partiendo de unos puntos básicos que conformen el inicio de un programa verdaderamente socialista:
Ni austeridad ni pago de la deuda. Se acabó el ceder al chantaje de los mercados y de : ningún sacrificio por permanecer en el euro. Por una confederación libre y socialista de los pueblos trabajadores en Europa.
Reforma fiscal que grave fuertemente las rentas de capital y nacionalización de la banca que evite la fuga de capitales y permita recuperar el poder de decisión sobre la economía. Inversión en servicios públicos de la gran cantidad de recursos actualmente privados que se socializarían con estas medidas.
Derecho de autodeterminación de las naciones bajo una base socialista. Las movilizaciones a lo largo de todo el Estado Español muestran que los problemas que afrontan los trabajadores y los jóvenes en los diferentes territorios son los mismos y que su enemigo es común. Al mismo tiempo, la pluralidad de naciones que conforman el Estado Español tienen el derecho a decidir libre y democráticamente sobre su futuro y solamente bajo la aceptación de este derecho por parte de todos, será posible continuar la lucha común contra el enemigo común.
La aceptación de este programa por parte de los diferentes sectores de la izquierda pondría en el objetivo la formación de un gobierno de los trabajadores que gestione la economía en beneficio de la clase trabajadora y no en beneficio del capital como actualmente ocurre. Apelamos a la unidad alrededor de dicho programa, y que sindicalistas, activistas de base y militantes de todas las organizaciones de izquierdas a nivel estatal se unan para llevarlo a cabo. 
Special financial appeal to all readers of socialistworld.net

Support building alternative socialist media

---

Socialistworld.net provides a unique analysis and perspective of world events. Socialistworld.net also plays a crucial role in building the struggle for socialism across all continents. Capitalism has failed! Assist us to build the fight-back and prepare for the stormy period of class struggles ahead. Please make a donation to help us reach more readers and to widen our socialist campaigning work across the world.

Donate via Paypal

CWI- Please inform us if you are reproducing any material from this site.