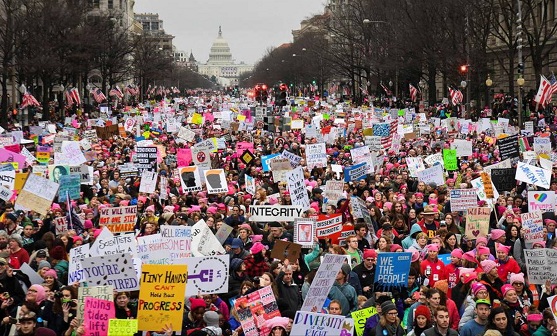 Más de un millón en las calles contra la violencia de las armas
El 24 de marzo más de un millón de personas, especialmente jóvenes y estudiantes, participaron en las 800 manifestaciones convocadas por todo el territorio estadounidense. La más importante fue la de Washington DC que reunió a unas 800.000 personas, también fueron muy destacadas la de Nueva York con 150.000, Boston con 100.000, Chicago con 80.000 o Los Ángeles con 40.000. Han sido las manifestaciones estudiantiles más grandes desde la guerra de Vietnam hace cincuenta años.
Con el nombre de 'Marcha por nuestras vidas', la protesta nace inicialmente de los estudiantes que sobrevivieron a la masacre de Parkland (Florida) el pasado 14 de febrero y en la que murieron abatidas a tiros 17 personas, 14 de ellas estudiantes. La respuesta de los supervivientes de esta matanza no fue hundirse en la tristeza y el miedo, como ha sucedido en tantas ocasiones, esta vez decidieron salir a la calle y luchar para cambiar la situación. Pocos días después, cientos de jóvenes se presentaron en el Congreso del estado de Florida cuando se discutía una ley para prohibir las armas de asalto, ley que fue rechazada por los congresistas. Los estudiantes, indignados por el resultado de la votación, se dirigieron inmediatamente a los medios de comunicación para denunciar a los políticos que recibían contribuciones de la Asociación Nacional del Rifle (NRA).
La actitud combativa de los estudiantes de Parkland contagió a miles de estudiantes que en los días posteriores protagonizaron paros, concentraciones y todo tipo de protestas en las escuelas de todo el país. Estas protestas culminaron el miércoles 14 de marzo con centenares de miles de estudiantes participando en un paro de 17 minutos, simbolizando los 17 muertos de Florida, y saliendo a la calle masivamente. Fue sólo el preludio de las masivas manifestaciones del 24 de marzo.
El nerviosismo de la clase dominante
Los tiroteos en masa en las escuelas se han convertido en un problema cotidiano. En lo que va de 2018 se han producido 17 tiroteos en escuelas estadounidenses, 239 en los últimos cinco años. El periódico The Washington Post publicó que desde la masacre de Columbine (Colorado) en 1999, 193 escuelas o institutos y 187.000 estudiantes han sufrido un tiroteo en su centro de estudios y más de 400 han sido asesinados.
La respuesta de Trump a la matanza en Parkland –apoyada por los republicanos y la Asociación Nacional del Rifle– fue armar a los profesores, incrementar la presencia policial y militarizar las escuelas, medidas rechazadas abrumadoramente por profesores y estudiantes, y que han provocado más indignación.
Desde el principio las protestas de los jóvenes no se han limitado a denunciar los tiroteos en las escuelas o a pedir el control de armas, sus reivindicaciones y denuncias son mucho más amplias, como se pudo ver en los discursos de los estudiantes en la marcha de Washington. Protestan contra los fabricantes de armas, exigen la desaparición de la reaccionaria NRA, denuncian la violencia sistemática, el racismo y la violencia policial. Los jóvenes consideran que el aumento de la violencia en las escuelas es el producto de lo que sucede en la sociedad. No sólo eso, este estallido de masas entre la juventud llega en un momento en que han aumentado las luchas de los trabajadores. No sólo la lucha ejemplar de los profesores de Virginia Occidental o Nueva Jersey, también hay convocadas huelgas en Arizona, Kentucky Tennessee y otros estados. Las protestas de los profesores también son una expresión de la furia que siente la clase trabajadora ante la desigualdad social, el empobrecimiento masivo y los ataques a sus condiciones laborales.
Y esto ha provocado pánico entre las autoridades, que han respondido histéricas con una campaña de detenciones de docenas de adolescentes por todo el país, incluidos niños de trece años, discapacitados, jóvenes que son sacados de sus casas o escuelas por la policía, y en la mayoría de los casos las únicas pruebas o acusaciones son publicaciones en redes sociales. Este nerviosismo de la clase dominante se ha plasmado en los editoriales de los principales medios de comunicación. The New York Times hablaba de hostilidad hacia el "orden económico", después de publicar una encuesta que mostraba que sólo el 14% de los jóvenes entre 18 y 29 años de edad pensaba que el país iba en la dirección correcta.
Un país armado
Todos los intentos de aprobar leyes para controlar la posesión de armas han sido en vano. Los que se oponen al control de armas defienden que es un derecho recogido en la Constitución, que son necesarias para defenderse y que el gobierno no tiene que intervenir. También está detrás la presión que ejerce la NRA, el poderoso y millonario lobby de las armas (que aportó 35 millones de dólares a la campaña de Trump), que como cualquier otro grupo de presión ya sea del carbón, petróleo o tabaco protege sus intereses, en este caso, los de la industria armamentística, además de fomentar una ideología reaccionaria e individualista y bloquear cualquier ley que pretenda controlar las armas.
Todo esto ha convertido a EEUU en el país del mundo con más armas en manos de civiles, son el 5% de la población mundial y poseen casi la mitad de todas las armas civiles del mundo: 89 armas por cada 100 personas. En 2009, según el Servicio de Investigación del Congreso, había 310 millones de armas.
El aumento de la violencia y, en estos últimos años, particularmente la violencia de las armas está directamente relacionado con el incremento de la desigualdad social que ha alcanzado niveles sin precedentes. El salario medio de los jóvenes norteamericanos es hoy un 43% inferior al de 1995, la deuda de los estudiantes para poder costearse los estudios ha alcanzado proporciones gigantescas, la deuda media por estudiante ha pasado de 24.000 dólares en 2008 a 37.000 en la actualidad. Tampoco podemos olvidar que la violencia "en casa" no se puede aislar de la violencia ejercida en la política exterior; en las dos últimas décadas, con la excusa de la "guerra contra el terrorismo", EEUU ha vivido en una situación de guerra interminable que domina todos los aspectos de la sociedad. Ha dedicando ingentes recursos para armamento mientras se reduce drásticamente el dinero destinado a la educación o la sanidad.
Cada vez que sucede una masacre se achaca al factor psicológico de los individuos, pero la causa real de la violencia de masas y de todos los problemas sociales que afronta la juventud y los trabajadores en EEUU están en el sistema capitalista y el mundo de pesadilla que ha creado.
Special financial appeal to all readers of socialistworld.net

Support building alternative socialist media

---

Socialistworld.net provides a unique analysis and perspective of world events. Socialistworld.net also plays a crucial role in building the struggle for socialism across all continents. Capitalism has failed! Assist us to build the fight-back and prepare for the stormy period of class struggles ahead. Please make a donation to help us reach more readers and to widen our socialist campaigning work across the world.

Donate via Paypal

CWI- Please inform us if you are reproducing any material from this site.