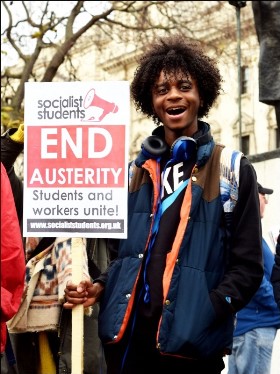 Fight for socialism!
Grief, anger and fear. These have been the dominant feelings in many working class communities, especially in London, at a recent spate of violent crime, including the deaths of a number of young people.Grief, anger and fear. These have been the dominant feelings in many working class communities, especially in London, at a recent spate of violent crime, including the deaths of a number of young people.
More than 50 people have been violently killed in the capital alone so far this year. The victims have mainly been young, working class and disproportionately from ethnic minorities.
This is a tragedy and people are rightly demanding action to keep our communities safe. But it is also an indictment both of the capitalist system which offers no meaningful future to young people, and of the politicians who defend that system and have cut to the bone the services which play a role in avoiding these devastations.
The response from the Tories is as we might predict. In their final proposals they were pressured to back off from increasing stop and search powers – proven time and again to be ineffective and racist.
But they pledge to attempt 'hot spot' policing – redistributing existing police numbers to have a heavier presence in areas with high crime rates.
This is an attempt to brush over the fact that they have carried out significant cuts to police budgets since 2010, with 20,000 less officers now on the street.
And a leaked document proved that they were told by their own officials that police cuts "may have encouraged offenders" and "may be an underlying factor that has allowed the rise" in violent crime.
Some working class people will no doubt welcome the extra officers in target areas, hoping it may have at least a temporary immediate effect in discouraging the gang violence. But, apart from the fact that without an overall increase in numbers it means less provision elsewhere, this tactic could also actually increase tension and add to a feeling of poorer areas being under siege and whole communities being criminalised for the actions of a few.
We demand that control of the police be placed under the auspices of democratically elected local committees involving representatives from trade unions, councils, tenants associations, and community organisations.
Crime and poverty
But, more fundamentally, this isn't just a crime and punishment issue. Any serious analysis of the situation and attempt to solve it has to look deeper at why people turn to crime and violence. Which is clearly linked to why the highest crime rates tend to be in the poorest areas.
Firstly there is the obvious financial issue. Some poor people can, in desperation, turn to crime and drugs to make a living. Decent jobs, housing and benefits can combat that. Young people who, when they think about the future, feel confidence that they will have a good home, job, pay and security for themselves and their family, don't tend to risk throwing such a future away by embarking on a life of crime.
Instead it tends to be a small minority of those who feel they have nothing to lose. And that's the feeling of a growing number.
If things continue as they are, they will never own a home, or even be able to afford to rent one of their own. They will never have a permanent, full time job with pay that's enough to live on. They watch their local areas transformed, with shiny new apartments and trendy shops appearing everywhere – but know that these are not for the likes of them.
Austerity is destroying lives now, and the prospects for lives in the future. We are seeing the potential talents, skills and interests of thousands of young people go to waste – seen at the extreme end in the list of those who have died on London's streets in the recent period, as well as those who carried out the killings.
Alienation and insecurity
More broadly, there is an increasing sense of powerlessness and alienation among working class young people. It starts young, with growing numbers excluded from schools that have been turned into 'exam results' factories.
Insecurity in their own lives is mirrored by the insecurity they see in the world around them. They fear war, terror, environmental destruction, the far-right and racism – created by older generations of the capitalist bosses, with young people feeling they have no say over their own future or that of the world in general.
The politics of neoliberalism, accepted by the majority of politicians for decades, has taught that being out for yourself and willing to trample on others is the way to success, and that if you are not 'succeeding' only you are to blame.
And unfortunately the trade unions have failed to provide an alternative vision or to lead a fight against austerity and all the other attacks on the working class. A mass coordinated struggle could draw in big numbers of young people and channel their rightful anger in a direction that could achieve change in their conditions.
The Corbyn surge, which included many working class young people attending rallies and turning out to vote for Corbyn, showed that when a serious battle is engaged in, youth will get involved.
But there has been no sustained call to action from Corbyn either. And his failure to launch a full-on fight against the right wing within Labour has undermined the appeal he could have among some youth. Cuts by local councils, many of them led by Blairite Labour, have decimated services to assist young people and families (see quotes below).
But we shouldn't be pessimistic. The majority of young people are just waiting for a signal to fight back. We should be confident that mass movements are coming, and that youth will be the best fighters in those movements.
Because we are not powerless – working class and young people, organised together and linked internationally, have the potential power to change the world and build a socialist future based on solidarity, cooperation and peace.
____________________________________
Trade Unionist and Socialist Coalition candidates respond
We have to say enough is enough. Stop all cuts and privatisation now. If you don't come from a rich family or a family with big assets, you need public services. EMA payments for college students, a functioning careers service, somewhere to go with other young people. The possibility of getting a job and a home must be on offer. Councils must provide services that offer alternative routes out of a life of crime or drugs. When our young people are dying it's time to act.
Nancy Taaffe, candidate for High Street, Waltham Forest
Unfortunately, the threat of violence is a constant fear for many parents with teenagers, like myself, who want their children to be confident and independent but also safe on the streets. In a borough with a high youth population, with high levels of overcrowding and poverty, the mayor's cuts, including £700,000 from youth services, have worsened the situation.
We know schools are cutting courses because of central government cuts and careers services are being cut back, again pushing some young people to the margins.
Hugo Pierre, candidate for mayor in Tower Hamlets
While every incident has its own specific circumstances, the increase in violent crime on our streets, we believe, is a reflection of deteriorating youth provision. Young people have had their services destroyed – our careers services, social work teams vital to helping children and families, and local Connexions teams have all sustained vicious cuts. This is not to mention the deep cuts to our youth offending team's budget.
Theo Sharieff, candidate for Leytonstone, Waltham Forest
Before the riots in Tottenham in 2011, eight of 13 youth centres were callously closed in Haringey. Socialist Party members campaigned for them to be reopened. Instead, the now-discredited and deselected Labour council leadership of Claire Kober proposed to cut the youth services budget by 75%. A poignant video has been circulated of young people speaking and protesting against these cuts – tragically including one of the local victims. Haringey is now set to become the first 'Corbyn council' in London. The new council must re-open these closed centres, expand youth services and restore EMA.
Candidates in Haringey
45% of children in Hounslow are living with out-of-work parents or in low-income households. The least we're asking for is youth services that can provide for them, give them somewhere to go, help them socially integrate and gain some skills. We're asking for things that can help them be motivated young people who can really make a difference in the future.
Sukh Sethi, candidate for Hounslow South (see a video of Sukh's full speech on the 'London Socialist Party' Facebook page)