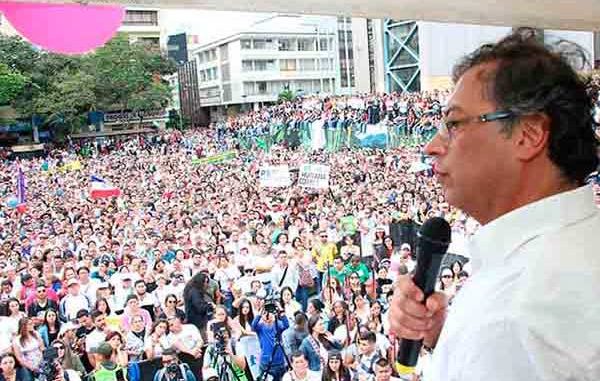 Petro pasa a la segunda vuelta, y amenaza al uribismo y la derecha
En medio de una fuerte polarización social, se celebró, el pasado 27 de mayo, la primera vuelta de las elecciones presidenciales. Con una participación histórica, que superó la barrera hasta ahora infranqueable de la mitad de inscritos, el principal candidato de la izquierda, Gustavo Petro, obtuvo unos resultados sin precedentes, pudiendo por primera vez en décadas un candidato netamente de izquierdas ganar las elecciones presidenciales. En el otro extremo, reflejando la profunda polarización existente, pasa a esa segunda vuelta el uribista Iván Duque, ligado al partido ultra derechista Centro Democrático (CD), que ganó en la primera vuelta con el 39% de los votos.
Aunque el uribismo obtuvo casi 3 millones de votos más que Petro, hay que tener en cuenta que Sergio Fajardo, el candidato de los partidos socialdemócratas de la Alianza Verde (AV) y del Polo Democrático Alternativo (PDA), obtuvo la friolera del 23% de las papeletas, sumando, junto a Petro, cerca de la mitad de los votos en esta primera vuelta (9.440.950 votos frente a los 7.569.693 voto del candidato uribista). Se trata de un resultado histórico para la izquierda, y eso a pesar de las más que creíbles denuncias de fraude en favor de Duque.
Polarización política. Santos, el gran derrotado.
Los grandes perdedores en estas elecciones han sido el liberal Humberto de la Calle y el derechista Germán Vargas Lleras, antiguo pupilo de Uribe, ex-vicepresidente bajo el gobierno de Santos, y uno de los favoritos en los comicios. Quien fuera máximo representante del gobierno en las negociaciones de paz con las FARC no ha superado ni el 2,5% de los votos, consiguiendo el peor resultado del Partido Liberal (PL) en 170 años, poniéndose encima de la mesa incluso su desaparición. Por otra parte, Vargas Lleras, que contaba con el apoyo de la línea blanda uribista y un enorme aparato propagandístico, alcanzó poco más del 7% de los votos, quedando muy por debajo de los resultados pronosticados por todas las encuestas.
Aunque desde el principio la prensa capitalista haya calificado los comicios como un nuevo referéndum sobre el Acuerdo de paz, ha sido imposible para la oligarquía colombiana evitar el debate sobre la corrupción y las apremiantes necesidades sociales. Ante el pánico a que un ex-guerrillero como Petro encabezara el voto popular, una parte del establishment encontró en Fajardo a su candidato de cara a frenar a aquel, considerándolo como el candidato responsable de la izquierda. Se llevó adelante una fuerte campaña de presión de cara a que tanto Petro como el liberal la Calle retiraran sus candidaturas en favor del ex-alcalde de Medellín. Sin embargo, no fue así, entre otras cosas gracias al movimiento de masas que se agrupo en torno a Petro, impulsándole meteóricamente a pesar de carecer del aparto y los medios que si tenían el resto de partidos.
Una campaña basada en la auto-organización y en la movilización popular.
En todos los barrios pobres del país, en el campo y en las universidades, se auto-organizaron comités de campaña de Colombia Humana, la fórmula electoral de Petro, funcionando a través de pequeñas donaciones económicas y aportaciones de alimentos, consiguiendo transporte gratuito y elaborando materiales de cara a hacer propaganda. Por otro lado, el movimiento ha resistido las provocaciones y agresiones de cara a atemorizar a los seguidores de Petro, como el que orquestó la policía de Cúcuta y sectores ultraderechistas en la frontera con Venezuela, que se saldó con varios heridos y un balazo en la ventana del coche de Petro.
Las FARC, tras haber cosechado un fracaso estrepitoso en las elecciones legislativas, en las que superaron por poco los 50 mil votos en todo el país, decidieron retirar a su candidato para las presidenciales. Aislados respecto de las movilizaciones de los últimos años, principalmente protestas indígenas, estudiantiles y feministas, que han sido el caldo de cultivo que ha impulsado la candidatura de Petro, se han centrado en reconvertir la guerrilla en un partido reformista respetable centrado en el frente institucional, dejando de lado la movilización y la lucha en las calles. Ante sus constantes muestras de debilidad política recibieron además nuevo ataques por parte del aparato del Estado, que ha encarcelado a uno de sus máximos dirigentes, Jesús Santrich, bajo una más que dudosa acusación de narcotráfico, pudiendo ser extraditado a los Estados Unidos.
Resulta muy significativo que, tras el fin del conflicto armado y el Acuerdo de paz con las FARC, y en medio de una tregua y negociaciones con el Ejército de Liberación Nacional (ELN), la izquierda colombiana consiga alcanzar ahora unos resultados electorales sin precedentes. Un buen ejemplo del papel pernicioso del terrorismo individual, en este caso del guerrillerismo, que trata de sustituir así la organización y la lucha de masas, y que al final solo consigue facilitar que el Estado incremente su brutal represión sobre cualquier tipo de movimiento político o social de contestación frente a los poderosos.
¡Alerta frente al fraude! ¡Por un Gobierno de izquierdas al servicio de la mayoría!
De cara a la segunda vuelta, Sergio Fajardo, el candidato de izquierdas del establishment, se ha negado a apoyar a Petro llamando a votar en blanco. Sin embargo, el entusiasmo con la candidatura de Petro ha generado divisiones en la propia coalición de Fajardo, habiéndose pronunciado su propio partido, Alianza Verde, a favor de pedir el voto para Petro. El Polo Democrático, el otro partido de la coalición, también pide el voto para Petro, imponiéndose por tanto el deseo de cambio entre las bases de ambos partidos. Por otro lado, el Partido Liberal ha sufrido una completa fractura, con sus viejos líderes apoyando al candidato uribista y una parte del aparato dando tumbos sin una posición clara al respecto.
Aunque todas las encuestas apuntan a un triunfo del candidato uribista Duque, hay posibilidades de que Petro gane, y de conseguir por primera vez en Colombia un gobierno netamente de izquierdas. También existe el peligro de que se orqueste un fraude para impedir su victoria, por ejemplo en los territorios fronterizos con Venezuela, habiéndose producido ya protestas espontáneas tras la primera vuelta ante las evidencias de fraude en determinadas zonas, algo que fue denunciado por el propio Petro.
Pero incluso si se consigue vencer, solo será el primer paso en una ardua batalla contra el uribismo, los grandes terratenientes y los capitalistas, que lucharan para no ser desalojados del poder que ostentan desde hace décadas. Un buen ejemplo fue lo que ocurrió con Petro en la alcaldía de Bogotá, de la que fue expulsado por un impeachment dirigido por el uribista Alejandro Ordoñez, entonces Procurador General de la Nación, siendo finalmente restituido por Santos como alcalde tras numerosas movilizaciones masivas por parte de los bogotanos. Sin embargo, durante su mandato, en minoría legislativa, y al centrarse únicamente en el juego institucional, no pudo llevar adelante las reformas necesarias de cara a acabar con la pobreza y la corrupción que asolan la capital.
Es necesario por tanto que Petro se base en la movilización de masas que le ha aupado, que impulse la organización de los comités que han surgido al calor de la campaña, y que defienda un programa social y ecológico anticapitalista que permita que la riqueza del país se ponga al servicio de la mayoría de la población, expropiando a los grandes terratenientes y a las principales multinacionales capitalistas. Hay que volver a los días de la ocupación de la Plaza de Bolívar que permitió a Petro recuperar la alcaldía de Bogotá.
Special financial appeal to all readers of socialistworld.net

Support building alternative socialist media

---

Socialistworld.net provides a unique analysis and perspective of world events. Socialistworld.net also plays a crucial role in building the struggle for socialism across all continents. Capitalism has failed! Assist us to build the fight-back and prepare for the stormy period of class struggles ahead. Please make a donation to help us reach more readers and to widen our socialist campaigning work across the world.

Donate via Paypal

CWI- Please inform us if you are reproducing any material from this site.