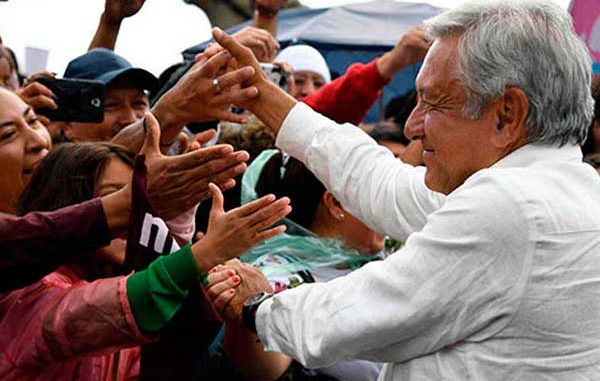 La victoria arrolladora de Andrés Manuel López Obrador en las elecciones presidenciales del 1 de julio marca un punto de inflexión. Después de décadas de tiranía priista, de una violencia militar y policial salvaje, de la privatización de sectores estratégicos de la economía y contrarreformas laborales y educativas sangrantes, millones de trabajadores, jóvenes, campesinos, indígenas y mujeres hemos culminado años de lucha contra la derecha. El triunfo de AMLO y Morena es, ante todo, el fruto de la batalla incansable de todos los oprimidos por transformar la sociedad y acabar con la pesadilla del capitalismo mexicano.
Aunque a la hora de escribir este artículo los datos del recuento final todavía no se han hecho públicos, los primeros resultados confirman el triunfo aplastante de AMLO por un 52-53% de los votos, convirtiéndose en el presidente con mayor respaldo de la historia de México. Ricardo Anaya del PAN obtiene en torno al 22%, y José Antonio Meade del PRI el 16%, certificando el derrumbe de los partidos del régimen.
Cumplir con los trabajadores y el pueblo
El ambiente de euforia entre el pueblo y las masas mexicanas es difícil de describir. No es para menos. Por eso es importante que los sectores más avanzados y combativos de la izquierda, del movimiento obrero y los activistas sociales entendamos que las presiones del gran capital, del imperialismo y del aparato del Estado se van a desatar sobre el nuevo presidente.
Con el fin de tranquilizar a la oligarquía y los poderes fácticos de dentro y fuera de México, AMLO ha insistido durante la campaña que no tienen nada que temer, que no va emprender nacionalizaciones ni expropiaciones. Pero la idea de que es posible un capitalismo "con rostro humano", en el que empresarios, especuladores y oligarcas acepten repartir sus beneficios y reducir la explotación del pueblo trabajador está condenada al fracaso. Lo mismo se puede decir de la intención de acabar con la corrupción sin atacar los fundamentos del orden capitalista. La experiencia de varios gobiernos en Latinoamérica —Bolivia, Brasil, Venezuela, Ecuador, Argentina…— y en Europa —como Syriza en Grecia— nos ha enseñado mucho.
Todos esos empresarios en los que AMLO confía y a los que invita a participar en su proyecto, le responderán lo mismo que sus homólogos capitalistas en el resto de América Latina, Europa y del mundo: tienes una sola opción, aplicar una política económica en nuestro beneficio, y lo único que puedes elegir es hacerlo de forma voluntaria o a empujones.
El triunfo de AMLO es una noticia extraordinaria, pero por sí sólo no garantizará acabar con la explotación y la falta de democracia. El régimen mexicano no sólo es corrupto y cruel, tiene además una larga tradición de recurrir a la represión más salvaje cuando se siente amenazado. Esta victoria sólo se traducirá en un cambio real para los explotados y humillados desde la lucha y la defensa de un programa de clase y socialista.
Tomamos las palabras de AMLO, y le señalamos que para terminar con los privilegios de una minoría, hay que llevar a cabo una política en beneficio del pueblo trabajador, de la juventud y las mujeres:
• Derogación de todas las Reformas Estructurales: energética, educativa, hacendaria, etc.
• Renacionalización de todas las empresas y servicios públicos privatizados.
• Implementación de contratos colectivos de trabajo en todos los sectores y libre sindicalización.
• Salario mínimo de $12,000 mensuales para cubrir todas las necesidades esenciales de las y los trabajadores.
• Reintegración de todos los profesores despedidos por la Reforma Educativa y estabilidad laboral a todo el magisterio.
• Derecho a la seguridad social, digna, gratuita y universal.
• Ni una menos ¡No más feminicidios! Plenos derechos a la comunidad LGTIB+.
• Por un programa de escuelas infantiles y comedores comunitarios a disposición de las familias humildes.
• Por el 10% del PIB a la educación y el impulso de la ciencia y la cultura.
• Expropiación bajo control de los trabajadores de la banca y sectores estratégicos de la economía para garantizar el bienestar de la mayoría.
Special financial appeal to all readers of socialistworld.net

Support building alternative socialist media

---

Socialistworld.net provides a unique analysis and perspective of world events. Socialistworld.net also plays a crucial role in building the struggle for socialism across all continents. Capitalism has failed! Assist us to build the fight-back and prepare for the stormy period of class struggles ahead. Please make a donation to help us reach more readers and to widen our socialist campaigning work across the world.

Donate via Paypal

CWI- Please inform us if you are reproducing any material from this site.