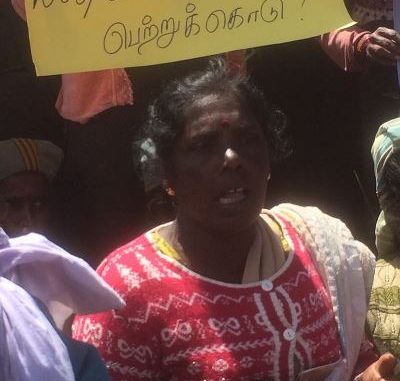 "Our Corpses were the Fertilisers for your Tea Plantations…The Hot Teas you sip in your Mornings were Strewn with our Blood" (lines from the Tamil Nadu poet, Aadhavan Deetchinya)
The town of Nuwara Eliya, in the Central Province of Sri Lanka, is famous for its tea plantations. Spread over 13 sq.kms of hilly landscape it is known for its "Light Tea". It is the coolest area of this island country with a mean temperature of just 16°C. With its lush green hillsides overlooked by the mountain peak of Pidurutalagala, it is the most scenic city of this small island. The name Nuwara Eliya, literally means "City of Light" in Sinhalese, but it has not fulfilled its name's meaning for the poverty-stricken plantation workers. Rather it has kept the lives of the Tamil migrants in extreme darkness and hardship.
During the early 19th Century the British colonialists brought bonded labourers from Tamil Nadu, India to work on these tea plantations. Within the structure of the imperialistic capitalists' agenda they were employed on a disastrously low wage. They have always toiled in dangerous working conditions with the constant threat to their lives from the bites of snakes, wild foxes and venomous insects.
The plantation workers have been in Sri Lanka's Hill Country area for generations – from the time of their grandfathers and great grandfathers. They are employed as whole families. The women serve as the leaf pluckers, while the men are employed in processing the tea leaves and in the packing and loading of the sacks for transport to the warehouses. They are provided with so-called housing known as the 'lines' which their 'masters' would not even keep their animals in. There is the sorry plight of very poor schooling for their children. Most of them follow their parents' footsteps and end up working on the plantations. Thus there is a vicious circle carved out by the bourgeois class that sucks up the generations into these plantations with "No Way Out".
As Sri Lanka's economy is struggling to grow, with 'support' from the Chinese dictatorship, in the guise of economic 'investment', inflation is at a peak. While GDP growth is slowing year on year and costs of essential goods are on the rise, the quality of life has severely deteriorated. This has had a stark effect on the lives of the plantation workers.
Sri Lanka's National Minimum Daily Wage Act of January 2016 put wages at Rs.400/day for the plantation sector although their demand was for Rs.1000/Day. Independent statistics carried out in 2013 said it required a minimum of Rs.1538/day to maintain a family of four people just for basic food requirements. The current remuneration of Rs.400/day up to a maximum of Rs.800/day (in the case of both parents being employed) is only half of the basic requirement for a low wage household. (We need to keep in mind that it has been five years since these basic requirements were calculated.)
Strike!
It was on a breezy Thursday morning last week that our international contingent of visitors from the Committee for a Workers' International (CWI), who had been at events in Colombo, landed in the Pedro Estate belonging to "Kelani Valley Plantations PLC". We were taken for a tour of the main processing unit on the estate. We asked questions to our 'guide' about hours and wages and also to some of the workers. We witnessed the heat, dust and noise of the factory. One sweeper told us she was on Rs.505/day and we were told the sacks that had to be loaded manually onto lorries weighed as much as 55 Kgs.
When we were about to leave the estate, we came across scores of women workers and men gathering on the approach road. They had changed out of their work clothes and had a determined look on their faces. When we inquired, we found they were gearing up for a strike to increase their minimum wages to Rs.1000/day. They informed us that there would be a total shutdown of work for the rest of the day to demand that the government and the estate owners agree to their demands. They had hand-made placards and were shouting their demands loudly. When we approached them they were more than happy to tell us their why they were fighting.
"We work in most dangerous conditions with the threat of snakes and insects. We are only paid Rs.500 for working 8 hours a day. Only if we reach the minimum of plucking 18 kgs of tea Leaves in these 8 working hours will we be paid our total remuneration. With the rising prices of milk, rice and essential commodities, it has become extremely difficult to make ends meet. Our Children are deprived of quality education; in turn they are turned into plantation workers of the future. Our houses have been dilapidated for years and the paths to them are nightmarish. We want people like you to take our plight to the outside world. Please do that and we will be greatly indebted to you" said one woman worker. (Her name is not being published to avoid any backlash by the plantation authorities against her.)
Kelani Valley has 17 of such plantations across the Hill Country of Nuwara Eliya and the workers of these estates have organised in their respective estates to observe this day of strike action to make the authorities heed their demands. Neither Kelani Valley Authorities nor the government have responded to their demands. At any of their plantations, Kelani Valley employs mostly women and a few men for processing the tea and as loaders. They showed us a fancy notice board of the wages (as given in the picture) which makes clear to anyone with the slightest intelligence that other than basic wage, none of the other components will be paid in full.
There are battling trade union representatives among the plantation workers, but, although they are supposed to have representatives in parliament in the ruling coalition, none of their demands have been met, even after the ruling coalition came to power in 2015. As in most capitalist countries, these politicians strike a pose only when elections are around the corner and vanish till the next election.
These erring politicians, with their representatives on trade union bodies across these plantations, install proxy workers to dilute any attempt at progressive struggle for wage rise demands. These paid or ignorant goons try to convince their fellow workers that they are trying hard to bring a positive resolution and that a resolution will soon be in place. They try to diminish the fighting instincts of these workers and make them accept being absorbed with the daily tasks of the workplace.
Our comrade Siritunga Jayasuriya, Secretary of the United Socialist Party, the section of the CWI in this island country, spoke to the workers. He explained how the front page of the USP's paper carried their demand for Rs 1,000 a day and we all promised to spread support and solidarity for their fight in Sri Lanka and across the globe.
As this article was being prepared for publication, around a thousand tea plantation workers from Nuwara Eliya thronged the Galle Face open space in the Lankan capital, Colombo. Their parliamentary representatives, spurred into action, had organised transport to bring them to the capital to pursue their demand for a wage rise up to a minimum of Rs.1000/Day. A sea of workers shouting slogans for their wage rise invaded the city. With the strikes and demonstrations hitting the main stream media and the general public, a response from the government authorities is expected soon.
Let the struggles of the plantation workers in the area of the "City of Light" see the light of day! Long live their struggle and international solidarity!
"Workers of the World Unite!"
Special financial appeal to all readers of socialistworld.net

Support building alternative socialist media

---

Socialistworld.net provides a unique analysis and perspective of world events. Socialistworld.net also plays a crucial role in building the struggle for socialism across all continents. Capitalism has failed! Assist us to build the fight-back and prepare for the stormy period of class struggles ahead. Please make a donation to help us reach more readers and to widen our socialist campaigning work across the world.

Donate via Paypal

CWI- Please inform us if you are reproducing any material from this site.