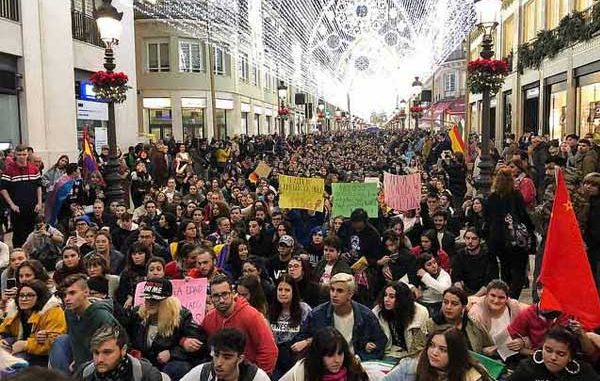 Como explicamos en nuestra declaración, las elecciones andaluzas del 2 de diciembre han supuesto un terremoto político de gran alcance. No sólo porque por primera vez en 36 años la derecha supera en votos y porcentaje al PSOE y a la coalición de Adelante Andalucía, sino sobre todo por la entrada en el parlamento de VOX con 12 escaños. Esto ha supuesto un golpe para miles de jóvenes y de trabajadores y trabajadoras que son muy conscientes del peligro que supone el fascismo para los derechos de la clase obrera, las personas migrantes y racializadas, y para el movimiento feminista y LGTBI.
Pero entre una capa muy importante de gente, especialmente entre jóvenes pero también entre la clase obrera, lejos de generarse un ambiente de desánimo, de resignación o de apatía ante estos resultados, se ha generado un ambiente de fuerza y de determinación para parar al fascismo con la lucha en las calles.
Es muy sintomático que la misma noche de las elecciones la gente empezara a organizarse para salir a la movilización al día siguiente en las principales capitales andaluzas y como esa determinación hizo que se fueran sumando convocatorias en el resto de ciudades. Los compañeros y compañeras de Izquierda Revolucionaria y del Sindicato de Estudiantes tomamos con las dos manos estas movilizaciones e hicimos un llamamiento a participar masivamente en ellas para responder con la contundencia de la lucha en las calles al avance electoral del fascismo.
Una explosión antifascista
Desde los primeros minutos se pudo apreciar cómo estas concentraciones se quedaban pequeñas para la explosión antifascista y que vivimos en las distintas ciudades. Las plazas donde se iniciaron se vieron completamente desbordadas y decenas de miles salimos en manifestaciones, recorriendo las calles de Granada, Málaga y Sevilla al grito de "No pasarán" y "La lucha es el único camino".
Lo que vivimos ayer fue una explosión maravillosa. Las manifestaciones que recorrieron Andalucía fueron una expresión de toda la rabia y el descontento que hay acumulado entre la clase trabajadora, que lleva años sufriendo las consecuencias de la crisis y que no está dispuesta a permitir que sus derechos sufran más ataques ante el auge del fascismo. Lo que se reflejó ayer fue la fuerza y determinación de trabajadores y trabajadoras, pensionistas y jóvenes y estudiantes que somos conscientes de la necesidad de parar a la ultraderecha y al fascismo con la lucha en las calles y defendiendo una alternativa revolucionaria que rompa con el capitalismo.
En Granada, la movilización que empezaba en la plaza del ayuntamiento a las 18h salió en manifestación con más de 5000 personas recorriendo las calles al grito de "Que viva la lucha de la clase obrera", y el ambiente de fuerza era tan tremendo que al finalizar la manifestación se hizo una asamblea y se decidió acampar allí mismo.
A la misma hora, Sevilla empezó a llenarse rápidamente con miles de personas coreando "Nativa o extranjera, la misma clase obrera" contra las políticas racistas de VOX. La plaza se abarrotó de tal manera que el tráfico se vio interrumpido de forma natural y las escaleras fueron ocupadas completamente. Cuando ya no cabía ni un alfiler la concentración se convirtió en una manifestación espontánea hacia el parlamento andaluz que continuó después hasta el Rectorado de la Universidad de Sevilla con más de 15.000 personas gritando una y otra vez "El pueblo unido, jamás será vencido" y "Que no, que no, que no tenemos miedo". La manifestación recorrió 6 kilómetros inundando de ánimo, fuerza y combatividad toda la ciudad y finalmente terminó en la plaza del ayuntamiento.
En Málaga, los miles de personas que acudieron a la movilización que empezaba algo más tarde, a las 19h en la plaza de la Constitución, ya eran conscientes de la respuesta que se estaba dando en las demás ciudades y se siguió la misma tónica. Aquí los distintos colectivos en lucha de la ciudad como los trabajadores del metro, bomberos y pensionistas salieron también junto al resto de jóvenes y trabajadores a plantar cara a VOX y la extrema derecha. Unas 5000 personas recorrieron la calle Larios, siguieron por el Paseo del Parque, cortaron la principal arteria de la ciudad y finalizaron en la Plaza de la Merced al grito de no "No pasarán" y haciendo un llamamiento a construir comités de acción antifascistas en los barrios, centros de trabajo, institutos y universidades.
Continuar con la lucha para combatir a la ultraderecha
Durante los últimos años los dirigentes de CCOO y UGT y los dirigentes del PSOE se han plegado a las exigencias de los grandes banqueros y empresarios y han tratado de imponer un clima de desmovilización para frenar las luchas. Pero en el último periodo la actitud de los dirigentes de Podemos ha sido la de seguir la misma estela y centrar toda su atención en las instituciones, renunciando a la movilización social para llegar a un gobierno de coalición con el PSOE. Su posición respecto a Catalunya es un gran ejemplo de cómo ante la movilización de millones de jóvenes y trabajadores por la república y contra la represión del Estado, estos dirigentes se han plegado ante quienes apoyan reprimir al pueblo catalán. ¿Y ahora dicen que pactando con ellos pararemos el avance del fascismo? ¡Claro que no! El avance del fascismo no lo pararemos pactando con quienes atacan nuestros derechos, lo pararemos luchando en la calle, como miles de personas hicieron ayer y siguen hoy llenando las calles de muchas ciudades andaluzas. La ausencia de una alternativa que rompa con hechos y no con promesas con el Régimen del 78, con la austeridad y los recortes y con la lógica capitalista, ha sido precisamente lo que ha allanado el camino al avance de la extrema derecha, q son su demagogia ha arrastrado a sectores de la clase trabajadora y a que los sectores más reaccionarios, españolistas, antiobreros, machistas y racistas se sientan fortalecidos.
Tras las elecciones no son pocas las voces de dirigentes de estas organizaciones y partidos los que han culpado a la clase obrera y a la juventud del avance de VOX en el parlamento. Estos dirigentes tratan de hacernos cargar con la responsabilidad del bajo nivel de participación en las elecciones y de haber cedido terreno a la derecha. Pero ayer la respuesta en las ciudades andaluzas, por parte de la clase obrera y de la juventud, fue muy clara: No vamos a permitir el avance del fascismo. Pero no es en el parlamento donde vamos a conseguir parar a laextrema derecha. Todos nuestros derechos los hemos conseguido con la lucha, y sabemos bien que la única forma de frenar a aquellos que quieren arrebatárnoslos y devolvernos al terror que supuso la dictadura franquista durante 40 años, es con la movilización en las calles.
Este ha sido el primer paso y la conclusión es clara: hay que construir una organización de combate contra la derecha y el fascismo, basada en la movilización de la clase obrera y la juventud y armada con el programa de la revolución socialista.
Únete a Izquierda Revolucionaria, y levantemos un gran movimiento antifascista en todos los centros de estudios, en el movimiento obrero y en nuestros barrios.
¡Que viva la lucha de la clase obrera!
¡No pasarán!
Special financial appeal to all readers of socialistworld.net

Support building alternative socialist media

---

Socialistworld.net provides a unique analysis and perspective of world events. Socialistworld.net also plays a crucial role in building the struggle for socialism across all continents. Capitalism has failed! Assist us to build the fight-back and prepare for the stormy period of class struggles ahead. Please make a donation to help us reach more readers and to widen our socialist campaigning work across the world.

Donate via Paypal

CWI- Please inform us if you are reproducing any material from this site.