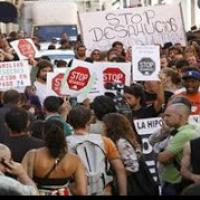 Nacionalicemos la banca para resolver el problema de la vivienda
De todos los movimientos o iniciativas surgidas en los últimos años como consecuencia de la crisis económica, la PAH es el que actualmente tiene mayor apoyo social, el que acapara la atención de todos los medios por encima de los demás y el que más en jaque ha llegado a poner al gobierno de Rajoy.
La PAH surge en 2009 de las condiciones materiales producidas por la crisis. En principio se crea como una red de ayuda mutua entre las personas que tienen dificultades para hacer frente al pago de sus hipotecas, pero poco a poco va ampliando su ámbito de actuación y aunque es anterior a él, se podría decir que su gran impulso fue a raíz del 15M y que realmente ha sido lo más significativo que ha quedado de ello. Esto no ha sido casual y son diversos los motivos por los que se puede explicar su éxito:
Por un lado, los desahucios se muestran como un de los peores dramas que ha traído la crisis. Todo el mundo conoce a personas que se han encontrado en esta situación y todo el mundo es consciente de su gravedad. Ha sido un tema que ha tenido una enorme visibilidad y un gran impacto en la sociedad. La PAH encontró desde el primer momento las rendijas legales para ponerles freno y son centenares los desahucios que se han detenido mediante presión popular y desobediencia civil. Este hecho (el parar un desahucio) es una victoria clara como pocas se consiguen hoy en día, y ha dotado al movimiento de fuerza y optimismo para seguir adelante y crecer, cosa que no han conseguido otras luchas.
Otro factor que ha contribuido al éxito y la popularidad del movimiento ha sido que, consciente o inconscientemente, parece haber aprendido las lecciones del 15M y ha evolucionado más allá de un simple movimiento asambleario con muy buenas intenciones pero sin una hoja de ruta clara. Dos factores muestran esto:
La PAH es un buen ejemplo en el sentido de como un movimiento asambleario y que se declara horizontal, puede aceptar y avanzar en función de un liderazgo con autoridad que represente fielmente sus ideas y que marque el camino a seguir. La aparición mediática de Ada Colau ha sido decisiva en la popularidad y el apoyo social que el movimiento ha recibido.
Pero el factor más importante y que más lo diferencia de otros movimientos es que la PAH ha ido adoptando un programa claro y conciso que además ha ido acompañando de acciones consecuentes con él.
La demanda de paralización de los desahucios, ha ido acompañada de centenares de acciones que se han destinado a ello, a parar desahucios. La demanda de la dación en pago retroactiva se ha reclamado mediante la presentación de una ILP respaldada en casi un millón y medio de firmas. Y para reclamar la creación de una bolsa pública de vivienda social se han hecho ocupaciones de viviendas vacías de los bancos que se han ofrecido a familias que lo necesitaban. Además todo ello ha sido llevado a cabo mediante un proceso constante de intensificación de la lucha y de incorporación progresiva de nuevos métodos que se adapten a la situación subjetiva de cada momento. Por ejemplo, no hubiera sido posible la aceptación a trámite de la ILP hace tres años ya que esta no hubiera tenido el apoyo popular que ha tenido, ni tampoco hubiera sido posible realizar escraches.
Desde Socialismo Revolucionario aplaudimos la labor que ha llevado a cabo la PAH durante estos años y apoyamos firmemente las acciones que se están llevando a cabo, reconociendo los escraches como una herramienta legítima e histórica de lucha.
Al mismo tiempo denunciamos la fuerte campaña mediática con la que el gobierno del PP ha intentado deslegitimar el movimiento. Afortunadamente dicha campaña ha rozado el ridículo (que si filoterroristas, que si nazis, …) e incluso parece haber reforzado y legitimado más al movimiento (apoyado por el 78% de la población e incluso por el 68% de votantes del PP), mostrando la debilidad del gobierno y hasta que punto están asustados frente a la posibilidad de un aumento de la conflictividad social.
Por otro lado, desde Socialismo Revolucionario también secundamos sus demandas, ya que aliviarían claramente la situación límite que viven muchas familias, pero creemos necesario ir más allá para resolver de raíz el problema del acceso a la vivienda.
Dicho problema en una sociedad capitalista en crisis no tiene solución dentro del mismo sistema capitalista. Mientras el mercado de la vivienda siga sometido a intereses privados, lo importante para ellos no será satisfacer las necesidades de la población sino la obtención de beneficios.
Sólo mediante la nacionalización de la banca es posible recuperar el control de la economía y romper los vínculos entre los intereses privados de los capitalistas y el estado que legisla para protegerlos. La nacionalización de la banca supondría también la nacionalización de una enorme cantidad de viviendas que están vacías a la espera de tiempos mejores para sacarles rentabilidad (aproximadamente un 20% de las viviendas totales del país) y que podrían ser puestas inmediatamente al servicio de la clase trabajadora.
La PAH nos ha mostrado que una lucha continua y decidida, con unos objetivos claros y un programa de acciones ligadas a ellos da resultados y puede conseguir un grandísimo apoyo social. Hasta ahora no se ha conseguido cambiar la ley hipotecaria, pero si se han conseguido parar centenares de desahucios y daciones en pago, si se han conseguido poner encima de la mesa las contradicciones del capitalismo y la legitimidad de la desobediencia civil y si se ha conseguido mostrar la debilidad del gobierno. Con la demanda de la nacionalización de la banca se conseguiría intensificar la presión y se marcaría el camino a seguir para salir de la crisis.
Pero el éxito y las consecuencias de la PAH han ido más allá e incluso se puede decir que son los principales responsables de las últimas medidas que ha tomado la Junta de Andalucía para parar los desahucios en esa comunidad autónoma.
Aunque a priori podría parecer que esto ha sido debido a la entrada de IU en el gobierno de dicha Junta y que medidas como esta pueden justificar coaliciones con el PSOE, esta es una lectura errónea, ya que si realmente es así e IU tiene el suficiente peso en dicha coalición como para implementar partes importantes de su programa, no se entiende por qué no han actuado de la misma manera en temas tan importantes como la generación de empleo o la defensa de los servicios públicos. La respuesta es fácil, no se ha actuado de la misma manera en estos temas porque fuera no había una presión como la que ha ejercido la PAH. Si los principales actores que deberían ejercer esa presión, los sindicatos, actuasen con la misma determinación que la PAH, los gobiernos se verían obligados a mover ficha tal cual ha pasado en Andalucía con los desahucios.
Special financial appeal to all readers of socialistworld.net

Support building alternative socialist media

---

Socialistworld.net provides a unique analysis and perspective of world events. Socialistworld.net also plays a crucial role in building the struggle for socialism across all continents. Capitalism has failed! Assist us to build the fight-back and prepare for the stormy period of class struggles ahead. Please make a donation to help us reach more readers and to widen our socialist campaigning work across the world.

Donate via Paypal

CWI- Please inform us if you are reproducing any material from this site.