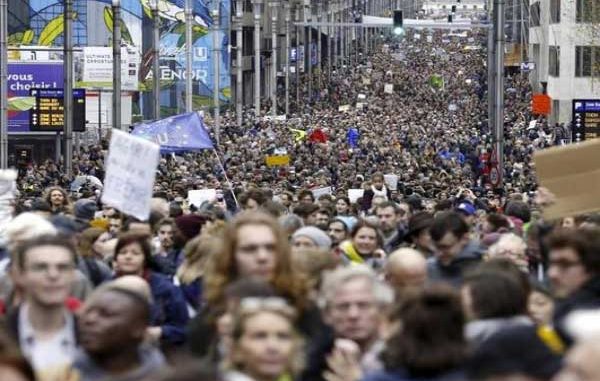 Las movilizaciones masivas pueden obligar a los ministros a dimitir. Después de dos meses de protesta, principalmente impulsada ​​por los jóvenes, una de los cuatro ministros belgas responsables de Medio Ambiente tuvo que renunciar. La ministra regional flamenca, Joke Schauvliege, del partido democristiano, CD&V, anunció su dimisión el 5 de febrero. En el pasado, esta misma ministra ya estuvo en el punto de mira, pero con un movimiento de masas al frente es mucho más difícil superar las crisis.
La lucha contra el cambio climático se ha intensificado desde la manifestación masiva del 2 de diciembre del año pasado, cuando 100.000 personas salieron a las calles justo antes de la Cumbre del Clima en Katowice. La ministra federal del clima, Marghem (del partido francófono MR, Movimiento Reformador), se unió brevemente a la manifestación, pero luego viajó rápidamente a Polonia para votar en contra de tasas climáticas más ambiciosas. En enero, vimos un movimiento juvenil en auge con manifestaciones semanales: primero agrupando a 3.000 personas, luego 15.000 y una semana más tarde, 35.000 estudiantes protestaron en Bruselas, seguido de una nueva manifestación nacional con 100.000 el domingo siguiente. A finales de enero, fueron 15.000 en la 'protesta del jueves' -los estudiantes están planteando movilizaciones cada jueves- en Bruselas, 15.000 en Lieja, 3.000 en Lovaina y varios cientos en otros lugares.
La ministra Joke Schauvliege (CD&V) ha sido ministra en el gobierno regional de Flandes desde 2009. Fue responsable de Medio Ambiente y Naturaleza. Desde 2014 también ha sido responsable de Agricultura. Se conoce a Schauvliege por sus declaraciones polémicas, por ejemplo, cuando admitió que "un árbol siempre ha tenido la función de ser cortado". Todos estos errores siempre "se cubrieron" porque Schauvliege obtenía muchos votos. Pero durante una protesta masiva, es imposible mirar hacia otro lado. Las críticas a la ministra fueron uno de los ejes de las protestas. "What a Joke" (Menuda broma), se podía leer en las pancartas de muchos de los manifestantes.
La primera reacción de la ministra flamenca a las protestas fue decir que se sentía "fortalecida" por éstas, aunque todos sabíamos que precisamente lo contrario. Su propuesta de introducir 'entrenadores climáticos' no encontró ningún apoyo en la sociedad: los jóvenes entendieron que estos entrenadores formarían parte de alguna organización financiada por las grandes empresas. La propuesta de Schauvliege de aplicar impuestos más altos en los viajes aéreos fue un intento de crear una división entre capas más amplias de la población y la juventud. La patronal VBO (Federación de las Empresas Belgas), se unió de inmediato a esta propuesta con la demanda de terminar con la indexación automática de los salarios. Quieren establecer la idea de que las medidas climáticas solo son posibles si los trabajadores pagan por ellas. La idea de que muchos jóvenes exigan medidas como el transporte público gratuito, por supuesto no fue respondido por la ministra o por la patronal. Finalmente, la ministra intentó proponer ir a las escuelas para explicar sus medidas, pero tampoco funcionó para frenar al movimiento.
Cuando los intentos de debilitar la movilización no funcionan, la criminalización es otra táctica. Esto es lo que Schauvliege hizo cuando declaró que las protestas climáticas son una conspiración contra ella. La ministra admitió que la Seguridad del estado habían confirmado la existencia de tal conspiración que se remonta a unas movilizaciones de agricultores que se celebraron contra un ministro del Partido Verde en el 2003, año en el que muchos de los activitas que participan hoy en las marchas ni si quiera habían nacido. De una forma sin precedentes, la Seguridad del estado negó tener tal información. La ministra Schauvliege tuvo que disculparse y finalmente dimitir. Todos los intentos de silenciar el movimiento, fueron un fracaso. Esta dimisión fue un golpe muy duro para el gobierno regional flamenco, que es contrario al gobierno federal, y que se pudo mantener estable en estos últimos meses.
El movimiento ha conseguido una primera victoria con la renuncia de Schauvliege, incluso cuando la lucha justo acaba de empezar. Aunque todavía no es una victoria que haya forzado medidas contra el cambio climático, muestra que la movilización puede lograr grandes conquistas. Ahora tenemos que ir por una ofensiva real. El llamamiento a una huelga de estudiantes a nivel internacional el 15 de marzo puede jugar un papel en esto. Los sindicatos deben responder a la dinámica de las protestas juveniles y convocar una huelga general de toda la clase trabajadora, para que el movimiento se fortalezca. Esa sería la mejor respuesta para los políticos y los patrones que intentan contraponer la protección del medio ambiente a los ingresos de los trabajadores para evitar su propia responsabilidad.
La caída de Schauvliege fortalecerá la confianza del movimiento. El establishment está intentando alejar la discusión climática de las calles. Esperan que la protesta se desangre y que todo tipo de expertos, algunos financiados por grandes empresas, puedan tomar la iniciativa. El intento por parte del gobierno de establecer una "ley sobre el clima" podría ser una maniobra para descafeinar las protestas en la calle. El movimiento debe ser consciente de esto y organizarse para preparar los próximos pasos: un plan de acción creciente y un debate sobre las demandas concretas. Los sindicatos tienen un gran papel que jugar en esto, por ejemplo, yendo en la ofensiva exigiendo un transporte público gratuito. Este tipo de demandas pueden unirse a cuestiones climáticas, sobre la movilidad y sobre los ingresos reales de la mayoría de la sociedad.
Las contagiosas protestas juveniles muestran que una acción dedicida, en la que no nos dejemos arrullar por promesas vacías, pueden cambiar la agenda política. Con la crisis en el gobierno federal en diciembre, toda la atención política pasó a la cuestión de la migración. Ya el partido N-VA (nacionalista flamenco), que había sido parte del gobierno federal, quería promover la cuestión nacional en el período previo a las elecciones generales de este mes de mayo. Las protestas juveniles han colocado el camvio climático en el centro del debate. La huelga nacional del pasado 13 de febrero añadió a la lista de demandas un mejor poder adquisitivo y mejores salarios para los trabajadores. El punto fundamental es unir la determinación de los jóvenes con la fuerza económica del movimiento obrero para lanzar una ofensiva real.
Special financial appeal to all readers of socialistworld.net

Support building alternative socialist media

---

Socialistworld.net provides a unique analysis and perspective of world events. Socialistworld.net also plays a crucial role in building the struggle for socialism across all continents. Capitalism has failed! Assist us to build the fight-back and prepare for the stormy period of class struggles ahead. Please make a donation to help us reach more readers and to widen our socialist campaigning work across the world.

Donate via Paypal

CWI- Please inform us if you are reproducing any material from this site.