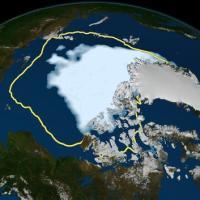 El capitalismo ha fracasado con el Medio Ambiente
El pasado septiembre se registró la menor cantidad de hielo marino en el verano Ártico en 33 años de medición. Expertos en cambio climático advierten de que el Ártico podría estar libre de hielo tan pronto como en 2020, 30 años antes que la última estimación publicada en 2007. La pérdida total de hielo marino en verano tiene devastadoras consecuencias no sólo para el frágil ecosistema del Ártico, sino también para toda la población.
La pérdida de la capa de hielo del Ártico casi medio siglo antes de lo previsto nos indica que estamos mucho más cerca de un punto de no retorno y tenemos menos tiempo para actuar de lo que pensábamos sólo unos pocos años atrás. Si vamos a abordar en serio el calentamiento global debemos desafiar la lógica que nos metió en este lío en primer lugar – el capitalismo y su necesidad inherente de beneficios a costa de la humanidad y el medio ambiente que lo sustenta.
El doble de calentamiento
El calentamiento global, causado por la actividad humana, ya ha calentado el planeta en casi 1,5 grados Fahrenheit. Sin embargo, el calentamiento no es uniforme en todo el planeta.
Desproporcionadamente afectadas son regiones altamente sensibles, como el Ártico, donde la temperatura media del aire ha aumentado dos veces más rápido que el promedio global. El hielo del mar en retirada está exponiendo el océano oscuro, que absorbe la luz solar mucho más que el hielo reflectante, desestabilizando aún más nuestro sistema climático.
"Lo que sucede en el Ártico no se queda en el Ártico"
El derretimiento del hielo del mar no sólo es malo para los osos polares. La disminución de los niveles de hielo marino afecta a la producción de alimentos (Washington Post, 14.1.2012), el ascenso del nivel del mar (NY Times, 19.9.2012), y la probabilidad de los eventos climáticos extremos. Los fenómenos meteorológicos extremos, como la frankenstormenta Sandy que azotó la costa oriental de Estados Unidos a finales de octubre, se prevé que aumenten la frecuencia a medida que más energía del sol es absorbida por el océano Ártico (NOAA Noticias, 10/19/2012).
La solución
Lo que debería ser una llamada de atención en cambio, se ha convertido en una carrera para extraer más combustibles fósiles de los ahora zonas libres de hielo del Ártico.
La búsqueda implacable del capitalismo para obtener más beneficios y la expansión económica se produce a expensas de la vida humana y la sostenibilidad ambiental. Los líderes capitalistas nos dicen que no debemos actuar debido a los costos económicos. Debemos rechazar esta falsa dicotomía y reconocerlo como lo que es, una acusación flagrante del sistema económico del capitalismo. Si el capitalismo no puede darse el lujo de tomar medidas contra la mayor amenaza que enfrenta la civilización global, entonces este es un sistema que no cumple con las necesidades de la humanidad y debe ser derrocado y reemplazado por uno que lo haga.
El error de activismo ambiental actual es limitar sus demandas a los límites del sistema capitalista. Todas las ideas que se han propuesto; comercio de derechos de emisión, impuestos al carbono, mercantilizar la tierra, el aire y los árboles para incentivar al sistema para tomar las decisiones correctas, han dado lugar a casi nada, a excepción de los 30 años de patear la lata en el camino y años 30 más cerca de una catástrofe climática.
El camino a seguir para detener esta locura se puede encontrar en las páginas de la historia. Los movimientos de masas han sido la única fuerza para el progreso. Todos los grandes movimientos del siglo pasado, los derechos civiles, de mujeres, movimientos laborales, LGBTQ (diversidad sexual), y ambientales, implicaron cantidades masivas de personas y la vinculación de las luchas comunes dentro de los movimientos.
Tenemos que rechazar la falsa dicotomía de medio ambiente frente a puestos de trabajo y al contrario vincular la lucha por la sostenibilidad del medio ambiente con la demanda de puestos de trabajo. Una combinación de demandas laborales con el conocimiento de lo que se necesita para reducir nuestra huella ecológica podría crear un movimiento suficientemente fuerte como para desafiar seriamente el sistema. La convocatoria de un programa de empleos verdes para poner a millones de vuelta al trabajo y rediseñar nuestra infraestructura podría satisfacer las demandas de mano de obra y el medio ambiente. Si somos serios acerca de detener el calentamiento global y mitigar los efectos que han comenzado a suceder, debemos centrar nuestros esfuerzos en la construcción de esta coalición.
Special financial appeal to all readers of socialistworld.net

Support building alternative socialist media

---

Socialistworld.net provides a unique analysis and perspective of world events. Socialistworld.net also plays a crucial role in building the struggle for socialism across all continents. Capitalism has failed! Assist us to build the fight-back and prepare for the stormy period of class struggles ahead. Please make a donation to help us reach more readers and to widen our socialist campaigning work across the world.

Donate via Paypal

CWI- Please inform us if you are reproducing any material from this site.