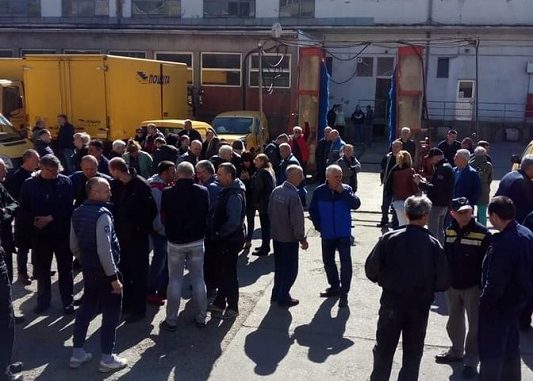 Postal workers in Serbia are on strike. Socialistworld.net has written before about the difficult conditions workers are faced with, followed with solidarity actions. Workers in Serbia feel isolated, so any messages of solidarity will be greatly appreciated (details below).
The immediate dispute is over wages. The wages are at the same level as six years ago, but in real terms, they are 30% lower. At around 300 Euros a month they are much lower than the Serbian average, which in itself is among the lowest in Europe – around 450 Euros a month. Workers find it very difficult to feed their families on such an incredibly low amount.
Wages are low but the workload is massive. Only 150 workers are employed on the night shift in the busy sorting office in the capital Belgrade. They are responsible for some 31,000 letters and parcels every night. Even with good conditions this is demanding work, but with so few workers the job becomes unbearable. It is obvious that the employer is trying to save money by employing fewer workers.
At the same time as paying workers a pittance, the Post Office director is splashing vast amounts of money on luxury company cars for her cronies. She recently purchased 46 luxury cars spending almost one million Euros, as well as air conditioning equipment for a meagre 150k Euros. This money, out of profits that workers themselves created, could have instead been used to lift workers out of poverty. Moreover, the director still occupies that position even though her contract expired in September 2017. This demonstrates something that working people are well aware of – that state of affairs in Serbia are run in a mafia-style where anything goes for the oligarchy but there is very little protection for the working class.
Strike spreads
Postal workers have been suffering for years. Last year they were involved in numerous protests and a few limited strike actions. This strike promises to be the biggest. Workers in the main sorting office stopped work on Friday night 22 March. Very quickly more sorting units in Belgrade followed. On Sunday the bosses brought in workers from outside Belgrade threatening them with dismissals if they refused. But by Tuesday 27 March the Belgrade workers have been joined with most local units around the country. Workers are self-organising but are supported by unions active in the Post Office. All workers have now been threatened with dismissals. They are, however, saying they will not back down until their demands are met. The demands are wage rise to the national average, more workers employed at skilled and demanding jobs and withdrawal of threats of dismissals.
Workers also fear that the long term aim is privatisation of the Post Office. After the breakup of former Yugoslavia and the restoration of capitalism, there were widespread privatisations of former state-owned factories, public services and other work organisations. The Post Office in Serbia is still state-owned, but only just. Some of its services have already been outsourced, but the aim, workers believe, is full privatisation. Even though the current director behaves as if the Post Office was her private enterprise if that happens workers will be faced with even lower wages and many redundancies.
It is of immense importance that the strike succeeds. All workers in Serbia are in a dire situation, not just postal workers. There have been numerous strikes in the last few years but apart from small concessions from employers, not one has been able to achieve a significant victory. Just one victory would give immense confidence to workers to carry on fighting back. It would show them that is the only way to secure workers' rights and achieve a better standard of living, which no appeals to the capitalist government has ever done or will ever do. When workers start to feel the power they possess they will also start to realise that the whole capitalist system is designed against them. That will be the beginning of a fight to change society to a socialist one.
We appeal to workers, trade unionists and left activists send solidarity messages to natasa22.rs@gmail.com