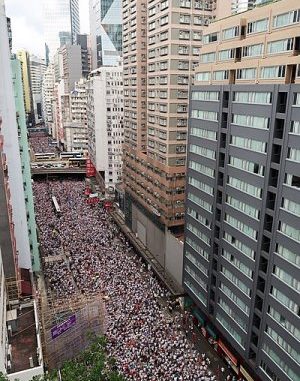 Political pressure arising from a mass protest movement, including a demonstration estimated at two million people, forced a humiliating climb-down by the pro-Beijing executive in Hong Kong over its infamous 'extradition bill'.
Similarly, a repressive national security bill – with its Article 23 banning parties deemed "subversive" by the repressive Chinese state – was also 'indefinitely postponed' following mass protests in 2003.
The current bill would allow political opponents of the Chinese state to be extradited to the mainland (although not tax evaders!), further eroding democratic rights in Hong Kong (HK). Executive leader, Carrie Lam, said she was suspending it indefinitely having stated that the bill had caused "much division". Her days as Beijing's political puppet appear numbered.
The Chinese 'Communist Party' regime of president Xi Jinping undoubtedly became alarmed at the size and determination of the mass protest movement, and especially at its potential to radicalise the oppressed working class in mainland China.
Many protesters – who on 12 June braved tear gas and rubber bullets when HK police viciously attacked peaceful demonstrators outside the Legislative Council (Legco) building – are demanding the immediate scrapping of the bill and not accepting its postponement. The postponement is obviously a delaying tactic by Beijing, which hopes to reintroduce similar legislation at a more opportune time.
The HK executive and half of the Legco is 'indirectly elected' i.e. chosen by Beijing. In 2017 Beijing succeeded in removing a number of democratically elected Legco members on spurious legal grounds.
Activists will now be seriously addressing how to develop the movement, not only to defend what few democratic rights still exist but how to establish a genuine workers' democracy.
The HK Confederation of Trade Unions, with a claimed membership of 190,000, called a strike on 12 June and announced a further strike on 17 June.
However, many HK self-appointed democrat leaders ally themselves to rotten western capitalist democracies – whose governments are typically dominated by pro-establishment and big business parties. The middle class democrats of the pan-democratic movement that dominated the 2014 Umbrella Movement in HK have, since then, failed to achieve any reforms.
The 12 June mass protests which brought the former British colony to a standstill, showed the potential for the working class, along with students and sections of the middle classes, to go further and elect action committees to build for further strikes that can sweep aside the rigged Legco, roll back the anti-democratic measures of recent years imposed on behalf of the Chinese regime, and fight for a democratic revolutionary constituent assembly and a genuinely democratic workers'-led government. Such a government would act as a beacon for the oppressed working class in China, as well as Taiwan, Macau, and throughout the Pacific region, to fight too for such a transformation.
Significantly, the mass protests in Hong Kong coincided with the 30th anniversary of the Tiananmen Square massacre in Beijing by the Chinese Stalinist regime, which was then led by Deng Xiaoping.
Threateningly, days before the anniversary, China's defence minister General Wei Fenghe justified the brutal army crackdown on pro-democracy protesters in 1989, saying it "took measures to stop the turbulence". This is a sober warning to pro-democracy activists in HK. It is vital to build a movement armed with a programme of revolutionary change to prevent brutal repression and to spread the movement into and across China.
Vital to build independent working class movement with socialist programme
As well as fighting for basic democratic freedoms, such a movement must fight to end the capitalist system with its massive ever-widening inequalities between super-rich and working poor in HK.
Last year, according to Oxfam, the wealth gap in Hong Kong reached its widest level since records began 45 years ago. It takes a poor person in Hong Kong an estimated three years and eight months to earn what rich households make in a month. In 2018-19, HK government spending on health, education and welfare was nearly 16% less than in 2003.
Ending such inequality means building a working-class movement and a democratically organised mass workers' party, independent of corporate capitalists, some of who allowed their employees facility time to participate in the recent protests.
These companies, ordinarily, will happily do business with rotten repressive regimes and ruthlessly exploit their workforces in order to realise profits. Their chief concern is to maintain a legal framework which does not impede their ability to freely exploit markets and labour. However, if the US government ends HK's 'special status' then Trump's recently imposed trade tariffs on Chinese goods would also apply to HK businesses. And that could boost rival Singapore's business interests.
A working-class movement must also be independent of Trump's administration, and other western governments. They are content to work and conduct lucrative trade with a multitude of odious dictatorships around the world, including China, but will utilise Hong Kong's democracy protests as useful propaganda in their geopolitical struggle against Xi's regime.
A revolutionary working-class movement in HK, armed with a democratic socialist programme of ending capitalism and democratically planning the economy, would also link up with workers' struggles in China to aid the overthrowing of the brutally oppressive regime which exists there.