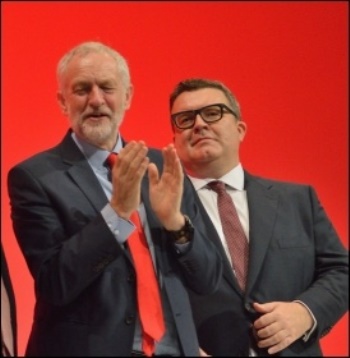 A leaked internal Labour report, a mammoth 851 pages in length, has detailed internal sabotage by senior party officials of former Labour Party leader Jeremy Corbyn's attempts to radicalise Labour policies.
The report – 'The work of the Labour Party's Governance and Legal Unit in relation to antisemitism, 2014–2019' – quotes from transcripts of thousands of emails and WhatsApp discussions between Labour's senior officials, particularly in the 2015-2018 era before the current general secretary, Jennie Formby, took office.
The official report was drawn up, so its authors say, to provide context to the Equality and Human Rights Commission (EHRC) investigation into the party's handling of complaints of antisemitism.
It found no evidence that complaints of antisemitism were treated any differently to any other complaints, but that other work was prioritised for factional gains, such as the purge of Labour members prior to the 2015 and 2016 leadership elections.
It claims senior officers, at Labour's head office, deliberately worked against the party's attempts to win the 2017 general election, in the expectation that defeat would lead to a third leadership contest and that Jeremy Corbyn could be initially replaced by Tom Watson, then deputy leader.
In particular, the report claims party finances were routed to right-wing, anti-Corbyn MPs and parliamentary candidates; with some funds being controlled through a separate office, in "a parallel general election campaign" to hide their destination from Corbyn and his staff.
When the result of the 2017 election was the Tory government's loss of a parliamentary majority, one senior official is quoted as saying Labour's better than expected outcome (which would mean Corbyn was unlikely to resign) was the "opposite to what I had been working towards for the last couple of years".
There are numerous communications detailed in the report between senior right-wing officers describing activists in abusive terms. One official hoped an activist "dies in a fire", to which another official replied, "wish there was a petrol can emoji".
Senior staff, who worked directly for Jeremy Corbyn, are described in pejorative and misogynistic terms. Jeremy Corbyn, himself, is described in June 2017, by Labour's then head of political strategy, as "a lying little toe rag".
Two of the frequently quoted officials, both then at director level, now work at senior levels in the trade union Unison; one was suggested, in several media stories in February, to be a possible candidate under the new Labour leader, Sir Keir Starmer, for Labour's next general secretary!
Decisive action against right was needed
The Socialist Party argued right from Jeremy Corbyn's first victory as Labour leader in September 2015 that attempts to transform Labour's previous Blairite trajectory would fail unless the composition of the Parliamentary Labour Party, and of Labour's own internal machine, were also transformed.
Not restoring mandatory reselection for MPs meant that most right-wingers were left in place. And, as this report indicates, not acting decisively against the right-wing machine at the top of Labour's structures meant that the Corbyn project was doomed to failure.
Keir Starmer's election as Labour leader, together with the restoration of right wingers to leading positions, has pleased those capitalists who viewed the Corbyn era with fear, and now relish Labour being transformed back into a safe 'second eleven'.
Labour, union and socialist activists must now start a discussion on the need for a new mass workers' party with a socialist programme, and how that can be built.