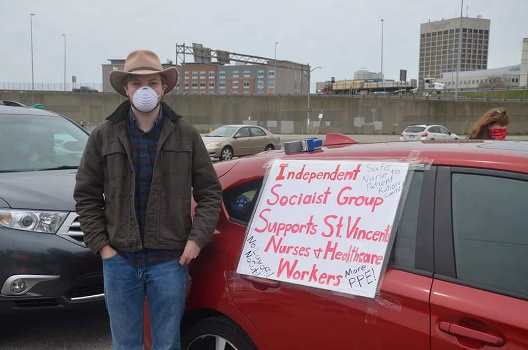 The US is facing an unprecedented historic crisis with the ongoing covid-19 pandemic. The economy is in ruins, as over 22 million Americans file for unemployment, which is expected to rise to 30% unemployment in the coming months. The US has far more infections than anywhere in the world, with 819,321 cases (31% of worldwide cases) and 45,356 deaths (25% of worldwide deaths). An estimated 41,199 of those cases, and 1,961 of deaths, are in the state of Massachusetts. The true number of cases is undoubtedly higher due to a lack of sufficient testing.
So why on earth would St Vincent's Hospital, one of the two major hospitals in the City of Worcester, Massachusetts, announce furloughs of nurses during a global pandemic? Especially in one of the hardest-hit cities in one of the hardest-hit states? The insanity of capitalism knows no bounds.
The Massachusetts Nurses' Association (MNA), which represents unionized nurses, had been negotiating with Tenet Healthcare, the multinational for-profit healthcare provider that owns St Vincent's Hospital. Hospital administration sought to furlough nurses in departments currently closed to avoid exposing non-covid-19 patients to high risk of infection. Tenet also wanted nurses reassigned to work in areas they did not have proper training nor experience in, independent from the oversight of properly-trained nurses. The MNA was negotiating to have nurses safely retrained to fight COVID-19, in order to increase staffing levels, improve care, protect nurses' health, and prevent layoffs. Tenet refused.
The announcement came as a shock to many as the State of Massachusetts just poured over one billion dollars into the state's private healthcare industry to help hospitals, clinics, and healthcare centers to fight covid-19. This is on top of billions of federal dollars pouring into the healthcare system. "Why, when the government is giving them money, why in the world would they furlough anybody," David Schildmeier, from the MNA, said.
The furloughs sparked outrage in Worcester. Local activists organized a protest-caravan to encircle St Vincent's Hospital. The protest saw over 100 cars participate, honking their horns in solidarity, and displaying signs outlining the horrible practice of furloughing nurses during a historic public health crisis. There were rank-and-file members and organizers from the MNA, Carpenter's Union, Transportation Communications Union (TCU), and Teamsters present in solidarity. The Independent Socialist Group participated in the protest proudly, to help fight the cuts. The display of solidarity was warmly welcomed by the nurses working diligently to keep us all safe.
Dominique Muldoon, a St Vincent nurse of 22 years, who is a co-chair on the MNA's bargaining committee, said, "We're all trying to work together, but, it's hard when you feel like not everybody is on the same page about what needs to be done here, and how exhausting – physically and mentally, it is. Every week we're having our staff cut, making it harder for us to do our jobs and take care of patients safely."
St Vincent's Hospital's decision to walk away from negotiations and proceed with the furlough puts the health of Worcester and the US in grave danger. It is a kick in the teeth to hard-working nurses. Hospital workers, not administrators and CEO's, are needed now, more than ever, to handle this crisis. Nurses are already going through unfathomable stress, anxiety, exhaustion, and risk as working conditions worsen. They need our help, not to be fired.
Bosses use the crisis to attack workers' rights
The capitalists are using this crisis to attack labor and workers' rights instead of properly fighting the pandemic. It exposes the inability of capitalism to deal with a crisis that has cost so many workers their jobs, their safety, and their lives. The private market is incredibly inefficient in dealing with a crisis involving health and safety, as its main drive is profit, not well-being. Many of these deaths are preventable, as displayed by dozens of countries with universal healthcare taking better measures to ensure safety.
The protest-caravan was an important step to mobilize. We need to organize our communities now to defeat these attacks on workers' rights. We need to call repeated protests to show Tenet we will not back down from our demands to not furlough any nurses during a global pandemic. The protest-caravan was a creative tactic during this time of crisis. The MNA can call for more actions including bigger caravans or socially-distanced pickets until Tenet reverses the decision and commits to proper training, PPE, and hazard pay.
The Independent Socialist Group proudly supports our sister and brother hospital workers on the frontline against the coronavirus. They need our help now more than ever; a community willing to fight and a union ready to act. The MNA is waiting for Tenet's response to the caravan before planning further action. However, Tenet has already squandered lives and precious time during weeks of negotiations and carried through furloughs anyway. Further action is desperately needed. We believe that Worcester stands behind the nurse's union and would support stepping up the resistance now! Lives are on the line. That's why we at ISG demand the following:
No more furloughs at Tenant! No layoffs, no pay cuts! Reinstate staff who have taken voluntary furlough and who want to return to work.
Guaranteed PPE for all healthcare workers!
Train and transition nurses to work in hard-hit departments taking care of covid-19 patients. Hazard pay for all staff working through the pandemic!
Begin training programs to add more nurses to the frontlines. The epidemic is only going to get worse!
For strong union action, including solidarity from other unions, and with community support, in order to protect healthcare workers' well-being. Resist all attempts to make workers and patients pay for Tenet's greed with pay cuts and low-quality care. Government subsidies to be used for workers' wages and for supplies, not greedy corporate CEO's!
For the nurses and other unions to join the fight for publicly funded Universal Healthcare in the US paid for by increased taxes on the big corporations and super-rich!