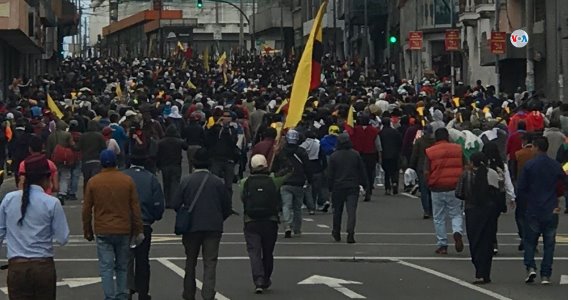 Interview with Vincent, an activist from the US who has been living in Ecuador for the past several years and working as an English teacher and freelance journalist.
Vincent, you have been documenting in photographs a wave of recent protest and unrest in Ecuador, can you explain what has happened and what has sparked these protests? What are the current demands being put forward by the protesters?
Over the past month, Ecuador has seen a new cycle of largely sporadic protests, but they appear to have unifying trends. What has been happening is that the coronavirus has opened an opportunity for the government to use the crisis as a way to cut public spending and jobs. Ecuador has seen massive layoffs during the pandemic. They've also looked to weaken working rights in the private sector. It's a basically a shock policy, in effect, and a continuation of what the government failed to achieve in October. This time, resistance is more difficult because of the coronavirus.
The protests really began when students started organizing to reject the proposed $98 million cut to 32 different public universities and education institutions. The proposal has so far been held up in the constitutional court. This isn't the first time Lenin Moreno's government has looked to cut education. Students have been pretty active these days. The protests have been relatively peaceful, but a couple of weeks ago, the police detained a student protester in the Andean city of Cuenca. He was released the following day, but it did spark more anger among students. I've talked to some students at the protests and many say this is the government clearly taking advantage of the international pandemic. So, it's no secret to Ecuadorians about what's going on.
On May 16, the National Assembly passed a series of few laws, which were adapted before being passed. They're called the new finance law and humanitarian law. They're pretty complicated, and most Ecuadorians have had difficulties trying to understand these laws. However, many labor unions and CONAIE, the Confederacy of Indigenous Nationalities, have already denounced these laws. Some of the people I interviewed told me that it weakens labor rights. People are also worried that the government will try to remove the autonomy that Ecuador's social security institute has. From my understanding, this was one of the proposals that got knocked down before the laws were passed. So, for now, social security remains autonomous by IESS. A few days after, the protests grew in size, so it wasn't just students at this point. It was a short walk of a few hundred people denouncing the laws. Again, it was peaceful.
The day after the May 18 protest, Moreno made a short national address announcing the closure of several different public businesses. A few of them were a railroad agency and the post office. He also said Tame, the national airline, would be liquidated as it has lost $400 million in the past five years.
The following week, on May 25, was the protest that caught international attention, and I think the world was a bit surprised to see such a nationwide protest in the midst of a pandemic. This was before the George Floyd protests in the US, actually the day he was murdered. On May 25, there were a few thousand people marching through Quito. One postal worker told me that he hasn't received his salary in two months and that they want to privatize his business. Students were present, healthcare workers, and so many more. The protests were in all provinces. It began peacefully in Quito, but the police used some incidents between police and demonstrators to end the march.
The indigenous movements said they wouldn't take direct action due to the virus, but legally they are looking at options. Ultimately, this is a reaction of a clear move to take advantage of a crisis to push an agenda that is unpopular with the masses. There's really no other way to put it. The propaganda by the government is that this is necessary to save Ecuador's economy, which was hit hard by gas prices crashing in March and a drop in tourism. They say the economy was staggering even before the pandemic, and that these economic measures are to save the country. Additionally, the government has paid international loans back as it's trying to reshape its government ensuring it fits the requirements for the IMF loan.
The protesters' demands are very straight forward, and that's to end this period of pillaging that's been happening for the past three years now since Moreno was elected. I read a recent poll that said 64% of Ecuadorians want a new government. The elections are next year, so we will have to see whether these protests continue in larger waves, or if Ecuadorians will wait to go to the polls, which will be a critical election for the country and perhaps the left-right balance in Latin America. I don't think Moreno is going to run for another term as he is really unpopular, but there are some neoliberal candidates that are beginning to chat. There's still the speculation that they might try and cancel the election, but I don't think that's going to happen.
In April, the CWI published an article on socialistworld.net about the impact of COVID-19 on the city of Guayaquil. How bad has the coronavirus crisis hit Ecuador? What has been the government's response to the crisis?
If you look at the statistics around South America, you see Brazil, and we all know why that is. Then you see Peru, Chile, and Mexico, also. But Ecuador is the country that has been hit hardest per capita in South America. The WHO just recently said Latin America is the new epicenter of the pandemic. What Ecuador is reporting doesn't indicate what we can see in mortality data. In fact, we can see where the virus has spread, just by observing the deaths.
In mid-April, journalists began looking at mortality data to find an explanation for the dead bodies being left in the streets and it was discovered that the death was double, may be even triple of what the ministry of health (MSP) was reporting. Between March and April, there were 10,000-12,000 more deaths compared to last year. As of May 6, a little less than 1,500 confirmed deaths to covid19 have been recorded in Guayaquil's province. There have been vigils and family members standing outside hospitals in Guayaquil looking for their loved ones. Mortality data now suggests that the outbreak is hitting Quito and some other coastal provinces. There has not been a downward trend of cases – they haven't gone past the curve. They still report 400-600 cases a day, sometimes they don't make announcements.
If you add the positive and negative cases and compare the total number to the total tests taken, there are a lot of exams that haven't been announced, which is ironic because MSP said they had increased lab testing capabilities. Last I checked there were like 25,000 tests still without a positive or negative result.
To sum up, the reality of the situation may be unknown here. The health minister claimed a study showed that 22% of Quito's population had already been infected. When asked if he would reopen Quito if he were mayor, he said yes. This is because most of the people had already infected themselves, referencing the study in his answer. I haven't seen the study. But if it is the truth, then why don't they just release the actual case count? Why are they hiding it? President Moreno has already admitted that coronavirus has taken its toll in the country, even his interior minister, María Paula Romo. Why do they continue to hide it?
I suspect they're hiding it because Moreno is pushing local municipalities to reopen their districts. They created a stop light reopening phase using the colors red, yellow and green to indicate the process to normality. Quito, Guayaquil, and Cuenca, Ecuador's most populous cities are all in yellow now. I heard that Quito's hospitals are full and there are no ICUs available. The health minister apologized to Quito's mayor after he said Quito would never need the temporary field hospital build in a park's attraction center.
So the government's response has been to underplay the crisis, meanwhile, being a little more transparent. They've made all these cuts, now they want to reactivate the benefits so the elite class can reap the benefits of all the deregulation they put through during the pandemic. More people are going to get infected and die as the virus spreads undetected.
Over the past few years, Moreno has drastically cut investments for MSP. They've fired about 4,000 public healthcare workers and they disbanded the Cuban medical brigade last year. This certainly made the country more susceptible to containing the virus. There have been numerous small protests in front of hospitals demanding PPE.
Moreno has denied it, but since Ecuador was embarrassed by what happened in Guayaquil, he has let some of the ministers do the speaking regarding the crisis. Ecuador is the fastest country to reopen as this is now the epicenter. The consequences may be grave, unfortunately.
In October of last year, Ecuador was rocked by a massive wave of protests, including a general strike, which had the potential to lead to a revolution. This movement was an alliance of indigenous people, the working class, and the rural workers, which was fighting against economic reforms being pushed through by the IMF and the right-wing government of Lenin Moreno. In an article on socialistworld.net, the CWI said of the revolt last year: "The mass movement in Ecuador forced the government to flee the capital. The working class and indigenous peoples stormed the national assembly and are potentially challenging for power… However, they have not yet taken power into their own hands and destroyed the old regime. If this is not done, then capitalism and its political representatives can cling on and regain the initiative…It is necessary for the movement to take the necessary steps to defeat the old regime and capitalism and establish a democratic socialist alternative."
How did the government cling on to power and survive the revolt?
 Ecuador has a history of Indigenous uprisings. The first major one was by CONAIE in 1990, which is being celebrated this month as the 30th anniversary. They have also disposed of unpopular presidents before Rafael Correa, but they couldn't do the same with Moreno. I think there were a few factors, on both sides.
As you said, the government used a state of emergency to move the capital to areas of the country where protests weren't happening, such as Guayaquil. So, Ecuador's regionalism between the Andean highlands and coastal provinces were a factor. I believe there was a small contingent of Indigenous who tried to go to Guayaquil, but they were blocked off. Plus, the government can also hide in the Galapagos. The government had a place to flee, and by the time the negotiations happened, they could return to Quito safely. People in Guayaquil weren't up in arms like in Quito. It wasn't a battleground like Quito.
Additionally, Moreno has made investments in militarizing the police and army. The police were extremely repressive during the protests. I remember being in front of the National Assembly while people stood outside peacefully waiting for an update of dialogue. Without warning, the police tear gassed the outskirts of the legislature. It caused a stampede of people going back to the sanctuary park where the HQ was. There were also reports that police were tear gassing the universities, which had transformed into medical and humanitarian centers taking care of children and the elderly who came to Quito with the Indigenous resistence. This is all quite repressive and obviously illegal under the Geneva Convention. Just recently, there was an announcement that Ecuador's defense minister had allowed for lethal force to be used as far back as October, but chose not to. This was just announced to the public just as protests are beginning to resume.
After a while, it appeared that the continuation of protesting would just lead to a stalemate. CONAIE hadn't taken any important buildings as it had in the previous uprisings. The military didn't surrender as was the case before. This was also one of the biggest Indigenous uprisings in years, so you could say that they've been rusty, but it certainly was a learning experience as CONAIE may take to the streets again this year. Moreno became eager to end the demonstrations. It was getting out of hand, and hurting his economy. It was clear the Indigenous weren't going to back down, giving them more time to take over an important building in Quito, such as the National Assembly, which they overtook for a short while and the presidential palace.  If they had taken those places, Moreno would have had no option but flee the country.
I also think the protests were seen as Indigenous at that point. They were protesting the elimination of fuel subsidies, which is more problematic for the Indigenous, who are mostly farmers and send their crops to the cities. All of this requires fuel, and they'd be the first to feel the burden. Prices would obviously go up for others, but that didn't affect the middle class immediately. It didn't raise bus fares to where it affected university students from working class families. So there wasn't a unifying trend, it didn't unite the Indigenous and a stretched middle class, among other social components necessary in a revolt.
Do the current protests against the ongoing situation have the potential to reignite the movement from last year? In your opinion, what lessons can be learned from the revolt last year, and what is the way forward for the current protests?
 Yes and no. I think it has the potential, but it really depends on the Indigenous groups. These scattered groups of city workers around the country won't be able to organize a collective movement like the Indigenous did in October, which did include some workers. However, I do think more people are angry and that this government has grown more unpopular, which is amazing that its approval can even decrease more. CONAIE is very organized, but the pandemic really makes it difficult. The government has been quieter about reopening the past couple of weeks, most likely because they know CONAIE will march to Quito if coronavirus relaxes here. Another uprising will end in negotiations, likely forcing Moreno to negotiate and possibly ending some of what he's achieved during the pandemic.
What Moreno needs to do is ride out the rest of his term without reversing his policies from the past few months. As long as he can do that and avoid another October, Ecuadorians will have to take to the polls to make real change. However, it's still a long year ahead and a lot can happen. The reopening of the economy and fewer quarantine restrictions gives people the impression that things are good, meaning they'll go out and people can protest.
I think CONAIE saw their limitations last year in October. As I said, it has been a number of years since they've had government changing uprisings. But their movement appears to be up and ready to counter unpopular governments again. But it's also important to know that Moreno hasn't changed his inner-circle of trusted ministers who orchestrated the repression in October. I'm just concerned the next wave of protests with the Indigenous will be a lot uglier than last year.
I think the current protests need to be unified. It can't just be the Indigenous protesting. I think more unification is possible now because so many have now been affected by this decapitation of public entities and dismantlement of workers' rights. People are getting desperate here. The streets are full of informal vendors here since Quito has lifted instructions. People are begging for money. Many more people have lost their jobs. Parts of the middle class have been hit hard. Petty crime appears to be increasing.
But the protests need one umbrella to be under. I can't think of many scenarios where that's possible without the Indigenous movement being present in force. If there wasn't a pandemic, I would guarantee you that Ecuador would be in its second or third October right now.
Is there anything else you would like to add?
The situation is bad here and it's most likely going to worsen. Tensions are high and most people don't know what's going to happen. Everything is up in the air. I'm not sure what the tipping point will be, but it seems like something is going to happen. It's an ongoing story here. It's developing every day.
Special financial appeal to all readers of socialistworld.net

Support building alternative socialist media

---

Socialistworld.net provides a unique analysis and perspective of world events. Socialistworld.net also plays a crucial role in building the struggle for socialism across all continents. Capitalism has failed! Assist us to build the fight-back and prepare for the stormy period of class struggles ahead. Please make a donation to help us reach more readers and to widen our socialist campaigning work across the world.

Donate via Paypal

CWI- Please inform us if you are reproducing any material from this site.