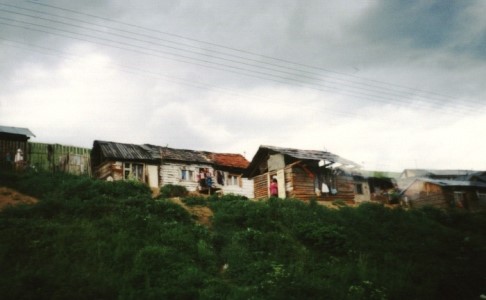 As the repercussions of the uprising in the US against racism and police brutality continue to reverberate around the world, 800 attended a BLM rally in Bratislava, the capital of Slovakia. Organised by a handful of concerned individuals and advertised solely on social media, the response far exceeded expectations and indicated the effect events in the US are having on political consciousness, particularly of youth.
Building on a previous demonstration of 100 on 1 June, demonstrators assembled in the city centre and marched to a rally outside the US embassy in Hviezdoslav Square. Ignored by most of the Slovak press and shunned by all political parties, the overwhelmingly youthful participants were armed with homemade placards with slogans like 'No Justice, No Peace', 'Silence is Consent' and 'We Stand With You'. The desire of these youth for a just and equitable society is refreshing to see. What is missing, at the moment, is a strategy and programme to achieve it. Our placard with a quote from Malcolm X – 'You can't have Capitalism without Racism' – received a lot of interest.
It was noticeable that few if any members of the local Roma community were in attendance.  Anti-Roma prejudice is rife in Slovakia and the figures are stark. Often referred to as "blacks" and making up an estimated 8% of the population (in the region 0f 450,000 people), 87% of Roma live in poverty. Overwhelmingly concentrated in ghettos (usually referred to as "settlements"), employment among Roma is a mere 25%. Around 43% live in habitations with no indoor toilet/bathroom/shower. One-third of Roma are illiterate. Life expectancy among men is as low as 53 years…. And the list goes on (see OECD Slovakia Economic Survey 2019). This section of Slovak society desperately needs the solidarity of youth and workers.
Car industry crisis
The Slovak economy has achieved impressive growth rates in the last few years (4.3% in 2019). However, this growth has been based on external investment in labor-intensive, low value-added, export-oriented operations, such as car assembly plants. In fact, Slovakia produces more cars than any other country in the world, per capita. The car industry is now under pressure from falling sales due to the world recession and jobs within it are vulnerable to increasing automation. Slovakia is suddenly in a very exposed economic situation. The Roma have traditionally played the role of scapegoat for all the ills of Slovak society. The questions raised by the BLM movement are directly relevant and will only become more so.
An election in February 2020 saw the ruling SMER-SD (Direction – Social Democracy), which was tainted by corruption scandals, lose out to the centrist anti-corruption party, OL'ANO (Ordinary People). This party has little ideology beyond its stated determination to "clean-up" Slovak politics. The fragmented Slovak political scene contains a multitude of small parties, heavily weighted to the right of the political spectrum. The openly neo-Nazi – and virulently anti-Roma – L'SNS (People's Party – Our Slovakia) came in fourth in the February election, gaining 8% of the vote and 17 parliamentary seats. As yet nothing exists to the left of the discredited SMER- SD. However, this situation can change rapidly in the stormy times ahead.
Special financial appeal to all readers of socialistworld.net

Support building alternative socialist media

---

Socialistworld.net provides a unique analysis and perspective of world events. Socialistworld.net also plays a crucial role in building the struggle for socialism across all continents. Capitalism has failed! Assist us to build the fight-back and prepare for the stormy period of class struggles ahead. Please make a donation to help us reach more readers and to widen our socialist campaigning work across the world.

Donate via Paypal

CWI- Please inform us if you are reproducing any material from this site.