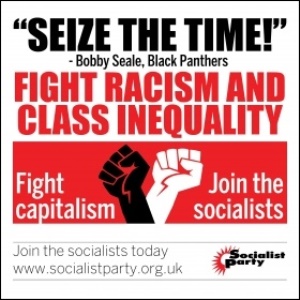 Black Lives Matter (BLM) protests have continued across Britain. Boris Johnson's announcement of yet another review – revealingly into what he calls the "sense of victimisation" of black, Asian and minority ethnic people – will give no confidence to protesters that their struggle is no longer needed.
In many cases, protests have been called by young people taking their first steps into political organising. Socialist Party members have proudly participated.
Open mics have allowed protesters to discuss the issues that brought them to the movement. When Socialist Party members have the opportunity to contribute, big cheers greet the call for a united working-class struggle to smash racism linked with fighting for a socialist alternative to capitalism.
As well as fighting police and institutional racism, all the issues that the Socialist Party youth charter addresses are in the minds of young people – will they ever get a job, a home of their own, and an education?
Environmental catastrophe looms. The understanding that the fight for a future is a fight against being sacrificed for the capitalist crisis is gaining ground.
The need for a broader socialist programme has been highlighted this week by footballer Marcus Rashford. He echoes protesters' slogan, racism is a pandemic, saying that "food poverty is a pandemic".
Johnson's initial rejection of his appeal to cough up £120 million to fund free school meals over the summer holidays has exposed Britain's brutal class reality. One commentator said that Johnson is worried about "setting a precedent" – of people expecting their families to not suffer malnourishment in the sixth richest economy!
Now his retreat really has set a precedent. The more we protest, the more we can win!
So it is clear that this movement must continue and grow to draw in all those angry about racism and the class inequality that always accompanies it as an integral part of the capitalist system.
How should the movement organise?
This poses questions about how the movement organises, including its protests. The young people who flooded into London and other cities wore masks and gloves but rightly did not accept the undemocratic aspects of the corona laws that have banned protests and strikes.
It is collective action – by teachers' unions, for example – that has pushed the government back on its reckless rush to further open schools before it is safe. Laws that outlaw collective action by workers and young people are not designed for the safety of the public, but the safety of the capitalist class and the government that represents it.
As yet, the movement does not have a leadership, but some are now stepping forward. All will have their ideas, and the methods that flow from them, tested – now if the protests continue, or later when they reemerge. Capitalist crisis cannot satisfy young people's need for a future, and they will have no choice but to find a way to fight on.
Strengthening the movement means building and uniting it. Any leadership must be both democratic and fully accountable to the movement. That requires the building of certain structures – starting with local youth campaigns that can both discuss and debate the issues facing young people and, crucially, unite in action.
To help this process, Socialist Party young members are linking up with young people we met on the protests in Young Socialists' activity and meet-ups.
Young workers also need to organise in the workplaces and within trade unions – in defence of safety and jobs, and for the unions to play their role in the fight against racism and all discrimination.
The pandemic has exposed how society is made up of two main classes: the capitalists who currently hold power; and the working class, those key to running society who do not have a say in how it is run.
A movement on the scale of BLM expresses a widespread recognition that our lives are not safe in the hands of capitalist politicians – not one placard appealed for action by them!
Socialism would turn things upside-down – democratic socialist planning by the working class to meet the needs of all instead of the profits of a handful of billionaires. Independent working-class mass organisation – both fighting trade unions and a new mass workers' party – are needed in this struggle for socialism.