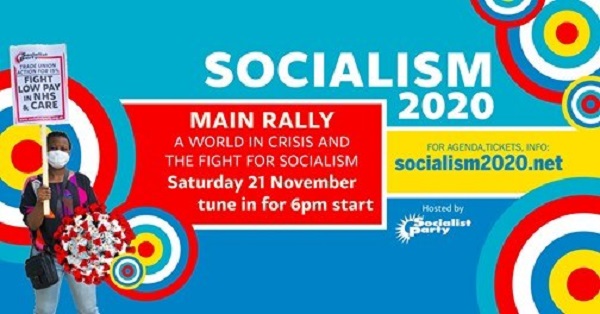 'Socialism 2020', hosted by the Socialist Party (CWI England & Wales), takes place from today, Friday 20 November, to Monday 23 November. It will provide a Marxist analysis and explanation of many of the different aspects of the multi-crises world we live in.
This year Socialism is an online event – with workshops on zoom and this rally broadcast on Facebook, YouTube, Instagram and Twitter.
Hundreds of socialists, trade unionists, students, young workers and anti-cuts fighters will be coming together from 20 to 23 November to discuss all the complex questions that confront us in the fight for our lives and our livelihoods. Socialism 2020 will be a place where everyone can participate in the discussion on ideas to change the world.
If you would like to attend the workshops, see the full agenda of the 38 workshops, buy tickets and get more info:
www.socialism2020.net
or phone 020 8988 8777
Friday evening introduction
Friday 20 November 6-7pm
This Zoom event, open to ticketholders, will set out why it's so important to organise Socialism 2020 and how it will work. You will hear from leading members and activists on some of the key themes of the weekend.
Rally: a world in crisis and the fight for socialism
Saturday 21 November 6-8 pm
The main Saturday night rally is always the highlight of the weekend, a vast hall packed, red flags, intense listening, sharp as nails socialist speeches. This year the rally can be watched by anyone anywhere in the world! It will be live-streamed on Facebook, YouTube, Instagram and Twitter. You can go online now and click to get a reminder alert:
Facebook: bit.ly/2KajaUB
YouTube: bit.ly/3lBySGn
You can also go to the Socialist Party and Socialism 2020 websites where there will be a button that takes you to the live stream.
Workshops:
Starting Saturday 21 November 11 am-1 pm, through to Monday 23 November 2-4 pm
In the workshops, there will be an introductory speech which sets out the Socialist Party's take on the issues, and then time for discussion and debate, and a reply to the discussion. All the workshops will be on Zoom. They will not be live-streamed. The links for the Zoom workshops will be emailed to everyone who has bought a ticket – whether for the entire event, three workshops, or one workshop. You can buy tickets or upgrade your ticket until 2 pm on Monday 23 November.
Financial Appeal
During the rally, there will be a finance appeal. The Socialist Party relies only on the support of our members and supporters and has no big business backers. We have set an ambitious target for the weekend of £25,000.
If you would like to donate to this fund, please visit our website: socialistparty.org.uk/donates20 or you can text an IOU to 07958032071.
Please include your name, the amount you are pledging, and when you can pay it by. You can donate until the close of Socialism 2020 at 4pm on Monday 23 November.
For full details for Socialism 2020 go to: