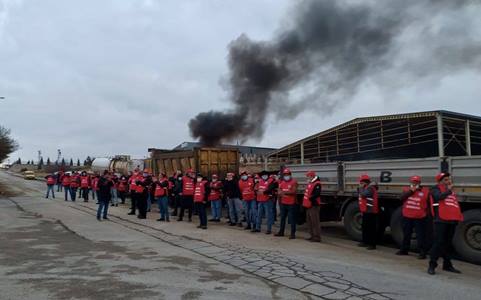 Metal workers employed by a factory in Corum, Turkey, joined the United Metal Workers union to improve low wages and bad working conditions in the factory.
They have been sacked by the management on trumped-up charges. In reality, they have been dismissed by the management as soon as the union had enough majority in the workplace to gain formal recognition.
First, they fired 20 unionised workers on 8th of December. Then they fired a further 66 workers who are also members of United Metal Workers union.
Since this outrageous attack on workers' rights, ten ago, eighty-eight metal workers have been protesting outside the factory to stop union-busting and victimisation in the workplace. They are organising a determined resistance, despite the management's efforts to weaken the workers by parking trucks in front of them to stop them being visible.
These workers have been sacked even though bosses are forbidden, by law, to fire workers during the pandemic. In fact, more and more businesses have found loopholes in the law to fire thousands of workers during this period. There are 10 million unemployed in Turkey right now, which is a massive increase compared to unemployment figures before the pandemic.
By taking collective action, metal workers are showing the way forward. There are also other numerous industrial battles taking place around the country against union-busting.
Bosses are confident because they trust in the capitalist government of Erdogan. Whenever workers take action, they see police barricades in front of them.
Trade union leaders must now go beyond press releases and organise mass action against union-busting, job losses, low wages, and unsafe working conditions. They need to fight for every single job by any means necessary.  This also poses sharply the urgent need for working-class political representation to build an effective opposition to Erdogan's offensive against the working class in Turkey.