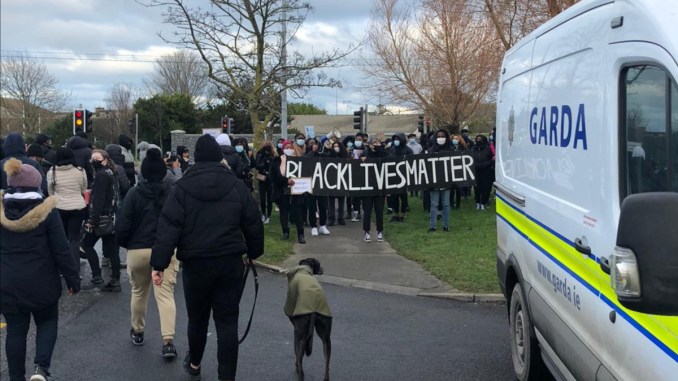 George Nkencho, a 27-year-old Black man, was killed by the Gardaí (Irish police) outside his home in Blanchardstown, a suburb of Dublin, on 30 December 2020. The shooting followed an altercation at a local shop in which a worker was injured. It is reported that twelve Gardaí (although eye-witnesses say it was more than that) followed George Nkencho to his home where he was then shot several times in front of his family.
The killing raises very serious questions about the use of lethal force by the Gardaí. Why could they not disarm him and de-escalate the situation as has been done many times in the past? The Gardaí were aware that George Nkencho was suffering from mental health issues. Why were there were no civilian crisis intervention team brought to the scene to assist with the situation?
Since George Nkencho's death, protests have taken place in different parts of the country organised by young Black people. Militant Left and the Young Socialists have supported and attended these protests where possible. The mood has been angry and defiant. Mostly young people demand justice for George Nkencho and an end to police brutality and racism. Many of the protests have marched to Garda stations where protesters have been chanting, "Who murdered him? The police!" and "Racist police off our streets."
The Gardaí must be held accountable
There is a serious problem with racism in the Gardaí that must be addressed. Despite the existence of Garda Diversity Officers, whose job it is to liaise with minority communities, racist attitudes towards those minority communities are still widespread. The Gardaí clearly do not take seriously their policies for addressing racial discrimination in the police force. The ongoing use of racial profiling is proof of that. A recent internal Garda survey showed that racist attitudes are prevalent within the Gardaí against Black people and other ethnic minorities, particularly Travellers. Shockingly not a single frontline Garda had a positive opinion of the Travelling community. Added to this is the experience of many young Black people who are disproportionately targeted by the Gardaí because of their race. This can also be said of other ethnic minority young people.
The officers responsible for the shooting must be suspended immediately pending the planned investigation by GSOC (Garda Siochana Ombudsman Commission). However, the ability of GSOC to fully carry out a proper investigation to the level required is not at all certain. There should be an independent public inquiry made up of representatives of the working class, ethnic minorities, and peers of George Nkencho. In addition to an independent investigation, there must be a radical review of racism and brutality within the Irish police force, An Garda Siochana. Gardaí must be retrained in a way that completely rejects racial or any other form of prejudice. The use of armed Gardaí in cases where a person is suffering a mental health crisis must end. There must be adequate resources and trained civil clinicians provided to deal with people suffering from mental health crises and who may have committed acts of violence or aggression. Gardaí must have a subordinate and support role in these situations.
However, the killing of George Nkencho illustrates how policing under capitalism is always oppressive and repressive. The role of any police force in a capitalist society is to maintain public order and protect private property. This means enforcing the rule of a tiny minority – the capitalist class – onto the vast majority in society – the working class. Police are fundamental to allowing the capitalist class to profit and accumulate wealth. Many communities, particularly working-class and minority communities are policed in a harsh and oppressive manner. This is the reality across the capitalist world. Socialists call for local policing by people drawn from the communities and which is democratically accountable to the local community. Democratically elected workers, trade unionists, and community representatives should manage and control policing in communities.
Far-right misinformation
George's killing has also been exploited by the far-right and fascist forces in our society. False information has been intentionally spread claiming that George had thirty criminal convictions. This forced the Gardaí to clarify that he didn't have any criminal record. But the far-right are intentionally and unscrupulously using the injury of the shop worker in this tragic case and fears that working-class people may have over violence to divide the working class along racial lines. Socialists and trade unionists must strenuously oppose this reactionary bile. At the same time, Militant Left supports the right of every worker to go to work safely and not feel threatened.
United struggle
In reality, far more unites the working class of all races than divides us. For example, fighting for decent jobs and homes for all, against cuts to services (including mental health services), resources, and amenities for young people would require a united struggle and benefit the entire working class. The movement against racism must be a united one too. Working-class people have a deeply ingrained sense of solidarity, which must include the struggle of Black people against discrimination both institutional and otherwise.
In order to fully defeat racism, as well as all other forms of oppression and inequality, we must fight for a socialist future. The current capitalist system depends on and encourages divisions and discrimination.