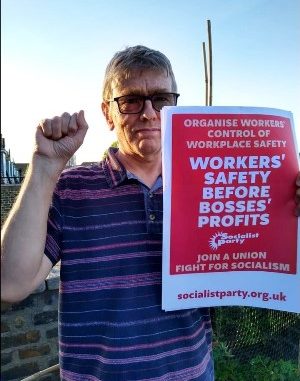 We can't believe a word this Tory government says. We can't trust a thing it does. Going into lockdown 3, working-class people can only rely on our own strength and organisation. This is the lesson we can draw from the education workers' fight for school safety.
One day Tory prime minister Boris Johnson says that schools are completely safe, the next he says they must close! Education workers had been saying for weeks that schools were Covid superspreaders. But Johnson ignored them and the scientific evidence backing them up.
With millions going to work as normal, often on overcrowded public transport, it was obvious that any coronavirus, let alone a 70% more virulent variant, would spread like wildfire. But Johnson did nothing.
Why? Because having workers in the workplaces to make profits for the Tories' big-business friends comes before the lives and livelihoods of working-class people.
We couldn't trust the Tories to test and trace – handing contracts to their cronies in the private sector so they could make a quick buck. And we can't leave the vaccination programme in their hands either.
Health service workers themselves should be involved in deciding how and where the vaccines are administered. The production and supply should be taken out of private hands and democratically planned to ensure that everyone who needs a vaccination gets one as speedily and safely as possible.
In the first Covid wave hundreds of health workers, bus drivers and others died unnecessarily because of inadequate PPE and safety measures. On the buses in London, at Royal Mail, and other workplaces, workers organised and took action themselves to ensure that health and safety measures were introduced. Before the latest Tory mega U-turn, education workers were taking direct action to ensure that nobody was at risk from unsafe schools.
Following their lead, workers elsewhere need to get organised, fight for workplace safety, jobs and conditions, and put pressure on their trade union leaders to act: not put their members' interests on hold, as they did in the first lockdown in the name of a fictional 'national unity' with the bosses.
Ten months of Covid crisis and it's pretty clear that we're not "all in this together". The foodbank queues are getting longer, working-class people are struggling to pay their bills and face losing their jobs and homes while the super-rich gets richer. This new lockdown could push millions over the edge.
But a coordinated campaign by the trade unions nationally could force this government to cough up the money needed to make sure that workers are guaranteed full pay and decent benefits, and that workers don't suffer economically during this lockdown.
But it's not just the Tories that we can't trust to defend our interests. Labour leader Kier Starmer was also calling for schools to stay open when it was obvious that for safety reasons they needed to close. We need to fight for a political voice for workers – a new mass party that puts our interests first not those of big business and the rich.
We say:
100% for all workers furloughed, isolating, working from home or having to stay at home because of workplace or school closures
Trade union and workers' control of workplace safety and what constitutes essential working
Step up the vaccine programme under the democratic control of health service workers and professionals
No trust in capitalist politicians. Join the fight to build a new mass party of workers and young people.
Socialist planning, not capitalist chaos