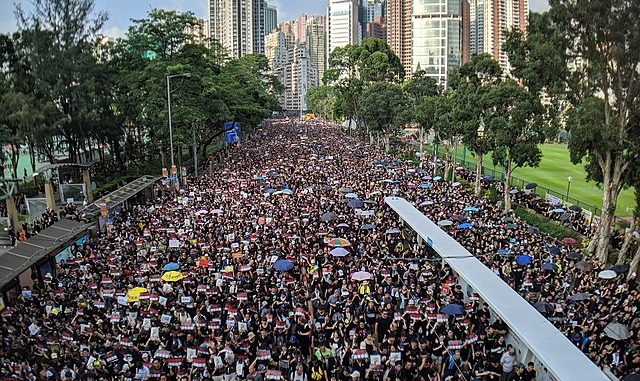 Last Wednesday, January 6th, more than a thousand state forces carried out pre-dawn raids on 73 premises in Hong Kong. They arrested 53 activists and politicians for "subversion" under the National Security Law imposed by Beijing in June of last year. Within 24 hours, all but one of them was released without formal charges being brought. Official pro-Beijing media/sources had spoken of a plot to overthrow the government. Prosecutors said there was a "mutual destruction" plan to bring the government to a halt and overthrow it. This is the language used to 'justify' the Beijing regime's increased repression and strengthening grip over Hong Kong.
Some of those arrested were former elected members of Hong Kong's local Legislative Council (Legco), a body with limited powers but seen by Beijing authorities as a challenge to its own tightening grip. One was a campaigner for people with disabilities, another was a social worker and one – the first foreigner to be arrested under the new law – was an American lawyer. He had helped organise primaries for opposition candidates in the Legco elections due last September (now postponed).
The on-line left commentators, Lausan, report that "among the arrested democratic primary candidates were also union leaders like Carol Ng and Winnie Yu, respectively the chairperson of the Hong Kong Confederation of Trade Unions (HKCTU), and the founder and chairperson of the Hospital Authority Employees Alliance (HKEA)."
In November, four of the 19 "pro-democracy" law-makers in Legco were disqualified by China's national 'Parliament' and the remaining 15 resigned in solidarity. One of them – Leung Kwok-hung or 'Long Hair' of the League of Social Democrats – is a long-time socialist activist, imprisoned many times before. All of them were arrested last week, along with the new candidates who had participated in the primaries. (More than 600,000 people – 8% of Hong Kong's population – voted in those primaries.) Dr Kwok Ka Ki, one of the sacked legislators, said in a tweet that he was "being arrested for sedition for taking part in democracy".
Democracy
Under the pretext of Hong Kong's Covid lockdown, the Beijing-appointed Chief Executive, Carrie Lam, postponed the holding of Legco elections for a year. They were expected to result, for the first time in its history, in a majority of Legco members being opposed to direct rule from Beijing. Like the candidates who gained a sweeping majority in the local elections last year, they have voiced the widespread desire for the five basic democratic rights fought for on the streets of Hong Kong for the best part of a year before the pandemic hit Hong Kong.
Those arrested are accused of subversion which can, under the draconian 'Security Law' imposed by the Chinese government in June of last year, carry the punishment of life imprisonment. But it is possible these charges will not be pursued at present. The Economist (9 January) suggests that even if those arrested are brought to court, "They will be tried in Hong Kong's still independent courts, which demand far higher evidentiary standards than…on the mainland".  This, of course, could collapse under pressure from China.
The language used by the Beijing spokespeople about a plot to overthrow the government appears comically alarmist. But Carrie Lam and her administration can actually be overturned by a majority vote in the apparently toothless Legco assembly. When the budget comes up for approval, a vote rejecting it can lead to Legco's dissolution and a second attempt to get it through. If it fails, the Chief Executive is forced to resign. These provisions are spelled out in article 52 of Hong Kong's 'Basic Law' established at the time of the handover of Hong Kong from British colonial rule in 1997.
It is possible that no serious punishment of the campaigners arrested last week will be pursued at the present time. The authorities could adopt a cat and mouse approach to dealing with opposition. More bluster than over-the-top punitive action against relatively moderate opposition elements.
However, there are still leaders of the mass democracy movement in prison who could face very heavy punishment under the Beijing decreed Security Law which can entail life imprisonment and even the death sentence. Many democracy campaigners are already in jail or have fled abroad. Two of them – Joshua Wong and Tam Tak-chi – were 'arrested' last Wednesday in their prison cells!
Alan Leong said at a press conference that while Hong Kongers would be despairing, "There are enough of a critical mass who are prepared to continue the fight for democracy." (Guardian 7 January.) This may or may not be true, given the numbers of activists who have been arrested, imprisoned, gone into exile or underground.
The CWI has reported on the sustained and courageous movement of the predominantly youthful fighters for democratic rights, cut across by the Covid pandemic and elements of direct rule from Beijing. Now, given the arrests and heightened repression, there will inevitably have been a falling away in support and partial tiredness. The movement's programme was limited, as it was clearly not socialist and some had illusions in western powers' 'democracy'. It did not take up to any large extent the urgent economic and social questions that blight the lives of workers in Hong Kong and in mainland China. To win a lasting victory it would have needed to mobilise the might of industrial workers in Hong Kong and appeal for workers and young people on the mainland of China to take up a serious struggle for democratic and workers' rights. In this regard, the Beijng regime is right to worry that a powerful mass movement in Hong Kong of this nature could get a powerful echo in China.
The latest clamp-down in Hong Kong, dictated by the Beijing regime, has come at a time when media attention has been turned on Washington and President Trump's refusal to accept the US election results. Immediately after the storming of Capitol Hill in Washington, last Wednesday, China's Xi Jinpeng, along with Russia's Vladimir Putin, tried to draw analogies with the democracy protests in Hong Kong and elsewhere against dictatorship, boasting that at least no one has been killed in Hong Kong.
Rivalry
The Xi Jinping dictatorship seizes any opportunity to intensify its propaganda war against the US and its allies. China is now challenging the US for industrial and military pre-eminence in the world. The Economist describes it as already "too big and interconnected to contain. It accounts for 18% of world GDP. It is the largest merchandise trading partner of 64 countries, including Germany. America's tally is just 38." (Ibid)
Countries like Britain have followed the US in forcing local companies to pull out of contracts with major Chinese firms like Huawei, but others still flourish. Over the December-January holiday period, the apparently contradictory attitude of European powers to relations with China – critical but open to compromise – was confirmed by announcing an important trade deal between the EU and China. In itself, it is seen as a blow against the US; Biden has made it clear he will continue with sanctions against China. There is no doubt that many capitalists will be quite happy to continue trading in Hong Kong and in China, so long as there is money to be made. But how long this continues can also be affected by the state of relations between the world powers.
The London Financial Times and the Economist have expressed dismay at what they see as this weakening of the anti-Chinese front. They decry Beijing's block on a World Health Organisation's visit to Wuhan (now lifted) but, as an editorial in the British Guardian newspaper cautions: "This is not the cold war. It is neither possible nor desirable to sunder all ties with China". (7 January).
To justify a harder line against Beijing, western media appear to have recently discovered a tightening of repression in China, not only in relation to Hong Kong but the relentless persecution of the Uighurs in Xinjiang and the locking up of government critics. But horrific human rights abuses and suppression of basic democratic rights are nothing new in 21st Century China.
'Communism'
Representatives of so-called democracies take every opportunity to use Xi Jinping's criminally repressive regime in China to discredit the idea of communism. The Trump administration especially does not refer to the Chinese government, rather to the "Chinese Communist Party" or "CCP" in an effort to weaken the appeal of socialism to young people in the US. China's 'Communist Party' government bears no resemblance to a workers' democracy which would be run by elected representatives of the vast working-class and poor people of China at every level. (The CCP would be better interpreted as the 'Chinese Capitalist Party'.)
China is a vast dictatorship now operating on the basis of a very special form of state capitalism. The government is dictatorial against any form of challenge to its power and the ruling layer includes extremely rich oligarchs. The president himself is a billionaire. It suits the defenders of rampant capitalism elsewhere in the world to blacken the idea of Communism by reference to China.
Condemning the Hong Kong arrests, capitalist countries elsewhere in the world pose as defenders of universal democratic rights. History proves otherwise. Lessons of events in Washington and in Hong Kong must be learned and a new year of struggle engaged for workers' democracy and socialism on an international scale.