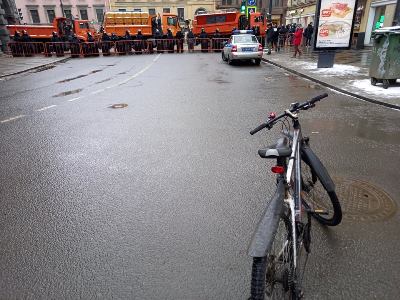 On 20 August, last year, seasoned anti-corruption campaigner Alexei Navalny became seriously ill on a flight from Tomsk to Moscow, quickly falling into a coma. The plane made an emergency landing and four days later he was moved to Berlin. Doctors stated that Navalny had been poisoned with a Novichok nerve agent, the product of Soviet-era chemical weapons programmes.
Navalny is a long-time political activist of flexible views, but with a reputation for exposing graft. During the first years of this century, he was associated with the small, liberal Yabloko ('Apple') party. After 2008, he gained a reputation as a shareholder activist, claiming to have exposed embezzlement by the directors of Russia's leading oil companies. At around this time, Navalny also began to flirt with anti-immigration movements, adopting the rhetoric of the nationalist right-wing.
Two years later, he was studying at Yale University as part of the latter's World Fellows Programme, a four-month course designed to prepare suitable candidates for positions of 'global leadership'. During the protests against rigged parliamentary elections in 2011-2, Navalny was able to use whatever he had learned there to emerge as an increasingly prominent figure in Russia's pro-capitalist, liberal opposition scene.  In 2013, after endless bureaucratic obstruction, he was able to stand in the Moscow mayoral election, winning more than a quarter of the vote.
It was around this time that the Russian state began to take measures against Navalny. A court case was begun in 2012, in which Navalny was accused of embezzlement, as part of a business deal in which he procured delivery services for the cosmetics giant, Yves Rocher. In the middle of his election campaign, Navalny was given a five-year prison term, later reduced to three-and-a-half-year suspended, in a trial that the European Court of Human Rights criticised as arbitrary and unreasonable.
Back then, Navalny might be considered to have got off lightly. In 2015, an opposition figure with similar views, the Yeltsin-era government minister, Boris Nemtsov, was shot dead in the street just a few yards from the Kremlin. This threatening example did not discourage Navalny. He continued to denounce Russian political and business life as corrupt, characterised by embezzlement and bribery on a mass scale, releasing slick videos and making effective use of social media.  In 2018, Navalny was banned from contesting the presidential elections owing to his conviction for fraud and embezzlement and in the past half-decade he has served numerous short gaol terms for organising street protests.
January 2021
Given this context, Navalny's decision to return to Russia on 17 January surprised many. What perhaps surprised people even more – at least those unfamiliar with Russia's dismal political norms – was Navalny's arrest and detention upon arrival, supposedly for violating parole conditions relating to the Yves Rocher case. With German doctors declaring that Navalny had been subject to a chemical weapons attack aboard a civilian aircraft, the Russian authorities simply ignored the fact that they themselves had permitted him to travel and that he was apparently in a coma at the time. Not only this, five months after the alleged poisoning, there has been no investigation. It was as if the question of an alleged chemical attack aboard an aircraft was a mere irrelevance.
Navalny was, of course, probably aware that he would be treated in this manner and clearly planned to use his case to expose the Russian legal system. His return coincided with the release of a new two-hour video in which Navalny talks about Vladimir Putin and his rise to power. It contains very numerous allegations of bribe-taking and cronyism, along with allegations that Russian president is possessor of stupendous wealth – he is presented as the richest man in Europe.
At the same time, Navalny called his supporters out into the streets. These demonstrations were immediately declared impermissible by the government, notwithstanding the formal guarantee of the right to peaceful assembly in the constitution of the Russian Federation.
The initial response of the authorities to this call was to try to terrorise young people in the education system from attending. Students were threatened with expulsion from universities, legal consequences and future un-employability. Tik-Tok videos were identified, erroneously, by the authorities as the main means of encouraging young to attend the rallies and individuals in the Navalny camp were warned of the criminality of inciting children to break the law.
In the event, there was not a mass organised mobilisation of students or the very young, but marches took place in the best part of 100 Russian cities. Arrests were very numerous, especially among the organisers, but the authorities were simply unable to suppress the demonstrations themselves. In places – notably St Petersburg – the police seemed tactically-naive and outnumbered. This allowed a demonstration of around 10,000 to flee a police charge across a public park and to push its way onto the city's main boulevard, Nevsky Prospect.
Buoyed by this undoubted success, the Navalny team called for a second demonstration for Sunday, 30 January. On this occasion, repressive state measures were greatly increased. Areas of central Moscow and St Petersburg were flooded with thousands of members of the Rosgvardia (the Russian National Guard) and riot police. Barricades were formed against protests, made up of huge personnel carriers, lorries, buses, garbage trucks, snowploughs, fences, and regiments of men in riot gear, blocking streets over an area of several miles. These areas were closed to all pedestrians, residents included, without exception. All businesses in these areas were ordered closed. The internet was switched off.
In St Petersburg, bridges across the Neva were closed. The day before the demonstration a plot to carry out a terror attack on the Metro underground system was "discovered", and as with the previous week, numerous city-centre stations were closed. Classes in some schools were rearranged for Sunday. Those wishing to move around the city centre for any reason were faced with detours lasting miles and endless dead-ends.
And yet, amazingly, under such repressive conditions, the second wave of demonstrations took place, often in new locations just outside these exclusion zones. Naturally, turnout was often lower as for many people, these locations were simply impossible to reach, but the previous weeks' events were reiterated. There was a static rally without obvious leaders – many of whom were already under arrest – evolving into a chaotic, unplanned march, as riot police rushed the peaceful crowd, forcing the demonstrators onto the streets.
There were more arrests, and more resistance to arrests: in the south of St Petersburg, one busload of detainees broke down the door of the vehicle and fled to freedom. For the first time in Russia, the police employed tear gas and, scandalously, one panicked group of them drew their service revolvers and aimed them at youths pelting them with snowballs. Elsewhere, journalists clearly identified by their yellow tabards were bundled into vans along with participants.
Russian parties and the Russian state
These demonstrations have not simply drawn in supporters of Navalny, even though, in one sense, they can be viewed as a form of electioneering. Russia's powerless parliament, the fig-leaf of the autocracy, has elections in September. It seems likely that Navalny will be banned from standing, as Russian liberal opposition candidates, in general, might reasonably hope to gain seats. It seems that this narrow view is being taken by the tame, pro-government parties whose representatives currently inhabit this body: the 'Communists' and the imperialist and reactionary Liberal-Democratic Party.
Yet both these parties have themselves proved victims of either the arbitrary, politically-driven legal system or the open corruption of political elections that characterises the post-Soviet Russian state. Following the surprise victory of Sergei Furgal, the Liberal-Democratic candidate in the Khabarovsk gubernatorial elections of 2018, an election in which the incumbent, a member of Putin's United Russia party was defeated, the winner was charged with multiple counts of murder, supposedly carried out some fourteen years earlier. He now sits in gaol and a new Putin-appointed governor has taken over his role.
The 'Communist' Party, meanwhile, has repeatedly protested election irregularities by the party of government and currently appear to be in turmoil over the situation. Perhaps out of fear of some new politically-driven criminal case and a desire to keep their Duma positions, they distance themselves from the supposedly illegal demonstrations. In other words, they quail in the face of often vicious state intimidation.
So far, Russian workers have not participated in these protests in an organised manner. The more active trade unions tend to be strictly apolitical, even where they campaign on workplace-related issues. However, in order to effectively fight the class struggle, democratic rights are essential. So this apolitical stance is ultimately counter-productive. Even under bourgeois democracy – and Russia is a bourgeois autocracy – workers need to win and preserve as many legal rights, as possible, in order to fight the bosses most effectively.
This is why many small far-left groups have joined the demonstrations, even playing a prominent role in some locations. It is understandable that the practice of cooking up dubious charges against popular opponents of the regime, like banning demonstrations and placing town centres under siege, represent an attack on every political entity, regardless of their programme. Thus they recognise the possibility of being involved with non-working class forces in a struggle for democratic rights.
The Navalny team plays on this kind of issue with some skill. Following the motto of the 'Three Musketeers', they have adopted the slogan, 'Each for all and all for one' in obvious reference to the need to fight political repression, regardless of the views of any particular victim.
Socialists struggle for every democratic right. We support the right of candidates to stand in free elections, without state persecution and harassment. Socialists campaign against the victimisation and persecution of those opposing Putin, and we will not, by remaining silent, give support to the persecutor. But this does mean unqualified support for every opposition figure and their political programme. Many of those around Navalny attempting to stand in the coming Duma elections will not use their positions to call for a serious struggle to for the extension of democracy in Russia. Many bourgeois representatives will fail when faced with this task, preferring instead to be co-opted into the tame and toothless opposition that currently exists. Where these betrayals occur, it needs to be publicly pointed out by the left.
Support of this type should not mean the subordination of socialists to bourgeois opposition forces or surrendering an independent class position – the key task is building independent working-class organisations and a mass party, with a socialist programme. Wherever a bourgeois opponent of dictatorship advances a position that threatens the interests of the working class, something which will surely happen often enough, via the advocacy of privatisation, market forces and so forth, this must be met with vigorous opposition.