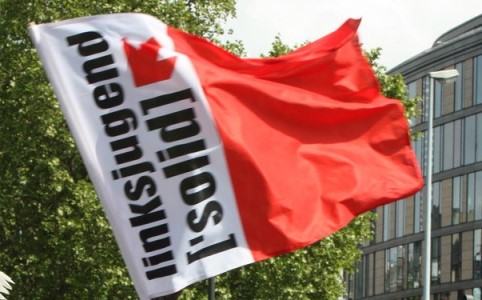 Young people in Germany have been hit hard by the coronavirus pandemic and the unfolding economic crisis. For young socialists, these are key issues around which to organise resistance against the various shortcomings of the government's policies and to argue for a socialist alternative to the capitalist crisis.
Even under difficult lockdown conditions, this is what young members of Sol (Socialist Organisation Solidarity – CWI in Germany) have done as part of the Linksjugend ('solid') Ljs, the youth wing of DIE LINKE, the Left Party. However, Sol members now face the threat of expulsion from the youth wing.
Undemocratic attack
Up until Monday, 1 February, it seemed as the second session of the youth wing's 13th national conference – planned to be held online due to the pandemic on February 6th – would debate a motion which would make membership of Sol incompatible with membership of Linksjugend. Now the conference session has been cancelled at very short notice as members of the control commission raised concerns about its legality. At this point, it is not clear when the national conference will reconvene. However, the threat of expulsion is not at all off the table.
Unfortunately, such expulsion threats against Marxists are not in any way new. In 2018, the national conference debated such a motion (aimed at SAV – Socialist Alternative, which, at that time, constituted the CWI's section in Germany). Although it was passed, it narrowly failed to get the necessary two-thirds majority. Since then some Linksjugend federal-state organisations have tried to implement similar decisions – succeeding in the state of Saxony but failing in the state of Bavaria where a control commission overturned the threat of expulsion.
These are undemocratic attempts to kick Marxists out of Linksjugend. While they are meant to hit members of Sol, above all, they actually aim at Ljs's left-wing and any organised opposition, in general. If this is passed at a national level, it will massively damage the democratic functioning of the organisation and prompt questions over Ljs's future.
Supporters of this purge argue that Sol members would not honour the youth wing's statute and that we act in an undemocratic and anti-pluralistic way. To "substantiate" their claims, they have to revert to contortions and lies. For example, they assert that Sol members dominate the state organisation of the youth wing in North-Rhine Westphalia (NRW), the largest federal state, in a top-down, undemocratic manner. Although this is not true, and Sol members also do not have a majority in the state organisation, this is done to attack the state organisation of NRW, as a whole, which has stood on the left within Ljs. In the same breath, the supporters of the ban criticise Sol for our programme calling for the right to de-select and reselect those in all elected positions in the labour movement – a position shared by the majority of the state organisation in NRW.
Sol members fight for political representation of the working class and youth. That is why we also take an active part in building DIE LINKE and its youth wing. We see it as a reference point for the potential development of a new mass workers' party. In the youth wing, we promote socialist solutions to the various problems young people face under capitalism and we link this with concrete activities to build Ljs. We have played a key role in the last years to (re-)build the youth wing both in NRW, but also elsewhere, as a fighting socialist youth organisation. We have done so in cooperation with others. The state organisation of NRW is a bastion of Linksjugend's ('solid') left wing – it opposes collaboration with pro-capitalist forces and aims at building support for socialism among the youth and working class through active campaigns.
If Sol members are expelled, it would only be the prelude to more expulsions of others on the left at a later stage level. It would also mean that political forces which either directly support imperialist foreign interventions or aim to strengthen cooperation with pro-capitalist forces could gain a majority in the NRW Ljs. This would thereby strengthen the current Ljs national leadership, which does not argue for a consistent and concrete socialist programme. This is happening in the context of increased pressures from big parts of DIE LINKE's national leadership for the party to form a coalition government with the Social Democrats and Greens after this year's general elections.
Campaign against expulsion threat
Sol members and others, however, started a campaign against such expulsion threats prior to the upcoming national conference. As part of the Revolutionary Left, a left-wing opposition tendency within Linksjugend (solid), we have organised two successful meetings with 40 and 60 people respectively from 8 state organisations attending. A resolution was agreed unanimously at the last meeting which rejects the expulsion attempts and calls on its proposers to withdraw their motion or else calls on the delegates to vote against it. This is so far supported by 15 Linksjugend branches, two federal-state Ljs organisations, the Anti-Capitalist Left (AKL) tendency in DIE LINKE, and over 170 individuals in the party and the youth wing. Ten people have joined the Revolutionary Left since January.
Young members of Sol have issued a political declaration which not only refutes the distortions of our attackers, but also explains politically why this is happening and why such undemocratic attacks cannot be separated from the overall state of the organisation. We argue that political differences – as long as they base themselves on a socialist programme – should be debated openly and tested out in practice in a socialist organisation. This is also the approach we argue for when we are part of state leaderships. However, a bureaucratic approach which aims at silencing opposition will lead to further decay of the organisation.
Marxist ideas find an echo
At the present, Linksjugend is a small organisation, generally in a catastrophic situation. On a national level, and where the organisation is dominated by forces which push hard for collaboration with generally pro-capitalist organisations, such as the SPD's "Young Socialists" or the Green Youth, Linksjugend is not a fighting and campaigning organisation which is attractive for radicalised working class youth. Careerism and out-of-touch identity politics are widespread.
All of this is in stark contrast, for example, to the outlook of Linksjugend in NRW or in in Rhineland Palatinate, where Sol members are also active in a federal state's leadership. In both states' leaderships, Sol members make proposals to organise campaigns and linking day-to-day struggles of youth and the broader working class with the necessity to organise for socialist change.
Probably much to our opponents' chagrin, the struggle against our expulsion provoked increased interest in Sol and its ideas. At a national Sol meeting – which was intended to introduce the organisation to contacts and which was also addressed by a comrade from the CWI – around 50 people participated.
We are determined to fight against this undemocratic manoeuvre to the end. But already it shows how vital a Marxist organisation is in the struggle for members' democratic rights and for Linksjugend (solid), DIE LINKE and the broader labour movement to adopt and campaign for socialist ideas.