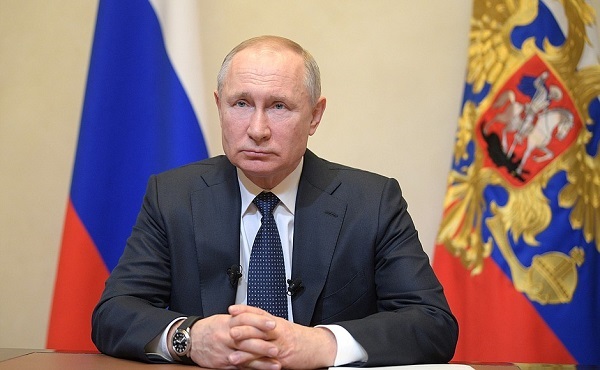 Russia's president, Vladimir Putin, made his 'State of the Nation' speech on 21st April as protest demonstrations were taking place across Russia. In April last year, his annual address had included an announcement about a referendum on constitutional changes. These would more or less guarantee his personal rule for life (or at least until 2036). Sugared with talk about various social benefits that were already established in law, the September referendum proposal worked out in Putin's favour, helped along by widespread electoral fraud.
This year's address came in a different context. It followed the Kremlin's mobilisation of large numbers of troops in Russian-occupied Crimea and on the Eastern borders of Ukraine. That operation was clearly aimed at reminding Western powers, and especially US President Biden, of Russia's big power status in the world but also at mobilising patriotic support at home.
However, 2021 has also seen unprecedented opposition to Putin's regime expressed in demonstrations on the streets. They broke out in January, initially in protest at the treatment of opposition leader, Alexei Navalny, who had been arrested and detained as soon as he returned to Russia from health treatment in Germany. But the protests clearly unleashed pent-up anger and discontent with poverty conditions amidst the obscene wealth accumulated by a handful of very rich oligarchs around Putin.
The New York Times pointed out, at the height of the movement: "Russians' average take-home wages adjusted for inflation have been declining since the Ukraine crisis (of 2014). They are now 10 per cent lower than seven years ago".
Renewed protests
Once Navalny had been summarily tried and despatched to a penal colony, the protests began to lose direction and momentum. A clear programme for organising and extending the struggle was lacking. Demonstrations waned.
In April, facing heavy repression, leaders of Navalny's movement planned to revive the protests. Navalny's life was now reportedly in danger after weeks of hunger strike and with the authorities refusing to allow his doctors to visit him. From Lithuania, Leonid Volkov headed a campaign to get 500,000 written commitments from oppositionists in Russia to take to the streets on the day Putin would make his address to the nation.
On the evening of April 21, demonstrations indeed took place across the vast expanse of the Russian Federation, starting in far eastern Vladivostok on the Pacific Ocean to Kaliningrad on the Baltic coast. By the end of the evening, tens of thousands had demonstrated in more than 100 Russian cities.
In the capital, Moscow, where squares were blocked off to demonstrators as Putin gave his address, more than ten thousand protesters are estimated to have filled the pavements in a moving demonstration. Police refrained from making more than a few arrests in the capital to avoid adverse publicity but elsewhere, riot police waded in, batons swirling at the heads and bodies of peaceful protesters. In St Petersburg, where the main squares and boulevards had been blocked off well in advance, again up to 10,000 demonstrators, holding high the lights on their mobiles, filed to the Youth Theatre from St Isaacs' Square. Stun guns were used by the Saint Petersburg police and demonstrators detained reported continued abuse while in custody. Radio Free Europe reported as many as 800 arrests in that city by the end of the evening and 1,900 countrywide.
The speech
Vladimir Putin's seventeenth 'State of the Nation' annual address contained no surprises. Only too well aware of the coming general election in September and the need to gain (or organise) a comfortable majority, he urged all Russians to get vaccinated and promised cash handouts to families. Yet nearly half of Russian voters are reported to believe the country is moving in the wrong direction.
The president's speech was low key but he warned of renewed troop movements in the Ukraine area if necessary and indicated plans to consolidate control in Belarus. He talked of "red lines" and presented the enemy at the gate as a convenient diversion from continued privations at home when Russia's multi-billionaire oligarchic bosses continue to live high on the hog under Putin's protection.
Perspective
Navalny's movement – the Anti-Corruption Foundation – is threatened with being designated an extremist organisation and with the membership of it carrying a punishment of up to ten years in prison. Already most of the organisation's top leadership is in exile or under house arrest and many activists are being held by the police. Last Wednesday two of Navalny's aides were arrested; regional headquarters across the country have been raided.
Navalny has now been moved to a prison hospital and could make a recovery, but his condition is still reportedly grave. If he died it would undoubtedly ignite big angry demonstrations. Whether such protests subsided or grew is difficult to predict, but observers say that the hopes and demands of many on last week's demonstrations go far beyond the fate of "the Kremlin foe". One chant on the Moscow demonstrations was "Putin in the dock!".
A local organiser of Navalny's movement told Andrew Roth of the Guardian: "Any attempts to punish people who are unhappy with the government are bound to backfire…I don't know what's going to happen to our organisation, but you can't get rid of the people…We're not leaving."
Alternative
Navalny and his movement are essentially in favour of clean capitalism (something which is simply a utopia). Last year, in local elections, Putin's United Russia party suffered some reverses at the hands of the (misnamed) Liberal Democrats led by the hardened right-wing nationalist, Zhirinovsky. But other anti-Putin fighters are beginning to emerge, even within the 'tame' opposition Communist Party of the Russian Federation.
Felix Yashik writes in the paper of 'Socialist Organisation Solidaritiet' (CWI in Germany): "Nikolai Bondarenko, a CPRF deputy in the Saratov regional parliament, is facing harsh repression after supporting the protests. He has a high chance of beating the opposing candidate from United Russia in this year's parliamentary elections and entering the Duma (parliament). He represents a new current within the CPRF which stands for a left-wing, clear anti-Putin course. With his one million followers on Instagram, he has become the most popular politician in the CPRF, far ahead of the long-term party leader, Gennady Zyuganov, who has been pandering to Putin. Also, the CPRF's youth wing has taken part in some of the recent protests."
Pointing to United Russia being below 30% in the opinion polls, Felix urges youth and workers to organise resistance to repression and, in particular, to mobilise a fight against the new education law, which aims to silence militant teachers in schools and universities.
Fighting programme
As in the rest of the Covid-stricken world, a period of uncertainty and struggle is opening up. A clear fighting programme must be drawn up to fight for basic democratic rights including freedom of speech and organisation and an end to police violence, with the need to build amongst workers a struggle for taking back into public ownership the major industries, including mining and oil, and the banks and finance houses, on the basis of democratic control and management, with planning in the hands of democratically elected representatives of working people.
Fight dictatorship through the building of struggle committees in the areas, in the workplaces, in the schools and universities to end the dictatorial rule and the permanent crisis in society that capitalism entails. Truly democratic elections are needed to local, regional and national bodies that can draw up plans for a genuinely democratic way of running a state-owned planned economy. This would represent a giant leap forward.
It is thirty years since the dissolution of what remained of the USSR when a monstrous Stalinist bureaucratically-run state gave way to gangster capitalism in every one of the former republics. Democratic socialism re-established in Russia would spread like wildfire in the whole area what was, under Lenin and Trotsky, a genuine voluntary federation of socialist states. The beginning of the end for capitalism worldwide would be on the order of the day.