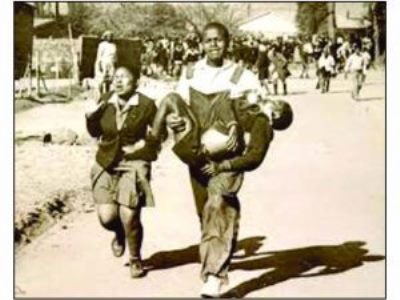 On the 45th anniversary of the school students' revolt of 1976 in South Africa, then under brutal apartheid rule, the Marxist Workers Party (CWI South Africa) re-published a new booklet, The Soweto Uprising by Weizmann Hamilton, general secretary of the Marxist Workers Party.
Together with a number of comrades from Noordgesig, a township on the northern fringe of Soweto, Weizmann served two spells of detention in solitary confinement in 1975 and 1976. He was charged, alongside fellow comrades Johnny Ramrock and Chris Weimers, with conspiring to overthrow the state under the Suppression of Communism and Terrorism Acts. The case against them collapsed following the heroic refusal of Patrick McGluwa and Raymond Burgers to give evidence for the state. They were sentenced to twelve months in prison for contempt of court. Weizmann, Johnny, and Chris were given five-year banning and house arrest orders in May 1976. To evade arrest after the outbreak of the 16 June uprising they went into exile shortly afterward.
Weizmann's 1986 article draws out the lessons of the historic 1976 youth revolt. It was originally written to arm the working class youth struggling against apartheid with the ideas and method of Marxism. It is now more than a generation since the defeat of white-minority rule but the development of the youth movement of the 1970s and 1980s is still rich in lessons for young activists.
A new introduction to The Soweto Uprising, by Shaun Arendse, takes these lessons and applies them to the situation facing young people today. Central amongst these is the decisive role of the working class in the struggle to fundamentally change society. Understanding this is the key needed for today's youth to unlock the programme, tactics, and strategy that can build a movement to rival that of the 1970s and 1980s. It is only through struggle that the majority of the youth will be able to seize the bright future that should be theirs by right.
The new introduction to The Soweto Uprising by Shaun Arendse be read here http://marxistworkersparty.org.za/?p=3132&fbclid=IwAR3JX35poadUgY1eM2S-6Sh3yX11SQkAItlnBMwg4c4Fb4pYogrA-lnX7Nk
And to read the 1986 pamphlet on the Soweto Uprising by Weizmann Hamilton, click on The Soweto Uprising