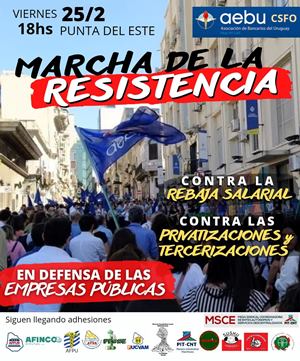 The Uruguayan public sector bank workers' union has called for a march to Punta del Este, a bastion of the country's wealthiest people, on February 25th. A struggle that has been conducted for more than four years at the grassroots level by the bank workers' union is today bearing fruit.
The AEBU union is a grassroots organisation that is opposed by the trade union bureaucracy. The bureaucracy has conducted a campaign against the AEBU and has supported all of the measures the employers are imposing on the workers.
The struggle of the bank workers is in opposition to the proposals to cut wages and reduce the efficiency of the public banking sector. These attacks are intended to favour the private banks which in Uruguay are all foreign-owned.
The country's five public banks control social security, housing, and mortgage credit facilities and play an important part in financing social benefits for workers. The policies carried out under former President Peoe Mujica, up until the present day, have been directed against the full functioning of this sector. Previously, 70% of these operations were controlled by publicly-owned banks. Now, this is reduced to 28%. The private banks have increasingly taken over these operations and pass on the profits to their foreign owners.
The President of the CSFO (Council of the Official Finance Sector) has confirmed that more workers and social organisations have declared their willingness to join the march called for February 25th. As has been the case throughout the world, the COVID-19 crisis has been paid for by the working class, with governments demanding workers "tighten their belts" as they cut social benefits. The rich and powerful are not paying for this crisis; it is the neediest sections of the population that are paying the price.
Workers' cause
The government attacks the banking workers as a "privileged sector". But the banking employees' cause has widened to other workers throughout the country, as the crisis affects everyone in Uruguay.
The grassroots union organisation, AEBU, is being built with the aim of rescuing the workers' organisations from the bureaucratic leadership which currently controls the central trade union federation.
The AEBU demands that all salaries readjustments include what was lost in 2021.
No to precarious contracts; defend the jobs in the public banking sector; strengthen the public banking sector through nationalisation and democratic workers' control and management!
Solidarity with Uruguayan bank workers fighting reduction in wages and precarious contracts protest on February 25th; send solidarity messages to Lorena Lavechialo at: Alsaciaylorena@gmail.com and Hector Napoli at: chasqueoriental@gmail.com