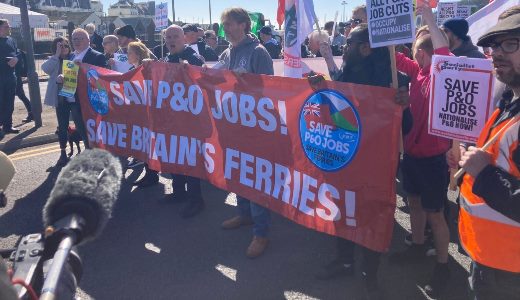 Just as Gate Gourmet workers were dismissed by megaphone 17 years ago, the cold brutality of the bosses was shown by P&O ferry company last Thursday when they sacked 800 of their employees by Zoom. The technology may be more advanced but the act was just as vicious. Even more so, security was primed, with some acting as if they had powers of arrest.
In those brutal minutes, the entire façade of 'national unity' that Boris Johnson has been assembling over the Ukraine war, again as with Covid, with the full backing of New Labour leader Sir Keir Starmer, was ripped down and shown to be the sham it is. So too has the so-called concern of Tory ministers after it was revealed that the government was tipped off about the plans of P&O and its parent company DP World. In the same vein, Tory Dover MP Natalie Elphicke has joined protests but was rightly heckled because last autumn she refused to vote in parliament against 'fire and rehire'.
Trade union members rallied to the cause of the workers and their union the RMT on the dockside on Thursday and again the day after at solidarity rallies and protests in Hull, Larne, Liverpool and Dover.
Among those who marched in Dover were some who remembered the strike of over a year by the National Union of Seamen, NUS (who later merged with the NUR to form the RMT) 34 years ago, when over 2,000 ferry workers were sacked.
That dispute was defeated because, despite tremendous support and solidarity from rank and file trade unionists, the workers and the NUS were isolated. This can't happen now.
Attacks on jobs, pay and conditions
In the first Covid summer of 2020, the likes of British Airways rolled out 'fire and rehire' and were shamefully joined in it by the Blairite Labour council of Tower Hamlets; while now their Coventry counterparts spend millions trying to defeat striking bin workers.
With the severe lockdown, many companies saw the opportunity to use this brutal method to attack workers' pay, terms and conditions. British Gas workers took 43 days of strike action but still faced cuts in their income by over £10,000. Those who didn't sign new contracts were made redundant. Car transporters were sent round to pick up the British Gas blue vans, behind each one was a worker and their family.
But the viciousness of P&O has been on even another level. There wasn't even a consultation period but a prepared assault, literally on these workers. They have to be defended.
Fire and rehire became a wave as the bosses picked up the baton from the likes of BA. Unite has estimated that one in ten of its members has been affected by it. P&O might try to argue that UK employment law doesn't apply as these are maritime workers, but this cannot be accepted and whatever is the case, many other employers will now be looking to see if P&O get away with this.
Many workers will see in this the regime that will be in place when the new tranche of Freeports are brought in by Johnson, opening the door to more trampling of workers' contracts and national agreements.
Bosses' profits
The balance of forces has tilted slightly in some sectors as the economy has recovered from the pandemic lockdowns. Labour and skills shortages along with strained supply lines have meant that some groups of workers such as HGV drivers have been able to win significant pay rises, on the condition that they have been organised and willing to take action.
But this is a reminder that when their profits are at stake, the bosses will use the most brutal methods. This was virtually admitted by the company, citing alleged losses, yet just this month DP World has announced that it made profits of $896 million (£751 million) in 2021, up from $846 million in 2020. The Guardian has reported that DP World has backed a £147 million deal to sponsor European Golf when there is a hole in the P&O workers' pension fund of £146 million!
But their profits mustn't decide what happens to workers, their families and communities. It merely shows that they can't be trusted to run these services. P&O must be nationalised and brought into public ownership, under democratic workers' control and management.
The Tory government has taken emergency action against Russian oligarchs by imposing sanctions and has threatened to seize their properties. But the P&O sackings show that employers, backed by their Tory government, are also capable of acting in a dictatorial fashion.
Correctly, workers shouted "seize the ships" on the Dover protest. But no trust can be placed in Johnson's government. However, it can be forced under pressure to act. This poses the need for a massive movement that must be built to support the sacked workers, especially drawing in other workers in transport, haulage and the docks. Many of these workers have themselves been in dispute recently and the RMT has launched strikes on London Underground against Tory cuts administered by Blairite Labour mayor Sadiq Khan. The RMT is also being forced to prepare action nationally because of similar attacks by Network Rail and the train operating companies.
Such is the widespread anger, there is real potential to mobilise workers in solidarity. Already, it is being reported that some of the agency staff who were lined up to take the P&O workers' jobs have refused.
The TUC has finally called a national demo in June against the cost of living squeeze and the Tory and employers' pay freezes and wage cuts. But now is the moment. Whether it's in central London or at one of the ferry ports, such a mobilisation is needed and can be the platform for a victory.
Defend jobs & services!
TUC must call emergency solidarity demonstration to demand 'seize the ships' – Nationalise P&O!