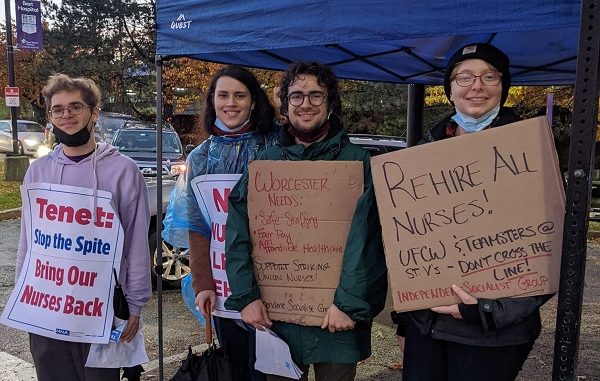 The longest strike in the U.S. in 2021 and the longest nurses' strike in Massachusetts history ended in January 2022 when union nurses voted to ratify a new contract. 700 members of the Massachusetts Nurses Association (MNA) were on strike for 10 months against Tenet  Corporation, owners of St. Vincent Hospital in Worcester, Massachusetts. The courage and tenacity of the nurses in this strike needs to be publicly acknowledged and remembered. It's crucial for working people to discuss the strike for future struggles around better healthcare and a stronger labor movement.
MNA organizing against chronic understaffing of nurses and support staff at St. Vincent goes back to 2000, when a 49-day MNA strike ended in victory for the union including a first contract, limits to mandatory overtime, and stopping some of Tenet's use of "flex" scheduling that resulted in daily cuts to nursing staff.
In 2018, the MNA led a statewide referendum campaign for safe patient-to-staff ratios. Tenet and other corporate "healthcare" profiteers poured millions of dollars into defeating the referendum, spending more money than had ever been spent on a ballot question in state history.
Negotiations for a new union contract at St. Vincent began in November 2019. The MNA proposals focused mostly on improving patient care including the urgent need for more nurses, much better patient-to-staff ratios, and safer working conditions. In February 2020, more than 70% of the nurses signed a petition demanding safer staffing levels and an end to management's abusive treatment of nursing staff.
In May 2020, the first COVID surge made understaffing and working conditions even worse. Tenet bosses continued attacking the nurses using furloughs and daily cuts in staffing levels. More than 600 "unsafe staffing reports" were filed by nurses at St. Vincent in 2020. 400 MNA nurses held an informational picket in front of the hospital in December 2020, as the pandemic surged for a second time. In January 2021, MNA nurses organized daily informational picketing centered on the demand for safe staffing.
The union tried two years of pressuring Tenet to back off from constant short-staffing. Tenet bosses also refused needed changes to deal with COVID. An MNA statement said hospital management was "commingling COVID and non-COVID patients; and creating conditions that force nurses to take up to five patients at a time… In the emergency department, it is not uncommon for nurses to be assigned five and six patients at a time… They have also laid off secretaries and other support staff… ."
Tenet Provokes a Strike
Tenet was riding a profit surge of $97 million in January-March of 2021, after grabbing over $3.1 billion in profits in the fiscal year 2020 and using $1 billion in Federal stimulus money to fatten its bank accounts. Tenet, armed with its billions, thought it could intimidate or break the union if there was a strike. Like many corporations last year, Tenet was in for a surprise. The MNA nurses would become part of a noticeable increase in strikes and union organizing.
On March 3rd the union made another contract offer to Tenet. Management rejected it without any counteroffer. The strike began on March 8th. Large groups of nurses walked out of the hospital to rally and picket. Members of other unions and pro-union activists, including members of the International Socialist Group (ISG), joined them.
Tenet's response was to announce it had "replacement nurses" (scabs) in the hospital. Tenet more than doubled their hourly pay and spent over $30,000 a day in overtime for cops to help the corporation get scabs into the hospital. Tenet called picketing nurses "bullies", started an anti-union website, and used the corporate media, especially the Worcester Telegram and Gazette, for "news" articles about the strike that read like corporate press releases.
In May, Tenet declared it was permanently replacing the nurses on strike, trying to break the union. Tenet advertised job openings that stated: "Some of these positions are for the permanent replacement of striking nurses". Even much higher pay and large sign-on bonuses never enticed enough nurses to cross the picket line. In August, Tenet made cuts in the number of inpatient beds and other services. The strike was affecting Tenet's profit margins and the replacement scheme failed.
A tentative agreement to end the strike in August was wrecked when Tenet suddenly demanded that over 100 of the nurses on strike, including union leaders and veterans of the 2000 strike, could not return to their jobs. This retaliation backfired, giving the strike more energy until another tentative settlement in December.
Strike strategy
The strike was made more difficult and prolonged because of deep problems with basic solidarity and unity among unions. The SEIU-affiliated Committee of Interns and Residents, which represents workers at another Tenet hospital, even withdrew a solidarity statement in favor of a pro-Tenet statement. Two other unions, a UFCW local and a Teamsters local had members working in the hospital. The UFCW even had a contract with Tenet expiring just as the MNA was ready to strike. After a one-day joint picket with the MNA, the UFCW leaders suddenly signed an agreement with Tenet. UFCW and Teamster leadership told their members to cross the MNA picket lines and work during the strike. Contrast this betrayal to the unions at Kaiser Permanente who unified to make just the threat of a multi-union strike enough to force a large "healthcare" corporation to sign contracts with gains for the unions.
The MNA strike received a lot of support from rank-and-file union members, community supporters, and socialist groups including the Independent Socialist Group (ISG). However, the AFL-CIO leaders should have organized a mass public meeting and conference to unite against Tenet, fight for safe staffing and universal healthcare, and to build real solidarity for the nurses strike. The AFL-CIO, Change to Win unions, unaffiliated unions and their leaders neither combined resources to negotiate and strike together nor joined with the MNA to organize mass pickets and rallies that would have shut out the scabs or at least reduced their numbers. The MNA itself, with over 23,000 members in over 80 workplaces, did not bring its full force against Tenet. Mass rallies and pickets at St. Vincent and solidarity strikes could have been organized.  Now, the MNA is faced with a union decertification vote at St. Vincent, led by a right wing anti-union "Right to Work" group.
Some narratives around the strike claim Democratic Party politicians as saviours. In reality, the striking nurses toughed it out, survived, and made gains using their power as union members. The strikers, their families, rank-and-file union members and other working people kept the strike alive. The Democratic Party politicians who showed interest in the strike were too few and too timid. As part of a corporate political party, they had no interest in tactics to end the strike quickly and decisively. In fact, the state Democratic Party suspended unemployment benefits for the strikers, and two state Democrats wrote a public letter calling on the nurses to end the strike. Union leaders relying on the Democratic politicians means effective tactics for winning a strike won't be put forward for fear of upsetting the corporate interests the Democratic Party represents.
The "one day longer" slogan the MNA leadership highlighted is part of any strike. However, Tenet is a massive corporation with deep cash reserves and owns over 600 facilities. Taking on such a corporation means having to use militant tactics involving more than one union to force a settlement instead of relying on a war of attrition. For the MNA, "one day longer" went on for too long.
The strike ended as a victory with gains in staffing, working conditions, and getting jobs back for strikers whom Tenet was trying to victimize. However, limitations in the new contract were acknowledged, even by union leaders. Also, because of the number of scabs that got into the hospital during the strike and management's use of them now, there is an attempt to decertify the union. The decertification attempt must be defeated, the contract enforced, and the struggle for safer staffing levels continued. The MNA nurses should not have to take on these fights alone. Unions need to unify in struggles like the St. Vincent strike. ISG will continue to support the MNA nurses.