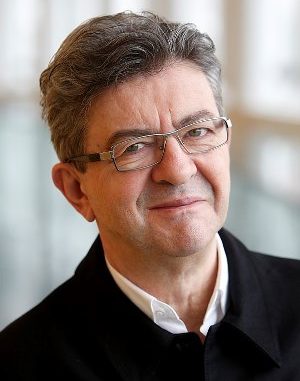 France's right-wing president, Emmanuel Macron, faces far-right candidate Marine Le Pen in the second round of the French election on 24 April. They won 27.8% and 23.2% respectively in the first round on 10 April. The main left candidate, Jean-Luc Mélenchon, won 21.95%, surprising some mainstream commentators.
While Mélenchon's vote was encouraging for many youth and workers and shows the possibility of building a new mass party to fight for socialist policies, many others will be dejected over the prospect of yet another presidential election run-off between a right-wing establishment figure and a far-right candidate.
The failure of the left to support Mélenchon as a single and combative candidate, with a bold socialist programme, has allowed the rest of the election to be dominated by two anti-working class, right-wing challengers.
Nevertheless, whoever wins on 24 April will find a big working-class opposition to their pro-big business policies, particularly regarding attacks on pension rights and the high cost of living.
Below we publish an initial statement on the first round results by Gauche révolutionnaire (CWI in France).
socialistworld.net
Statement by Gauche révolutionnaire (CWI in France) on the first round of 2022 presidential elections
The high score of Jean-Luc Mélenchon (21.95%), candidate for France insoumise/Union Populaire, is a real encouragement: more than 7.7 million votes (650, 000 more than in 2017).
Mélenchon is largely in the lead among young people (more than 32% among 18-34-year-olds), among workers, in the working-class suburbs of big cities (49% in the Seine-Saint-Denis department). He lead in in Lille, Toulouse, Montpellier, Le Havre, Rouen, Amiens, Mulhouse, Nantes, Rennes and Grenoble (and compared to 2017).It echoed the oppression and exploitation suffered by people in the French West Indies, Guyana, and other areas (56% in Guadeloupe, for example).
During the last two weeks of the campaign, thousands of young people turned out for the meetings, while the response to the door-to-door campaign was increasingly enthusiastic.
The very militant aspect of the campaign made it possible to popularise the programme, with policies that echoed the concerns of large sections of the population: raising the minimum wage to 1,400 euros, rejecting retirement at 65 and returning to retirement at 60, defending public services, rejecting racism and for environmental friendly planning of the economy etc.
Even if many may feel disappointed at not having made it to the second round and finding themselves stuck with the pseudo-Macron-Le Pen duel, the score achieved must be taken as a real encouragement for the struggles to come. As Mélenchon said: "A force has been created".
Not one vote for Le Pen!
This election saw an increase in abstention (+4%) compared to 2017. This is logical, as disgust or a feeling of powerlessness sometimes prevailed, especially in working-class areas.
Macron, who the capitalist media had announced as the big winner, sometimes polling up to 10% above Mélenchon, finally scored 27.8% (1.1 million more votes than in 2017). Macron has captured a large part of the electorate of the "traditional" right, from which he has taken up a number of lines (such as retirement at 65 and elements of privatisation of education). Macron's electorate is located among the older strata of the population. But Macron is not sure that he will easily succeed in beating Le Pen. He is hesitating, as for example, on pensions: "I am ready to shift, and to say that we do not necessarily reform until 2030 (…) if we feel too much anxiety among people".
Le Pen, the candidate for the Rassemblement National, was challenged for a while by the other far-right candidate, Zemmour. The latter finally scored 7% after a campaign that was both racist and in favour of ultra-liberal capitalism. Le Pen achieved 23.15% (460,000 more votes than in 2017). She scored mainly in small towns (especially those that have suffered from de-industrialisation) and in rural areas, particularly in the north and east of the country. On the other hand, among 18-24-year-olds Le Pen is far behind Mélenchon and Macron.
In reality, even if she uses the language "of the people" and talks about purchasing power, all her measures only take from the collective wage (social security, public services…) while giving some back to the bosses and to the rich by suppressing the bosses' contributions. She is no longer in favour of retirement at 60 but at 62.
Her programme is, in fact, a huge scam for those who might believe in it. She is no better than Macron. And on top of that, she is in favour of banning strikes in some public services. Le Pen wants to intensify discrimination against foreigners, to deprive foreign workers of "social benefits" (even though they contribute and pay taxes). Her two main axes remain strengthening security policy and denouncing immigrants, all to protect the billionaires and try to divide the workers and the population.
So there must not be one more vote for Le Pen! Some will oppose her by abstaining, voting Macron, or voting blank.
The unions, the organisations of the workers' movement, the associations of struggle, must prepare a day of warning strike as early as May – a massive and combative one, to show our strength against Macron, and even more so if it is Le Pen who gets in.
The need for a new fighting party of workers and youth
The Communist Party (PCF), which chose to present its own candidate in order to be able to make agreements with the Socialist Party in the legislative elections, got a very low score, despite the commitment of its militants. With 2.28% it got only 100,000 more votes than in 2007 when it got the lowest score ever recorded for the PCF. Its decline continues and its choice to stand has certainly contributed to Mélenchon not making it to the second round.
The traditional right-wing party, LR, collapsed to 4.8%; the PS to 1.75%; EELV (the Greens), which claims to be the champion of environmentalism, barely reached 4.6%. People are clearly fed up with these parties locked into electoral tactics.
Millions of people can continue to gain confidence if Mélenchon's Union Populaire offers a real possibility to be a tool to change society. And among them, there are tens of thousands who want to go further – who want both to discuss the situation, in order to change it and to act.
Some leaders of France Insoumise talk about better structuring the movement, and better organising it. This is a good thing. This is what France Insoumise should have done as early as 2017, as Gauche révolutionnaire (CWI  France) proposed. France Insoumise would then have been more effective in the presidential campaign and could have fetched the few hundred thousand votes that it was short of on 10 April.
We must open this debate now, it is fundamental for the coming struggles, as much as for the legislative elections. The possibility of building a broad party of workers and youth, a mass party of struggle against capitalism, a democratic, militant party, is real.
We will be able to discuss both the actions and the programme, and how to replace this society based on exploitation and submitting to the dictatorship of profit. We need a party that fights against capitalism, to replace it with socialism, where the economy is publicly owned, under the democratic control of the workers, for the satisfaction of the needs of all.
Such a change will come about through a mass revolutionary movement, and by organising now to prepare for it. This is why, while continuing to support the FI/UP and campaigning for the idea that they launch a new party, we continue to build our revolutionary party, which fights to end capitalism and the taking of power by the workers to build socialism.
Against Macron and Le Pen! Contact us to prepare for these struggles!