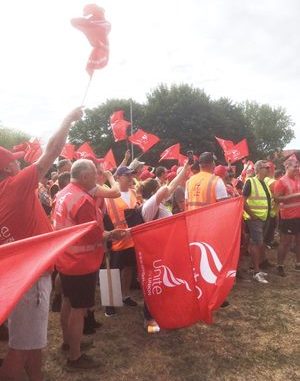 In an inspiring show of strength, just under 2,000 dockers at Felixstowe port, in Suffolk, brought 48% of UK freight imports to a standstill in their eight-day strike. The strike, called by their union Unite, was in response to the company's refusal to meet the union's claim for a 10% pay rise.
The company recently had a record 28% rise in profits and £42 million dividend payouts to shareholders. The vast majority of this will end up in the coffers of the Cayman Island registered parent company, CK Hutchison Holdings limited.
You might think you've never heard of CK Hutchison. But if you've shopped at Superdrug, Savers or the Perfume Shop, if you've travelled by rail – it is one of the parasitic rolling stock leasing companies – if you are on the 3 mobile telephone network, or if you use energy, water or sewage, then you have contributed to its financial success, and to its founder Li Ka-Shing as the world's 23rd richest person.
Unite general secretary Sharon Graham said: "Nobody notices when the bosses go out on strike. They notice when workers go out on strike. Because you make the money".
The workers' share of this enormous jackpot has been limited at best. Last year, the dockers got 1.3%, an effective pay cut, not much of a reward for keeping the port running normally throughout the pandemic.
The current offer, 7%, is well short of both the union's pay claim and inflation. The company argues that the average earning of their employees is in excess of £40,000, and that adding a one-off, non-consolidated £500 bonus makes the offer up to 9%.
Unite national officer Bobby Morton described the company as "dirty, lying, scumbag bastards". In reality, the average wage of the workers involved in the dispute is £33,000.
The company is asking the dockers to swallow a 5% pay cut on today's inflation figures, and inflation is set to get worse. Sharon Graham said the company could raise workers' wages by 50% and still make a profit.
Unite convenor and branch secretary at Felixstowe Phil Pemberton told us: "If we are generating profits for the company, we want our fair share". In relation to the strike wave that is sweeping the country, he added: "Enough is enough. The working class is ready to stand up. We all need a decent pay rise".
Gary Joy, the union's deputy convenor at the port, said: "We think it's absolutely fantastic the support we've had from our members in sticking up for our jobs, conditions and pay. We couldn't have wished for anything better. And let's hope together we stand strong and get what we deserve."
The picket line has been a display of the power of the organised working class. Hundreds were there when Sharon Graham visited on Wednesday 24 August. She spelt out the issues and strategised with the workers' representatives.
Liverpool dockers came down on Saturday 27 August, fresh from their overwhelming vote – 88% turnout, 99% yes – to take action on pay.
Tuesday 30 August will see a return to work, but perhaps not a return to normal. It will take the best part of a month to deal with the backlog, with a workforce that has felt its enormous power.
Phil Pemberton reckoned on a short pause to give the company time to come up with an improved offer. But "if we don't get that, we'll have no alternative but to strike again".
The Socialist Party is 100% behind the dockers in this pay dispute. A win will strengthen all workers.
Our likely next prime minister, Liz Truss, emphasises the role that low-wage, low-tax, low-regulation 'freeports' – more accurately capitalist free-fire zones – will play in securing a future for their ailing capitalist system. With freeports planned for Felixstowe/Harwich, Tilbury, Liverpool, Teesside, Humberside, Solent and Plymouth, dock workers are likely to find themselves in struggle again and again. The ports should be nationalised, and become part of a publicly owned, sustainable, integrated transport system, under workers' control and management. With the Labour Party in the hands of Keir Starmer, there is an urgent need for the trade union movement to form an independent party of the working class to advance this programme.