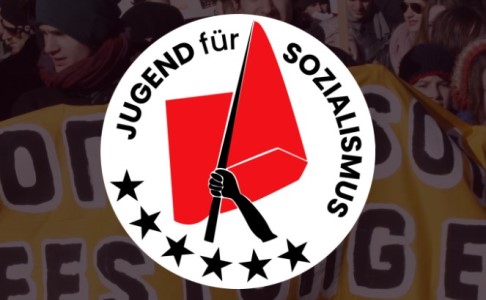 At the start of this year, a new socialist youth organisation, Youth for Socialism (JfS), was founded in Germany by members of the Socialist Organisation – Solidarity (Sol, German section of the CWI), together with other activists. Youth for Socialism will be open for all young people who are fed up with capitalism and want to become active against the ongoing crises.
The background to JfS's launch at the start of this year is the ongoing crisis of the linksjugend ['solid] (the youth organisation of DIE LINKE, the Left party). For a long time, Sol comrades were active within linksjugend, arguing for it to have a consistently socialist programme. In recent years, we organised, together with others, a national grouping "Revolutionary Left", within 'solid. We produced various statements and material that gave socialist answers to the most pressing questions amongst working class youth. In some regions we were able to do exemplary work and organise good campaigns. For several years we organised socialist youth camps in which more than a hundred young people from all over Germany took part discussing Marxist ideas.
Crises of linksjugend
However, the last few years have seen the weaknesses of linksjugend worsen. The leadership was not able to formulate an independent class position on the pandemic or the Ukraine war and propagate it widely. Instead, it continued to remain silent on all these issues. The national leadership also failed more and more in practice. Instead of organising campaigns against the Ukraine war, for example, only internal seminars took place. linksjugend on a national level was basically only seen on social media and not in public activity. Internal debates, such as at the last national congress in December, were extremely "toxic" and often dominated by Identity Politics. Opinions that deviated from those of the leadership were banned. For example, in the debate on the Ukraine war, it was forbidden to mention the sanctions against Russia as a cause of the current inflation or to make a connection between NATO's actions in recent years and the Russian war in Ukraine.
'Youth for Socialism'
Because of the state of linksjugend and based on experiences, we came to the conclusion that DIE LINKE's youth wing has lost all appeal to young people, especially working class youth, and that there is no prospect that the organisation can be changed from within. So we decided together with other left activists within the youth federation to found a new youth organisation. Shortly after the founding of Youth for Socialism, individual young people and also whole groups from all over Germany, contacted us expressing their interest in JfS. At our last national zoom meeting 50 were present from eleven cities. A first in-person nationwide conference is planned for this year to bring the forces of Youth for Socialism together and further discuss our programme and activities.
Already we were able to successfully participate in numerous demonstrations, such as on International Women's Day on 8th March, and the big climate strike on 3rd  March, spreading our socialist positions. 
In the coming weeks, activities on the issues of "Instead of arms spending without end – money for education, environment and health!", support for strikes and participating in the May 1st demonstrations, are being planned to spread our ideas and to begin to build JfS's profile.