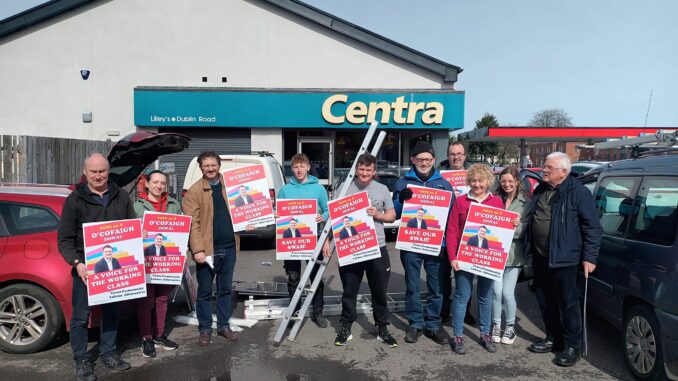 Since his election in 2019 to Fermanagh and Omagh District Council, in Northern Ireland, Cross-community Labour Alternative Councillor Donal O' Cofaigh has rarely been absent from local press offering a socialist take on issues as diverse as defending NHS services, fracking, drainage issues and even events such as paramilitary attacks or repressive policing. Over the past four years, he has challenged 'business-as-usual' among the mainstream parties, both 'orange' and 'green', and set forward a socialist and democratic political alternative.
His ability to wage such an effective campaign was greatly aided by the election of Independent Emmet McAleer from Greencastle, Co. Tyrone – a community under siege by corporate gold mining companies. The two shared a background in militant community opposition to environmental despoliation – Donal was a central leader in the successful Fermanagh fracking campaign.
Over four years, and in meeting after meeting, the pair have put forward socialist and challenging democratic motions and proposals, usually securing the full support of Eamon Keenan and Dr Jo Deehan. The actions of what the establishment parties deemed 'The Naughty Corner', shattered the comfortable consensus existing between the green and orange parties, rooted in the establishment parties' shared commitment to the neoliberal politics of austerity.
Socialist Councillor Defies Cosy Council Consensus
Under pressure from Donal, council meetings that normally were cosy affairs, rushed through in one and a half hours routinely and consistently came in at four and a half. The establishment parties repeatedly backed bureaucratic manoeuvres to silence Donal and other opposition councillors. These tactics took a more drastic turn during the lockdown when meetings moved entirely online. Microphones were cut off; members silenced; or, simply kicked out of the meetings entirely usually against the council's own standing orders.
For raising a consistent socialist perspective, Donal faced regular threats. Not just by other councillors but with legal action by council officers! A kennel operator made a formal complaint to Donal for his reference to the sector as 'industrial-scale puppy farms'. Donal was opposed to the Council issuing a licence for this industrial-scale abuse of animals.
Throughout Donal's time on the Council, the one mainstay has been local journalists who exposed every such manoeuvre to public view. They have played a vital role and held back the hand of reaction while also making it more difficult to vote down progressive proposals.
Elect a Socialist – Elect Donal O'Cofaigh
How Socialists Win Results for the Working Class
Since 2019, Militant Left member Donal O'Cofaigh has used his seat on Fermanagh-Omagh Council to unapologetically push for partial but significant wins that benefit working class people. These include: ending the Council's reliance on casual employment; freezes on charges to use council facilities; a package offering an above-inflation pay increase to council workers during the worse inflation in a generation; the defeat of plans that would have closed six play parks in Enniskillen town; some extra barriers in the local development plan to both fracking and gold mining; and, recently, a commitment to progress towards becoming an accredited Living Wage employer – meaning that any business wanting to get a council contract or getting a council grant would have to pay their workers at least the Living Wage. It is a track record that few if any Councillors in the establishment parties on any Council in Northern Ireland, could hope to match.
As a socialist Donal has also used his position to raise support for broader trade union and social struggles. He has left picket lines to bring motions of support for striking NHS and Housing Executive workers into the Council. He has raised motions challenging the PSNI on their heavy-handed policing of 'Black Lives Matter' protests in 2020. He has exposed corporate bosses cutting corners and even inaction by the Health & Safety Executive during the Covid pandemic. He has highlighted the behaviour of greedy bosses who shut down their businesses at the start of the lockdown giving workers, often, but not always, foreign nationals, no redundancy whatsoever.
Given that he is a councillor in Fermanagh – the place suffering the worst crisis in the NHS – he has exposed failures; railed at privatisation; and, marshalled the Council's authority to challenge other public authorities. He secured council support for the demand for a public inquiry into the deaths in care homes due to Covid policies and another to investigate the disastrous Health Trust handling of the South West Acute Hospital surgical crisis.
Donal also used the Council as a platform to hammer the failure of Stormont departments on funding for schools, inadequate investment in public housing, water infrastructure, rail and the environment. He highlighted the total absence of emergency accommodation for women and children fleeing domestic abuse and as a direct result secured a commitment from an embarrassed Stormont Minister for four such units in Fermanagh.
Militant Left member Donal O'Cofaigh has shown that a socialist public representative always stands with the working class, regardless of the cost, and fights to win real results. Elect a fighter for working-class people – Elect Donal O'Cofaigh!