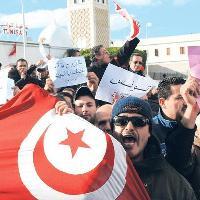 Por una revolución socialista!
Abajo publicamos una versión acortada (originalmente puesto en el blog de Socialismo Revolucionario (CIT en el estado Español) de un informe de una periodista del CIT en Túnez, publicado en socialistworld.net en ingles. Publicaremos luego el pleno articulo
Mundosocialista.net
A pesar de la promesa de Ghanuchi (Primer Ministro) de abandonar la política y disolver el antiguo partido dirigente (el RCD), hay muy poca confianza puesta en el actual gobierno interino en Túnez. Seis meses hasta las próximas elecciones y la entrada de un nuevo gobierno es demasiado tiempo para aquellos que han hecho la revolución! Deben tener el derecho de elegir representantes a una asamblea revolucionaria que pueda decidir dónde y cómo celebrar las elecciones y cuáles deben ser los objetivos del nuevo gobierno.
Pero no se puede dar apoyo a un nuevo gobierno que solamente busque eliminar a algunos de las figuras más inaceptables vinculadas con la era de Ben Ali, para asegurarse la continuación del capitalismo. La idea de realizar, inicialmente, una "revolución nacional democrática" contra la dictadura, mientras se mantienen las relaciones capitalistas en la sociedad, es un error. Retendría a las masas de trabajadores y daría tiempo a la clase dirigente y los países capitalistas para intentar restablecer el control y continuar su explotación.
Con los trabajadores ocupando sus lugares de trabajo y "despidiendo" a sus jefes, mientras establecen comités y demandan una huelga general, muchas cuestiones importantes se ponen sobre la mesa. Una forma de control de los trabajadores está comenzando a desarrollarse. La cuestión de la propiedad de toda la industria y los bancos – no solamente los dominados por la vieja camarilla dominante – está a la orden del día, junto con la necesidad vital de control y administración democrática de los trabajadores.
Se están desarrollando elementos de una revolución socialista. Pero un entendimiento de la necesidad de romper con los límites del sistema capitalista aún debe desarrollarse entre las masas. Hay una necesidad urgente de un partido socialista revolucionario que argumente a favor de que los trabajadores y los jóvenes tomen el futuro en sus propias manos. Los comités locales y de fábricas deben encontrar una manera de vincularse regional y nacionalmente, junto con nuevos representantes elegidos democráticamente a todos los niveles del sindicato UGTT.
No se debe dar ningún apoyo, por provisional que sea, a la idea de que los sindicatos o ningún partido de izquierda formen alianzas con partidos que quieren mantener la propiedad privada y el control de la industria. Se debe instar a los dirigentes del UGTT a que convoquen inmediatamente una huelga general para expulsar al gobierno y abrir el camino al establecimiento de un gobierno de los trabajadores y los pobres.
Special financial appeal to all readers of socialistworld.net

Support building alternative socialist media

---

Socialistworld.net provides a unique analysis and perspective of world events. Socialistworld.net also plays a crucial role in building the struggle for socialism across all continents. Capitalism has failed! Assist us to build the fight-back and prepare for the stormy period of class struggles ahead. Please make a donation to help us reach more readers and to widen our socialist campaigning work across the world.

Donate via Paypal

CWI- Please inform us if you are reproducing any material from this site.