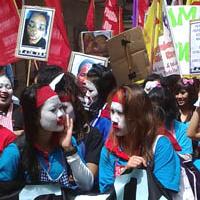 Protests focus on migrants' rights – abuse and torture of Indonesian migrants abroad
Once again Hong Kong's army of migrant domestic workers staged the city's most colourful and noisy demonstration on International Women's Day. The protest march by young Indonesian women in Causeway Bay was organised by the Indonesian Migrant Workers' Union (IMWU), Coalition of Indonesian Migrant Workers' Organisations (KOTKIHO) and other groups.
IMWU and other migrant organisations march on International Women's Day 2011 in Hong Kong
Migrant workers in Hong Kong are usually only entitled to one day off each week, on Sundays, and this is why the biggest women's demonstrations in the city are always the Sunday before 8 March.
"Stop abuse and torture of Indonesian migrant workers," was a main theme of this year's demonstration. This is because of a series of horrific assaults on migrant women in Saudi Arabia and other Gulf states. Al Jazeera cited a report of 5,563 cases of alleged abuse of migrant workers in Saudi Arabia in 2010, including 1,090 allegations of physical abuse and 898 allegations of sexual abuse.
"Tip of the iceberg"
The case of Sumiati binti Salan Mustapa, a 23-year-old woman from Indonesia, became world news last November due to horrific injuries at the hands of her Saudi employers. Her case led to diplomatic tensions between Indonesia and the Saudi state. Sumiati was cut with scissors and burned with an iron in the Saudi city of Medina. Amnesty International said this case was likely to be just "the tip of the iceberg" concerning "systematic abuse" of Asian women migrants in the Gulf region. More than 80,000 Indonesian domestic workers every year seek work in to Saudi Arabia.
Torture and abuse cases in Gulf States highlight the vulnerabilty of women migrant workers
Migrants in Hong Kong suffer heavy workloads and extremely low wages. They are denied the chance to become legal citizens or permanent residents and therefore all other avenues of employment are closed. They are at the mercy of the employer. This year, on 1 May, Hong Kong will introduce its first legal minimum wage. But migrants are among several groups excluded from the new law, which set the mimimum at the derisory level of HK$28 an hour. Socialist Action (CWI supoorters in Hong Kong) calls for HK$40 an hour and no exclusions. Working class families in need of domestic workers to take care of children or elderly relatives should receive a government subsidy to be able to pay this minimum wage.
Protests against rip-off employment agencies that overcharge for placing women domestic workers with Hong Kong employers have delivered some improvements. But abuses have not been eliminated. Indonesians are now the biggest migrant group in Hong Kong, numbering around 130,000, a rise from just 6,000 in 1993. They are generally "cheaper" than migrant women workers from the Philippines, of whom there are around 120,000 in the city. Socialists call for public ownership of the recruitment agencies to be run democratically by representatives of the working class in Hong Kong and migrants' home countries. We stand for the development of strong public services including elderly and child care services, which are very weak and under-funded in Hong Kong today. Rather than domestic work, this would mean secure jobs with training, full union rights and pay levels. The legal discrimination of migrants and lack of residency rights must end.
Racism and discrimination
Migrant workers are also targets of racism. At the time of last August's hostage killings in the Philippines capital Manila, in which eight Hong Kong tourists were shot dead, some sections of the media and establishment political figures whipped up anti-Filipino racism. Inexplicably, the Philippines is still on the Hong Kong government's "black alert" level, meaning travel agencies are banned from organising tours there. This puts the country on the same danger level for Hong Kong travellers as Libya. Such state racism is nothing new. In 1998, when anti-Chinese riots erupted in Indonesia, stirred up by the security forces of the dying Suharto regime, the Hong Kong government threatened to ban Indonesian migrants from Hong Kong in retaliation.
Racism and discrimination from the capitalist establishment is also directed against mainland Chinese. For years there has been a debate in Hong Kong about changing the law to allow "maids" from China. Many neo-liberal politicians support this as a way to increase competition in the domestic work (household services) sector and lower wages even further. The goverment opposes this mainly because Filipino, Indonesian, Thai and other ethnic groups are easier to control and exclude from the broader labour market. Mainland Chinese would find it much easier, through marriage and other means, to move from super-exploited domestic work into other areas of the labour market and obtain residency. The government wants to keep migrants as a segregated and "temporary" workforce (although many have lived in Hong Kong for decades) with few basic rights and minimal protection.
Indonesian politicians like president Susilo Bambang Yudhoyono try to win popularity (and votes) by speaking out occasionally for the rights of migrant workers. But his neo-liberal capitalist policies are built on the need to "export" labour, especially female labour, to other countries where abuse and exploitation are a fact of life. The immense natural wealth of Indonesia has been plundered by a small capitalist elite, leaving the vast majority in poverty with few outlets to make a living wage. Average manufacturing wages in Indonesia (US$128 per month) are around a third of the level in China (US$412), and lower even than Vietnam (US$136).
International Women's Day underlines the need for women workers to organise and fight back against oppression. It also underlines the need for a socialist alternative to the vile system of capitalism, which means a modern form of slavery for millions around the world.
The struggle of working class women for basic rights celebrated by dance groups and performances, IMWU in Hong Kong 6 March 2011
Facts on migrant workers
If migrants formed a country, it would be the fifth most populous in the world, with 200 million people
49 percent of the world's migrants are women
The countries with the highest percentage of migrant workers are Qatar (87 percent), United Arab Emirates (70 percent), Jordan (46 percent), Singapore (41 percent), and Saudi Arabia (28 percent)
Remittances sent home by migrant workers totalled US$414 billion in 2009