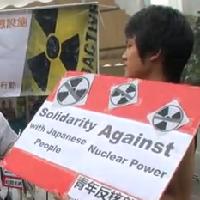 On Sunday 20 March protesters marched from Hong Kong's Chater Garden to the city's Japanese Consulate. "Against nuclear power," they chanted, and "be active, not radioactive" followed by a big cordon of TV crews and photographers.
The youthful protest was organized at short notice on the ninth day after the triple catastrophe of earthquake, tsunami and nuclear crisis struck Japan. It took place as tens of thousands were fleeing from Tokyo, and hundreds of corporate representatives were arriving in Hong Kong, relocated by their multinational companies from the Japanese capital. Millions of ordinary Japanese do not have this option as uncertainty rises amid new reports of radiation in food and water supplies.
"Over 19,000 are feared dead in Japan and half a million are homeless," said Vincent Kolo of the Committee for a Workers' International (CWI) addressing the 30 or so protesters, some of whom were holding white flowers as a sign of condolence for the many killed.
"This protest, after what is the second worst nuclear accident in history after Chernobyl in 1986, marks the beginning of what will be a massive public reaction against nuclear power and for an urgent shift to green energy," Vincent said.
Protests against nuclear power, 20 March 2011 in Hong Kong
"The Japanese government have raised the danger level for the stricken Fukushima nuclear plant to level five on a seven-grade scale," said Pasha from Socialist Action (CWI supporters in Hong Kong). "But experts in France and other countries say it is already worse than this – level six – which is just one level lower than the Chernobyl catastrophe in 1986," he said.
"Young people have to get active and fight against the capitalist system, which is incapable of solving the energy crisis and puts profits before people's safety and the environment," said Pasha.
Against Hong Kong's nuclear plans
Sunday's protest also targeted the policies of the Hong Kong and China governments.
"We call on the Hong Kong government to stop its plan to double the share of energy from nuclear power to 50 percent in five years," said Jaco Lam, the spokesperson for Youth Against Nuclear Power (YANP), who is also chairman of Socialist Action in Hong Kong.
Hong Kong sources a quarter of its electrical power from the two Daya Bay nuclear reactors 50 km away in China's Guangdong province. The government's plan to raise this, as part of its bid to reduce carbon emissions in line with international agreements would mean the construction of at least one new nuclear power plant in Guangdong.
Jaco Lam of Socialist Action speaks to news media
China's nuclear plans
China is the country with the most far-reaching plans for expanding nuclear power, with 100 new power plants envisaged in the years ahead. In response to the crisis at the Fukushima nuclear plant in north-eastern Japan, where radiation is leaking into the atmosphere and four of six reactors have suffered fires or explosions since the 11 March earthquake, China's government announced a temporary suspension of its nuclear power construction plans and immediate safety tests at existing plants. But protesters said this was not good enough.
"A temporary suspension is not what we want," said Jaco. "The Japanese nuclear industry was supposed to be the safest in the world. But it's clear to everybody this industry is an extremely dangerous one. Japan shows we cannot trust privatised companies like TEPCO [the owner of the Fukushima plant] and capitalists or their governments with this highly dangerous technology. We demand public ownership and control and a switch to clean and safe energy sources such as wind and solar power," he said.
The protest was called by Socialist Action and the newly formed Youth Against Nuclear Power, supported by League of Social Democrats' legislator 'Long Hair' Leung Kwok-hung.
"It stands to reason, " said Long Hair, "that as the nuclear power industry is a by-product of nuclear warfare, it is not safe for people and the environment."
The protesters marched to the Japanese Consulate to lay flowers and deliver a letter urging the phasing out of the country's 55 nuclear power plants, 11 of which are currently closed as a result of damage suffered in the earthquake and tsunami. Despite it being Sunday, a member of the consular staff met the demonstration and collected the letter.
Later on Sunday evening in Statue Square, Central, around 200 took part in a candle-light vigil organised by Greenpeace with speakers from several of Hong Kong's political parties. Socialist Action representative Pasha also addressed this event.
Youth Against Nuclear Power and Socialist Action are discussing new steps in this campaign including a public meeting against nuclear power. Below is a round-up of Hong Kong media coverage of this and related anti-nuclear protests.