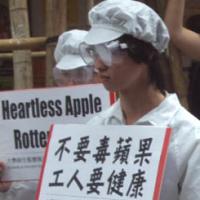 Working conditions at suicide-company Foxconn in China largely unchanged, says new report
"Though we produce for iPhone, I haven' t got a chance to use iPhone. I believe it is fascinating and has lots of function. However, I don't think I can own one by myself." – a young worker at Apple supplier Foxconn.
Apple is the world's largest seller of smart electronics. Its profits surged to US$14 billion last year and it now ranks 35 on the list of the 500 biggest US companies. But this business empire has been built not just on technological prowess and design skills, but also on ruthless exploitation of cheap and unorganised labour, albeit indirectly through its global system of suppliers. For each iPhone4 that sells in the US market for US$600, Foxconn and other China-based assembly companies get only US$6.54. If that's what the company gets, you can work out for yourself how little an assembly line worker gets for each completed iPhone.
This rotten state of affairs was highlighted in a global day of action on May 7 against Foxconn and Apple, called by labour NGOs (non government organisations) and pressure groups, and supported by chinaworker.info. In Hong Kong, the group SACOM (Students and Scholars Against Corporate Misbehavior), which is linked to Hong Kong Baptist University, staged a hard-hitting street theatre in Mong Kok (a 'Mecca' for IT shoppers) to mark the occasion. Placards with the message "Rotten Apple" and "Bloody Apple" helped draw a large crowd. The event coincided with the publication of a new 20-page report by SACOM (download the report at SACOM's website) on conditions at Foxconn's mastadon production sites in China. The report, based on factory visits by SACAM associates and interviews with Foxconn workers, shows that not much has changed since the company was catapulted into the global spotlight by a spate of worker suicides – 17 in total – which drew attention to its harsh working regime.
Demonstrators in Hong Kong protest against Apple and Foxconn, May 7 2011.
Government support
Since then, Foxconn accelerated its plans to relocate to inland provinces where cheap labour is more plentiful. Apple and other Foxconn partners such as Nokia and Dell, assured us they would impose stringent and humane standards on their suppliers in China. But as this report shows, this has not happened. The report shows how the Chinese dictatorship, at its various levels of government, fosters the growth of companies like Taiwan-owned Foxconn, increasingly acting as its main recruitment agency. The report states:
"With strong governmental support, the workforce in Foxconn has grown to 1 million, a predominant majority of its workforce is young peasant-workers from the countryside. At recruitment talks, Foxconn paints a whole new rosy picture: high wages and good prospect. It looks like Foxconn might have reflected deeply upon its military management and low-cost production strategy, which had driven workers to despair. A number of Foxconn's customers, notably Apple, HP and Dell, have also pledged to 'work with Foxconn' to live up to higher international labour standards." [Foxconn and Apple Fail to Fulfill Promises: Predicaments of Workers after the Suicides, May 6, 2011]
The data for the report was gathered at Foxconn's production sites in Chengdu (Sichuan) and Chongqing, as well as Foxconn's two Shenzhen plants (Longhua and Guanlan) where last year's suicides occurred and "employees are still housed in dormitories surrounding with anti-suicide nets".
Excessive overtime
It details how the problem of excessive and forced overtime is still very much part of Foxconn's business model. Occupational hazards abound, with workers complaining of inadequate information and protection. These range from the inhalation of aluminum dust by workers in the polishing and milling departments, to the use of toxic cutting fluids for workers drilling screw holes on the iPad casing. Military-style management (with Foxconn's preference for Taiwanese ex-military officers) still applies as shown by "military training" for new workers.
After the suicide scandals, the company promised across-the-board pay increases. The report finds instead that miscalculation of wages and unpaid overtime are commonplace. The company states that overtime work has been reduced from 80 hours a month to 36 hours overtime a month, in line with China's labour laws. The report's compilers, however, discovered, "routinely 80-100 hours overtime work a month – continuous shift which denies meal break".
One year ago, when Foxconn was struggling with the PR disaster of the multiple suicides and feeling pressure from both the Chinese regime and nervous global partners like Apple, the company announced what sounded like significant pay increases and an overhaul of its much-criticised work practices. This report exposes how the company has used deception and changes in pay structure to exaggerate its concessions on wages, with the real change being far less than suggested.
"Prior to March, Foxconn paid food and housing subsidies to workers on the top of basic salary. In Shenzhen, Chengdu and Chongqing, the basic salaries are CNY 1200, 950 and 950 respectively. Currently, Foxconn incorporates the food and housing allowance into basic salary. The new salaries soar to CNY 1590, 1300 and 1350 in the three cities. Food and housing subsidies are cancelled." [ibid]
"The salary in the job advertisement is ambiguous. It only states we can earn CNY 1600 a month. We are cheated," exclaimed a male worker who joined Foxconn in March this year. These workers are disappointed after knowing that the basic wage is much lower than they had expected, says the report.
The level of government collusion with the company is striking. Most of the workers interviewed at the Chengdu plant said they were recruited by the local governments of the respective towns and villages. Many government offices resemble "labour agencies" for Foxconn. The company's Chengdu plant works exclusively for Apple.
'Bloody Apple' – Hong Kong protest organised by SACOM.
Women workers – only "trainees"
With government support the company has launched the so-called "Chengdu Project" by which new recruits are sent temporarily to its Shenzhen plants (1,300km away) without enjoying the higher rates of pay that apply in the coastal city. This recruitment drive is especially aimed at female workers. "Apparently, Foxconn prefers female workers because they can be easily controlled. Apart from sex discrimination, this also implies that new workers will not benefit from a wage increase in Shenzhen. The new workers will only have status of trainees in Shenzhen and will be sent back to Chengdu permanently."
But many workers also told their interviewers that they "got used" to the hardships at Foxconn and some expressed the view that "it is helpless to bring changes". Such feelings, of despair and helplessness, which explain the suicide outbreak of last year, can also change into anger and willingness to struggle. Clearly, the situation can become explosive.
The protests on May 7 included appeals to Apple to improve its purchasing practices and to provide detailed lists of its suppliers, something the company does not do. The additional focus and pressure on Apple and Foxconn is welcome, and SACOM's report provides valuable factual material. But when it comes to the programme – what demands should be put forward and fought for – the campaign falls short as is often the case with NGOs, which steer clear of the need for political action.
Independent unions, workers' democratic control
Chinaworker.info calls for independent trade unions in China and international solidarity from workers' organisations in support of this basic democratic demand. This means explicitly challenging the monopoly of China's state-run fake unions, which cannot be "reformed" into genuine unions as some NGOs imply.
The issue is not about raising consumer prices to improve wages – Apple's fabulous profits demonstrate this is not the case. Workers' organisations must demand that the company books are opened to public inspection, of Foxconn, Apple, and the entire IT industry. If these companies cannot afford to produce under humane conditions, they should be taken into public ownership under democratic workers' control and management. The scandal of Foxconn – of China's mega-sweatshops and their multinational partners – cannot be solved by some tweaking of corporate policies and "ethics", but go to the very heart of the nature of capitalism, and its need to continually squeeze more profit out of the working class. The biggest "Rotten Apple" of all is world capitalism.