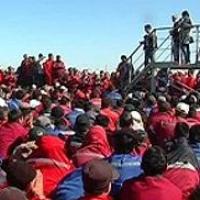 What started as a hunger strike by a relatively small number of oil workers in the town of Karazhanbasa in West Kazakhstan last week has now turned into a mass strike – now over fifteen thousand oil workers are on strike.
Work at the companies AO "Karazhanbasmunai", PF "Ozenmunaigaz" and TOO "Ersai" is fully paralysed. Naturally, the management has already attempted to use repression. On 31st May all 17 workers who originally declared hunger strike were sacked. However they have refused to leave the workplace and are surrounded by a one and a half thousand strong workers' picket to protect them.
These defensive measures are absolutely necessary as in previous strikes hunger strikers have been attacked by company thugs and badly beaten. According to the protesters, the police and riot police are attempting to use tear gas to force the strikers out of the building. In addition, all the hunger strikers have been charged with numerous offences connected to the holding of unsanctioned meetings and pickets. Two women, Rosa Tuletaeva and Natalia Azhigaliyeva have already been fined by sums equal to 100 times the minimum wage. Yet that is not enough. The police and KNB are constantly trying to find ways to break through the picket so that the two women can be taken to court where they face prison sentences of up to 15 days each.
The management too are using harsh measures. Apart from a widespread slander campaign in the press against the strikers, the management of in Karazhanbasmunai is attempting to organize the physical beating of the strike leadership. They have hired a band of unemployed sportsmen and hooligan elements to attack the protesters. But these measures are only provoking the strikers to establish bigger and better organized defense squads.
Now the strikers trust only their own leaders, in particular, Natalia Sokolova and Mukhtar Umbetob and have instructed them to conduct negotiations on their behalf. But the authorities and employers are attempting to step up repression. The whole protest is currently surrounded by gun toting riot police. New riot police are being poured into the region from all over the country.
Workers from other companies may well soon join the strike and it could soon develop into a regional general strike. If the demands of the strikers are not satisfied and repression lifted, they intend to mobilise workers from all over the region, the unemployed and their families for a mass demonstration in the regional capital Aktau. The demonstration will clearly just not have social demands but will have a clearly political character.
We call on all left and workers' organisations to send messages of solidarity to the following addresses:
admin@socialismkz.info, admin@socdeistvie.info, alex@socdeistvie.info with copies to Robert.cwi@gmail.com