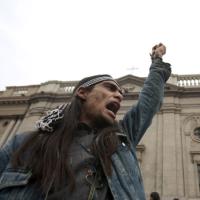 Thanks for installing the Top of every post plugin by Corey Salzano. Contact me if you need custom WordPress plugins or website design.
 No se puede confiar en los Tribunales de Justicia.
Desde siempre los tribunales de justicia chilenos han sido parte del despojo y la represión contra los mapuche y la reciente decisión de la Corte Suprema de avalar el uso de la Ley Antiterrorista contra los comuneros mapuche que se encuentran en huelga de hambre, solo viene a confirmar lo que ha sido su rol histórico.
La Corte Suprema tomo esta decisión arbitraria a pesar de que la Ley Antiterrorista usada en Cañete, ya había sido considera ilegitima por la Corte Marcial de Valdivia y por la Corte de Apelaciones de Concepción.
El gobierno de Piñera a jugado un rol nefasto en la mal llamada problemática mapuche, ha mentido sistemáticamente desde que llego al poder, a pesar de que el gobierno se comprometió a no seguir usando la ley anti-terrorista en los juicios, pero luego presiono a la Corte Suprema para mantener las condenas contra los comuneros mapuche, condenas que fueron obtenidas precisamente con el uso de esta ley.
Los tribunales de justicia históricamente han avalado el robo del territorio mapuche y los jueces han jugado un rol central como encubridores de estos delitos, intentando darle un barniz legal al despojo.
Los tribunales de los poderosos
Los tribunales, desde siempre han sido absolutamente parciales y la justicia es un chiste cuando se trata de enjuiciar a los mapuche o recibir sus demandas por la restitución de su territorio.
La ratificación de la sentencia  contra los cuatro comuneros mapuche que hoy se encuentran en huelga de hambre, viene a ser un ejemplo más de lo que es la justicia en este país, cuando se aplica a los activistas mapuche, las condenas aplicadas no guardan ninguna relación con los hechos realmente acontecidos, además de haber sido condenados sin pruebas que realmente los inculparan y solo en base a las declaraciones fraudulentas de unos "testigos sin rostro"
Esta claro que no se puede tener ninguna confianza en los tribunales de justicia chilenos, ellos están ahí para justificar el despojo y asegurar los intereses de la elite dominante de este país y cuando se trata de los mapuche ni siquiera se preocupan de guardar las apariencias, se muestran tal cual son y demuestran para que fueron puestos ahí.
Los tribunales de la impunidad.
Pero también debemos mencionar que el trato que reciben los mapuche por parte de los Tribunales de Justicia chilenos es el mismo que reciben los trabajadores y los pobres de este país, donde se convierte en un chiste la afirmación de que todos somos igual ante la ley.
Los trabajadores chilenos saben cual es el rol que juega la "justicia" y sus órganos represivos cuando ellos están en Huelga, un ejemplo de esto es lo que ocurrió con Rodrigo Cisterna (joven trabajador forestal en huelga) que fue asesinado por carabineros hace unos años, caso que los tribunales dejaron impune, lo mismo a pasado en todos los casos de asesinatos de comuneros mapuche, cuando la "justicia" no los a dejado impunes, a impuesto condenas irrisorias a los criminales.
Lo mismo ocurre con los estudiantes, los jóvenes que han salido a protestar contra HidroAysén y los trabajadores subcontratistas del cobre, todos ellos son reprimidos con especial brutalidad por carabineros y para justificar esta represión usan todo tipo de montajes, acusaciones falsas y finalmente los tribunales de "justicia" avalan todas estas practicas antidemocráticas.
Además no debemos olvidar que estos son los mismos tribunales de "justicia" que han condenado a los torturadores y criminales más horribles de la dictadura, confesos de más de un asesinato a cinco años y un día, en cárceles cinco estrellas y en algunos casos a penas remitidas.
No se puede confiar en los Tribunales de Justicia.
Los trabajadores subcontratistas del cobre hoy y todos los trabajadores que han estado en huelga saben al igual que los mapuche de la brutalidad de las fuerzas especiales de carabineros y la justificación legal posterior.
Los que somos parte del movimiento anti-capitalista tenemos un mismo enemigo, los que explotan a los trabajadores chilenos, son los mismos que le han robado las tierras a los mapuche.
Hoy es urgente movilizarse para intentar salvar la vida de los comuneros mapuche que están en huelga de hambre, para ello necesitamos unificar las luchas de todos los sectores para derrotar al gobierno y el sistema de injusticias que ellos defienden.
Para terminar con explotación capitalista y poner fin a la opresión de los mapuche y otras nacionalidades es necesario unificar nuestras luchas.
Necesitamos luchar frontalmente contra el actual sistema, para construir una sociedad democrática, solidaria e igualitaria, poniéndole fin a la explotación, el robo y todas las injusticias. 
The CWI relies on the donations from working class people around the world to fund our campaigns.Please donate towards building the CWI.