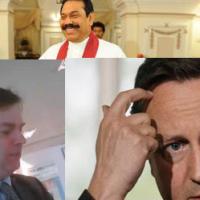 Tamil Solidarity demands that Cameron reveals all his personal dealings with lobbying firm and show the concrete details of the measures he has taken in relation to war crimes in Sri Lanka
Given that Cameron's ex-defence secretary was proved to be "criminally close to the government of Sri Lanka", Tamil Solidarity (TS) demands a full investigation and publication of all the links between Bell Pottinger, a lobbying firm, the Sri Lankan and the British government. Tamil Solidarity writes:
"The Independent on Tuesday 6 December exposed the dirty dealings of a company called Bell Pottinger (BP). The information revealed included details of the service Bell Pottinger provided to the government of Sri Lanka (GoSL). This company had previously been accused of acting on behalf of other countries with records of human rights violations such as Uzbekistan.
According to the Independent, this PR company claims that they "have used their access to Downing Street to get David Cameron to speak to the Chinese premier on behalf of one of their business clients within 24 hours of asking him to do so" and that "it was possible to use MPs known to be critical of investigative programmes to attack their reporting for minor errors"."
To read the full article, go to Tamil Solidarity.